Free Travel Is Being Used to Make Outsourced Transport Staff Work Harder
'Giving with one hand and taking with the other.'
27 September 2023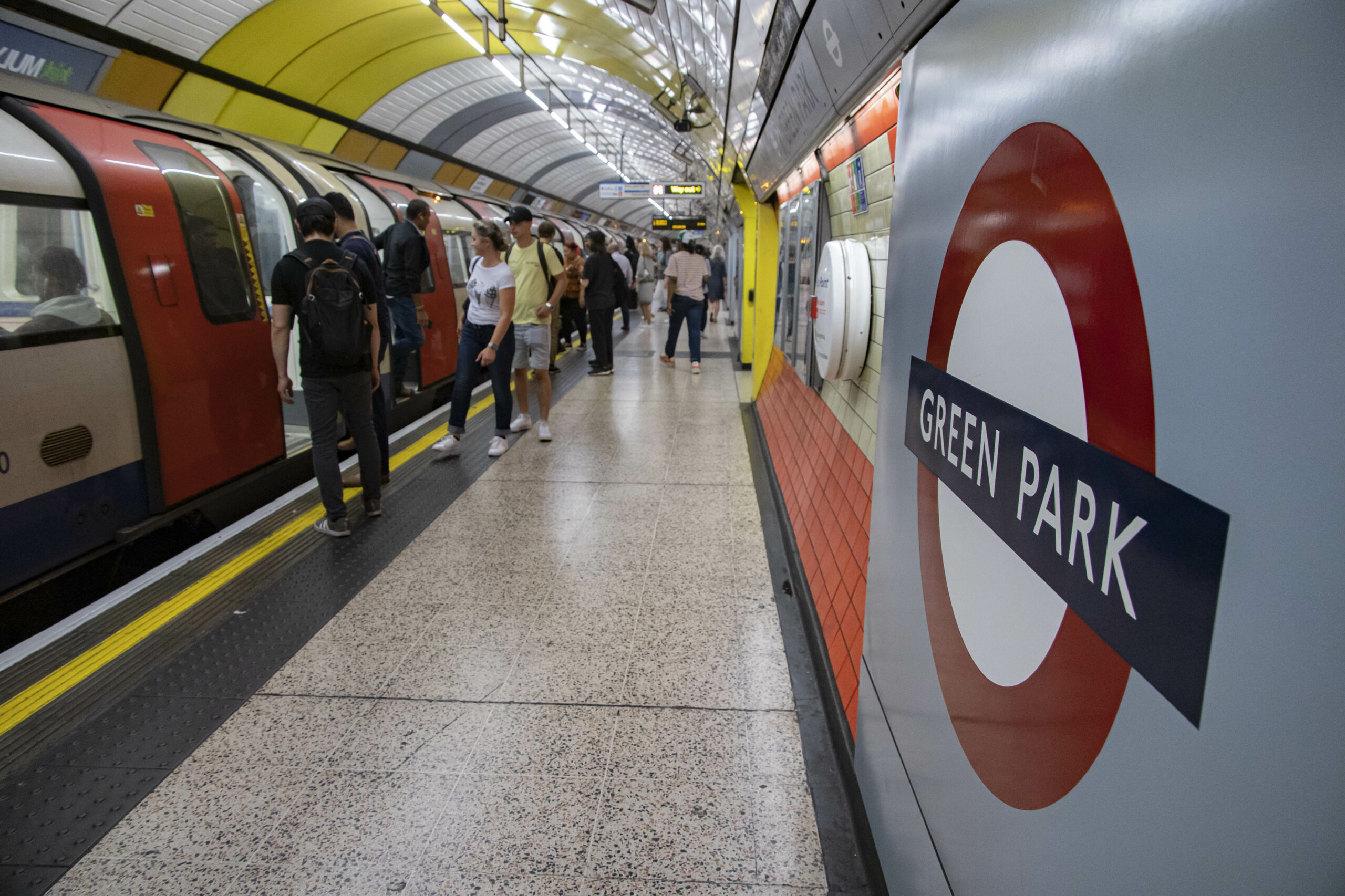 London Underground. Nicolas Economou via Reuters Connect
In February, following four years of campaigning by the RMT, Sadiq Khan announced that Transport for London (TfL) would extend and fund free staff travel – already enjoyed by in-house workers – to the low-paid outsourced workers on the network. "I'm pleased that I can help ease the pressure for lower paid transport workers… who do such a vital job for the capital," Khan said.
But for A. Kolapo Ade, who has spent well over a decade cleaning London's underground system, disinfecting the ticket machines, guardrails, and station barriers touched each day by millions of passengers, staff travel hasn't been worth it.
Not actually employed by TfL, Kolapo – who spoke to Novara Media using an assumed name for fear of retaliation from his employer – instead works for an American company called ABM Industries, one of the corporations that City Hall subcontracts the work of cleaning to.
"ABM has given with one hand and taken with the other," said Kolapo. "They're using the staff pass to punish people."
The free travel was supposed to improve parity between TfL workers and outsourced workers. But cleaners allege that ABM, which made a profit of $348.8 million in 2022, has weaponised the rollout of the staff travel pass by forcibly increasing the number of stations and the amount of work that they are responsible for.
"ABM says, 'Now you don't have to pay for any travel, you can travel anywhere, so you can work anywhere, so we can give you more stations,'" Kolapo said.
Cleaners previously responsible for cleaning one or two stations are now expected to deliver the same amount of cleaning within the same time frame for three or four stations, Kolapo said.
Bliss, an ABM cleaner who, like Kolapo, said, "it's too much work for the same seven hours. We have to run from one station to another."
Already dangerously overstretched, the new soaring workload has meant cleaners are, "falling ill, having serious body pains, and going off sick," Kolapo said. "ABM just wants to make more money at the behest of cleaners who are not appreciated."
ABM cleaners are entitled only to statutory sick pay of £109.40 per week. "ABM doesn't provide cover for their shifts", Kolapo said. "They make you go and cover all those vacancies."
"The demographic is black and ethnic, and most of the time advanced ages. Mainly cleaners are not young, but women in their 50s or 60s.
"Outsourcing is nothing but modern enslavement."
The pass is only available to cleaners paid no more than 10 per cent above the London Living Wage of £11.95 per hour, and employed for 100 per cent of their working time by ABM, meaning that cleaners who have second or third jobs are excluded.
Cleaners who refuse to be relocated to new stations are being placed on permanent holiday cover, workers allege, where they are not guaranteed any work hours, and can be posted anywhere across the entire transport network.
Others who want to remain in their current station say they are being made to "compete" to retain their location. "That competition is based on their attendance, sickness, and timings from a device that we use to sign in and out. It's not right," said Bliss.
"After the competition, ABM decides which cleaner has won and which has lost their position," said Bliss. "The cleaner who has lost the competition will become holiday cover, and the winner will be doing extra stations."
This "divide and rule approach" is designed to "make members clash, to undermine each other, and to create problems," said Kolapo. "They're pitting one cleaner against another. This is more than a slap in the face. This is a very big punch in the face."
Workers also claim that a handheld mobile device for signing in and out is being used by ABM to surveil employees, by recording when workers clock in and out.
"My colleagues have been called in for interviews and disciplinaries where their device has been checked, to tell [management] the time they touched in or out of the station," said Bliss. "If someone finishes at 3pm, management will say 'Oh, you've checked out at Green Park at 2:57. Why?'"
ABM has failed to negotiate these changes with the RMT, which represents the cleaners and has a collective bargaining agreement with the company.
In June, RMT general secretary Mick Lynch wrote to ABM, demanding that the process of relocation was "stopped immediately."
Yet cleaners' workloads continue to increase.
In 2017, TfL awarded ABM a five-year contract for the cleaning of the London underground, granting a three-year contract extension in March. While TfL declined to publish a copy of the review that justified the contract's renewal, a paper published by TfL's Finance Committee provides insight into ABM's push to shave off costs.
The paper states that the contract renewal "includes significant cost reductions on the original base contract," which will be achieved by "a more radical approach to savings."
These savings will be achieved by the "adoption of 'lean' practices applied to the process and delivery of cleaning services," through the "increased efficiency in the use of resources."
Workers say that the euphemistically titled "Project Lean" is behind the imposition of more responsibilities and locations.
"ABM say, 'Oh, it's coming from TfL,'" said Bliss. "But when we spoke to TfL, they said 'no, we're not aware of Project Lean.'"
"The mayor might say that his father was a bus driver, blah, blah, blah, he comes up with all this talk," said Kolapo. "TfL is looking the other way."
Glen Hart, RMT's Relief Regional Organiser said, "Implementing lean practices by ABM raises concerns regarding potential worker exploitation and exposes the inherent flaws of outsourcing. These arrangements allow TfL and the London Mayor to prioritise profit while obscuring specific labour-related issues."
"ABM think that cleaners don't have an education, or that they have no understanding because English is not their first language, so they cannot fight for themselves," said Kolapo. "But we are a vital part of the transport industry. You need us to clean the trains and sanitise the stations."
An ABM spokesperson said: "We take the well-being of our team members extremely seriously which is why we are working closely with RMT the Union on creating consistency of service across the stations we serve. Under no circumstances is workload being increased as part of this work."
A Transport for London spokesperson said: "We take any allegations of this nature seriously and will be discussing these with ABM to ensure we understand the facts and take appropriate action."
Polly Smythe is Novara Media's labour movement correspondent.