Muslim MP Forced to Flee Labour Conference After Visiting Palestine Stall
Apsana Begum fears for her safety.
10 October 2023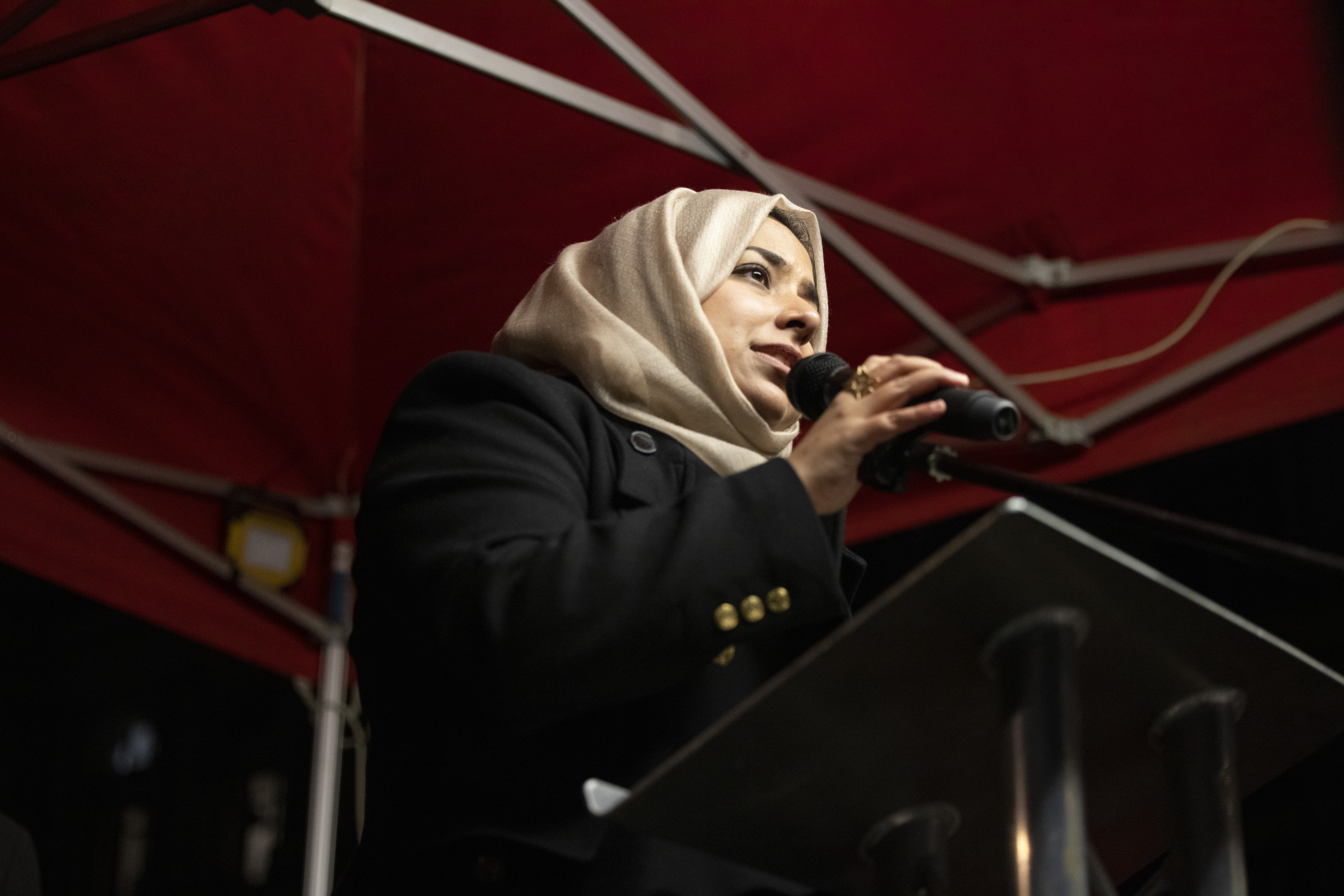 Apsana Begum speaks at an Enough is Enough campaign rally, January 2023. Hesther Ng/Reuters
Content note: Islamophobic and misogynistic language.
The UK's only hijabi MP has been forced to flee the Labour party conference due to safeguarding concerns, after the Conservatives spread misinformation about her support for Palestine.
Once again, Labour refuse to act.

No surprises from the man who wanted Corbyn as Prime Minister. pic.twitter.com/yUR1A2SAHR

— Conservatives (@Conservatives) October 9, 2023
On Monday, Tory party chair Greg Hands wrote to his Labour counterpart Anneliese Dodds demanding that Apsana Begum, the MP for Poplar and Limehouse, have the whip withdrawn on the grounds that she had "tweeted her 'solidarity' with the Palestine Solidarity Campaign (PSC)". Begum had not in fact tweeted anything; instead, the PSC had thanked Begum via its own X account for her pre-arranged visit to the stall on Saturday.
Enough is enough.

My letter to @UkLabour demanding action:

❌ Labour MP tweets "solidarity" with the PSC just hours after Hamas killed 1,000+
❌ An event at Labour Conference on Tuesday calls for Israel to "end Apartheid"
❌ Will Starmer take action against pro-Hamas MPs? https://t.co/yt1i5LAiHT

— Greg Hands (@GregHands) October 8, 2023
The Conservative party later tweeted condemning Labour's refusal to suspend Begum.
Once again, Labour refuse to act.

No surprises from the man who wanted Corbyn as Prime Minister. pic.twitter.com/yUR1A2SAHR

— Conservatives (@Conservatives) October 9, 2023
Of the PSC, Hands wrote: "To have a Labour MP publicly associating with such an organisation raises questions about the party's commitment to maintaining ethical standards and responsible conduct within its ranks."
Hands added that the PSC, which has had a presence at Labour conference for over a decade, and was invited to hold a number of fringe events at this year's conference, was "known for its antisemitic rhetoric".
Hands' letter unleashed a torrent of misogynistic and Islamophobic abuse at Begum both online and offline, some of it describing Begum as a "bitch", "female slave" and "part of the caliphate". The attacks, which are currently being investigated by the police, led Begum's staff to fear for her safety. Begum decided to leave the conference on Monday.
The Tories' attack on Begum comes amidst a historic escalation by Hamas against Israeli apartheid. The assault, which began on Saturday, has left at least 1,000 Israelis dead, according to the Israeli embassy in the United States.
In response, Israeli PM Benjamin Netanyahu on Sunday declared "war" on Hamas and promised an attack on Gaza "with a might and scale that the enemy has not yet known". At the time of writing, Israel has killed over 830 Palestinians in its subsequent bombardment of the strip, according to the Palestinian health ministry.
Ali Milani stood for Labour against Boris Johnson in Uxbridge at the last election and sits on the national executive of the Labour Muslim Network (LMN). Speaking to Novara Media, he expressed alarm at Begum's departure: "I think it's disgusting […] that the first hijab-wearing Muslim MP […] did not feel safe enough in the conference to stay as a result of Islamophobic attacks. And that's what they are.
Milani added that the attacks should be "viewed in light of the vicious Islamophobia in the Conservative party".
Milani said that LMN had anticipated that the situation in Palestine and Israel would directly affect both Jewish and Muslim conference delegates. On Saturday, the network re-shared Labour's Islamophobia code of conduct. It also privately expressed concerns to the party leadership about the safety of Jewish people at the conference.
"There is a disproportionate expectation for Muslims to condemn to distance to express outrage in a more vociferous way than others," said Milani. "And that is part of the definition of Islamophobia."
Milani noted that the LMN has so far received two reports of non-Muslim conference delegates approaching Muslim delegates "demanding apologies and condemnations for what's happened".
"I think everyone in the Labour party should reflect on the level of Islamophobia that Muslim delegates and members and MPs face, particularly on issues like this," Milani said. "The fact that she's had to leave is the real failure."
John McDonnell is Begum's fellow Socialist Campaign Group (SCG) MP. In a statement to Novara Media, he wrote: "It's appalling that Apsana has been targeted and her physical safety has been put at risk. This needs calling out by the Labour party leadership and condemned across politics.
"Sunak should instruct Hands to withdraw and apologise to Apsana. She's a brilliant, hard-working MP. Stand by her 100%."
Zarah Sultana, another SCG member, wrote in a statement to Novara Media: "Apsana is one of the most principled and courageous people I know in politics, who as the first hijabi ever elected to parliament faces horrendous racist abuse. People in power should be challenging that abuse, not stoking it."
Matt Wrack, general secretary of the Fire Brigades Union, also tweeted in solidarity with Begum, telling Hands to "mind [his] own business".
Some of Begum's colleagues in the parliamentary Labour party have been less supportive, however. Asked by Sky News' Kay Burley what she thought of Begum's appearance at the PSC stall, shadow chancellor Rachel Reeves said: "We stand squarely alongside Israel."
The Labour party has been aware of safeguarding concerns about Begum, who is a survivor of domestic abuse, since before she entered parliament in 2019. In 2022, an independent domestic violence advocate warned Keir Starmer that the party's treatment of Begum – including allowing friends of her abusive ex-husband to retain control of her local party – constituted a continuation of her abuse. Starmer did nothing.
Begum had carefully planned her conference schedule with safeguarding in mind, though with no support from the party. Begum has received no proactive contact from Labour since it became aware of the attacks on her.
Begum is currently on a phased return to work after she was signed off sick last year with mental ill health. As she wrote in a statement at the time, her illness was triggered by historic and ongoing abuse by her ex-husband and his friends within Labour. Begum's ex-husband Ehtasham Haque has been suspended from the party since 2021; Labour has still not adjudicated on his case.
Among other visitors to the PSC stall were Afzal Khan, shadow exports minister, who is also Muslim. On Monday, Khan reportedly apologised for being pictured at the PSC stall – except Novara Media understands that the apology did not come from Khan himself, creating confusion about who supplied it to the press. Some suspect it may have been the party whips.
Labour lord Alf Dubs, a Jewish Holocaust survivor and refugee rights advocate, also visited the PSC stall.
Special thanks also to Lord @AlfDubs for showing his support for a #FreePalestine pic.twitter.com/2shxJJZY52

— PSC (@PSCupdates) October 9, 2023
In a statement posted on X, LMN condemned the "appalling and divisive attack by the Conservatives on Britain's first hijab-wearing Muslim MP", adding: "Solidarity with Palestinians is not a crime."
Neither the Labour party, its chair Anneliese Dodds nor its shadow minister for domestic violence and safeguarding Jess Phillips responded to Novara Media's request for comment.
Correction, 16 October 2023: This piece originally described the events of 7 October as "Palestinian resistance to Israeli apartheid". It has since been updated to reflect the fact that the attack was launched specifically by Hamas.
Rivkah Brown is a commissioning editor and reporter at Novara Media.