Labour Councillors Keep Quitting Over Party 'Endorsing' Israeli War Crimes
'The Labour party is no longer consistent with the values of human dignity.'
17 October 2023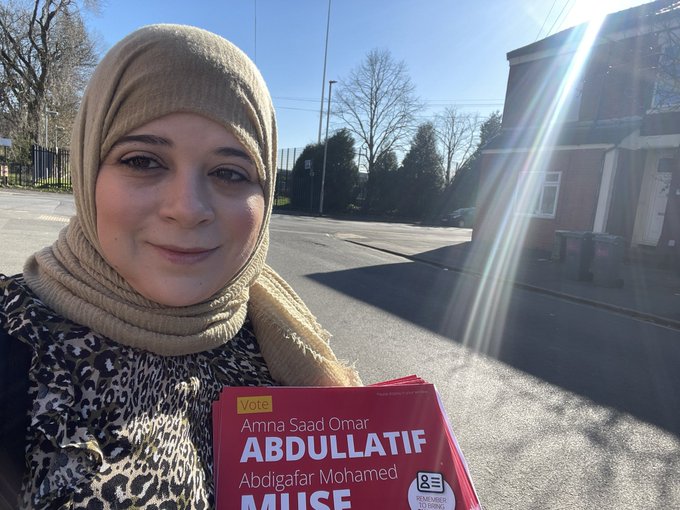 Cllr Amna Abdullatif. @Amna4A on Twitter/X
Councillors and activists keep quitting the Labour party over its leadership "seeming to condone" Israeli war crimes.
On Monday, Cllr Amna Abdullatif, the first Arab woman on Manchester city council, said she was "devastated to now have no other choice" than to resign from the Labour whip and the party "due to Keir Starmer and a number of his senior front bench making horrifying comments about Israel having the right to withhold fuel, water, food and electricity from the 2.2 million Palestinians trapped in Gaza, effectively endorsing a war crime."
On Saturday, Cllr Jessie Hoskin, from Stroud district council, quit the party. She said: "I am horrified by the loss of life in Israel and Palestine. Two million Palestinians in Gaza, who had nothing to do with Hamas' actions, should not be punished collectively for it."
"The Labour party is no longer consistent with the values of human dignity, equality, and a world where everyone is safe and has what they need to thrive that I believe in and will continue to organise for in other areas of my work."
Last week, a pair of Oxford councillors, Shaista Aziz and Amar Latif, quit the party over Starmer's comments, "seeming to condone the use of collective punishment against the people of Gaza in direct contravention of international law."
"We are horrified by the rhetoric of Labour politicians saying Israel is justified in cutting off Gaza's water, food and electricity supply."
Lubaba Khalid, Young Labour BAME officer and a Palestinian also resigned, saying: "I have spent the last few days worried about the safety of my family with electricity now cut off and communication limited these worries are only exacerbated.
"These comments from the leadership have been the last straw. I can only conclude that the Labour party is no longer a safe space for Palestinians and Muslims."
Senior Labour figures have taken an extremely hawkish position on the escalating violence, while sending "very strong advice" to MPs and council leaders not to attend pro-Palestine demonstrations.
On 11 October, Starmer, a former human rights lawyer, told LBC that Israel "has a right" to withhold power and water from Palestinian civilians.
On Sunday, when asked about Israel's order for the population of northern Gaza to evacuate to the south, shadow foreign secretary David Lammy told the BBC that it is "right that civilians must not be in harm's way and an order has been issued, I'm glad that that order has been extended, of course I am." He refused to condemn Israel's siege on Gaza, which has been described as a war crime.
A Labour party media briefing document from Friday 13 October seen by Novara Media shows how Labour politicians were briefed not to directly criticise potential war crimes carried out by Israel, including the siege of Gaza, cutting off water and electricity, and the use of white phosphorus. When asked about these issues, Labour politicians were encouraged to first of all reaffirm Israel's "right to self defence" and only then add that this must be "in line with international law".
On Monday, the International Centre for Justice for Palestinians wrote to Starmer, Lammy and shadow attorney general Emily Thornberry, notifying them of the intention to prosecute them for their role in "aiding and abetting Israel's perpetration of war crimes." The news follows a similar warning sent to prime minister Rishi Sunak on Saturday.
Speaking in the House of Commons on Monday, Starmer's remarks had a slight change in emphasis, saying: "There is an acute humanitarian crisis unfolding. Israel's defence must be conducted in accordance with international law, civilians must not be targeted and innocent lives must be protected." However, speaking to Sky News on Tuesday, with the UN warning that water and body bags are running out in Gaza, shadow defence secretary John Healey MP would say only that there is "the risk of a looming humanitarian crisis", echoing the stance of the British government.
Simon Childs is a commissioning editor and reporter for Novara Media.