'A Chance to Implement Forced Displacement': Israeli Settlers Are Attacking Palestinians in the West Bank
'The settlers always planned for this: to take our land, and to kick us out.'
19 October 2023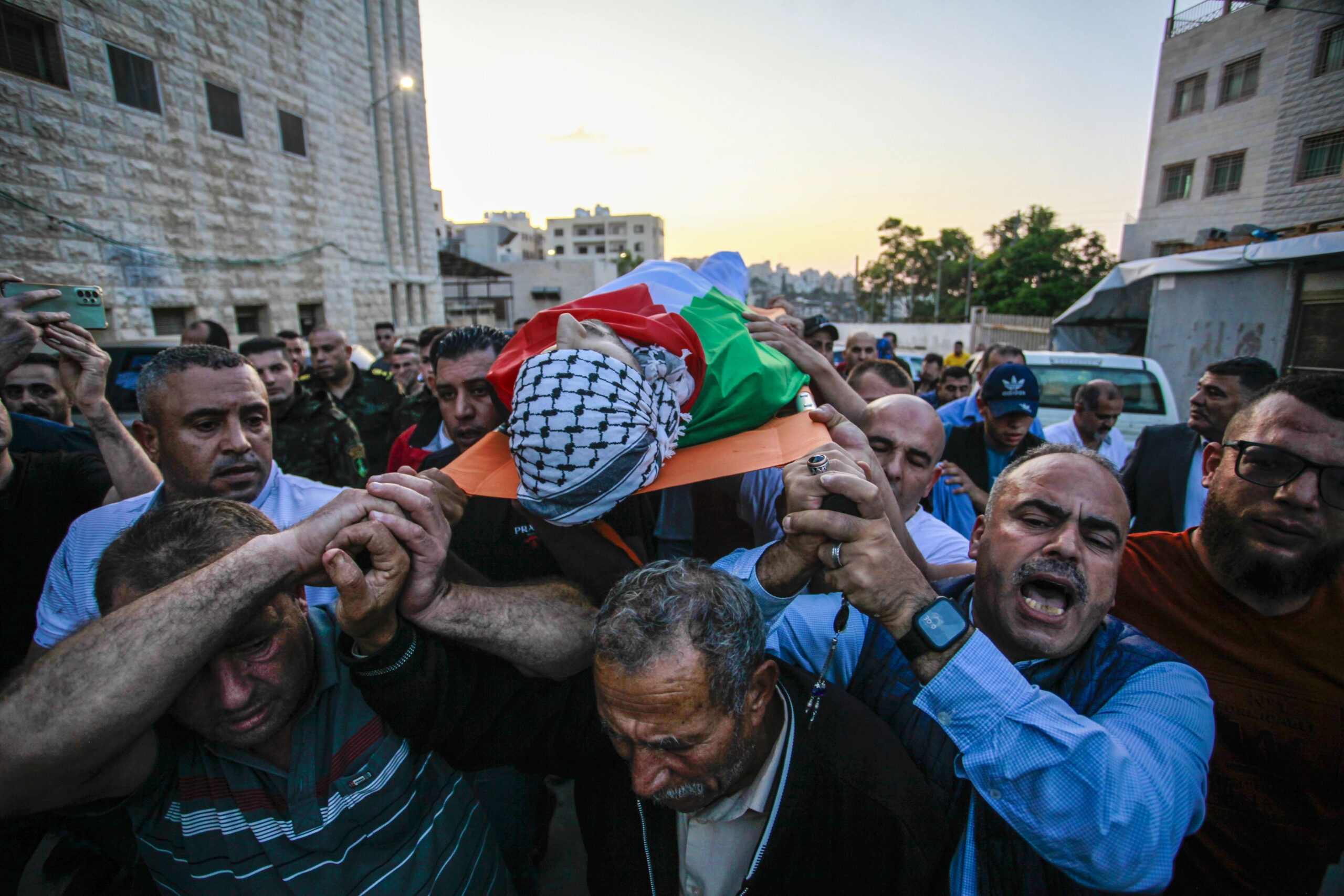 Mourners carry the body of Palestinian engineer Moaz Odeh, 29, who was killed by armed Israeli settlers on 11 October. Photo: Nasser Ishtayeh/ SOPA Images
Last Friday, Basel Adra watched as his cousin was shot in the stomach by an Israeli settler as he was leaving prayers at a mosque in the village of At-Tuwani in the Masafer Yatta region of the West Bank. Adra's video of the incident, which was shared online by the human rights organisation B'Tselem, shows the settler pushing the Palestinian man to the ground before shooting him at point-blank range with an Israel Defence Forces (IDF) soldier standing nearby. "He was shot for nothing," 27-year-old Adra said. "Really, nothing."
"Many people were watching outside the mosque. Women and children were screaming, shouting at the Israeli soldier to do something."
When someone tried to drive Adra's cousin to a hospital in Hebron, which is the closest facility equipped to treat such serious injuries, the Israeli army fired a warning shot into the air to stop them from passing. They were forced to go to a local hospital in Masafer Yatta instead, where he received a blood transfusion. 
"My cousin was in a critical situation in the hospital," Adra said. "Now he's a little bit better. But it was very, very scary and terrifying."
Settler violence in the West Bank has been increasing for months, but Palestinians interviewed by Novara Media reported a marked escalation since 7 October. While international attention has been on Israel's bombardment of Gaza, at least 64 Palestinians – several of them children – have been killed by Israeli soldiers and settlers in the West Bank, and hundreds more have been wounded.
Palestinians living in the West Bank said they believe settlers are using the ongoing crisis in Gaza as an opportunity to accelerate their goal of ethnic cleansing. They described settlers breaking into properties, bulldozing homes and water wells, cutting off electricity and burning tents with greater frequency than usual. "This is to make people afraid, the message is that the next step is going to be killing you if you don't leave this land," said Adra. At least two Palestinian villages are reported to have been entirely depopulated by settlers forcing residents to leave.  
Settlers have been targeting Palestinians living in Area C, which constitutes about 60% of the West Bank and is where the majority of illegal Israeli settlers live. "It's scary because these settlers are now wearing uniforms, have guns and are claiming that they are the reserve army," Adra said. "These attacks are not a new thing. The settlers always planned for this: to take our land, and to kick us out of Area C. Now's the chance to do it, because everyone is focused on Gaza."
Hamed Qawasmeh, coordinator for the Hebron International Resources Fund, a charity that supports Palestinians living near settlements, also sees the attacks as opportunistic. "The settlers feel that they have a free hand at this point to do what they have always wanted – which is to attack Palestinians, strategically," he said. "They see this as a chance to implement forced displacement of the Palestinian population." 
Settler violence is being aided and abetted by Israel's far-right government. Last week, Israel's security minister, Itamar Ben-Gvir, announced plans to immediately distribute 10,000 rifles to settlers. (Settlers already have the highest rate of licensed gun ownership among Israelis.)
Alaa Hathleen, from Masafer Yatta, told Novara Media that he hasn't been able to sleep due to fears of settlers attacking his family in the night. "The danger is everywhere," the 24-year-old said. "If I speak to my friends, I say, 'I don't know if I will ever meet you again' […] another time, I might be dead." In parts of the West Bank, people are too afraid to leave their homes to go to work and some schools have been closed over the fear of violence.
Adra and Hathleen both said that armed settlers in Masafer Yatta are closely controlling their movements with frequent patrols. "The settlers stopped in front of my door, and they bought a gun. They were shouting at us, 'Do not leave your home […] if you move, we'll shoot you'," said Hathleen. "The settlers have become the army, and they're doing whatever they want." 
The IDF has also been limiting the movement of millions of Palestinians in the West Bank, closing roads and checkpoints. It has left them unable to access essentials such as food, water and medication. Hathleen said that when he attempted to cross into Hebron to get medicine for his mother and his three-year-old nephew – who was ill with a fever – he was refused by Israeli soldiers, despite explaining his situation. 
Hathleen said he was then detained at the checkpoint for two hours with a gun pointed at his head. "They said, 'if we see you here again, we will shoot you directly'." Adra faced similar threats after he was detained by the Israeli army while driving on a bypass to buy essentials last week. "[The Israeli soldier] said if we see you again, we will bomb your house like we bombed Gaza." 
Palestinians have been given no indication by Israeli forces as to when the lockdown will end. Some fear that it could be a precursor to something more permanent. "This is not a temporary occupation," Adra said, "this is colonisation." 
Palestinians are also concerned about the impact the lockdown and rise in violence will have on their livelihoods. It is now olive season, but the current situation is preventing the harvest. 
"We always see a lot of settler violence towards Palestinians who dare to go to their lands in the proximity of settlements," said Qawasmeh. "But this year, I don't think that anybody's going to actually dare to go and collect their olives close to the settlements. It is going to be a major economic loss for the Palestinians. I know for a lot of families one of their main sources of income is usually the olive harvest."
Although they are not under direct attack by the IDF, Palestinians in the West Bank say they are also fighting for survival. "What we face is nothing like what the people in Gaza are facing now. They are under the bombing, and we are still alive […] But nobody knows about what's happening to our people here," said Hathleen. "My mother is always telling me, 'this is the second Nakba'."
Daisy Schofield is a freelance journalist.