Just Stop Oil Blocks Bus Transporting Asylum Seekers to Bibby Stockholm
The barge is 'tantamount to a concentration camp', say activists.
19 October 2023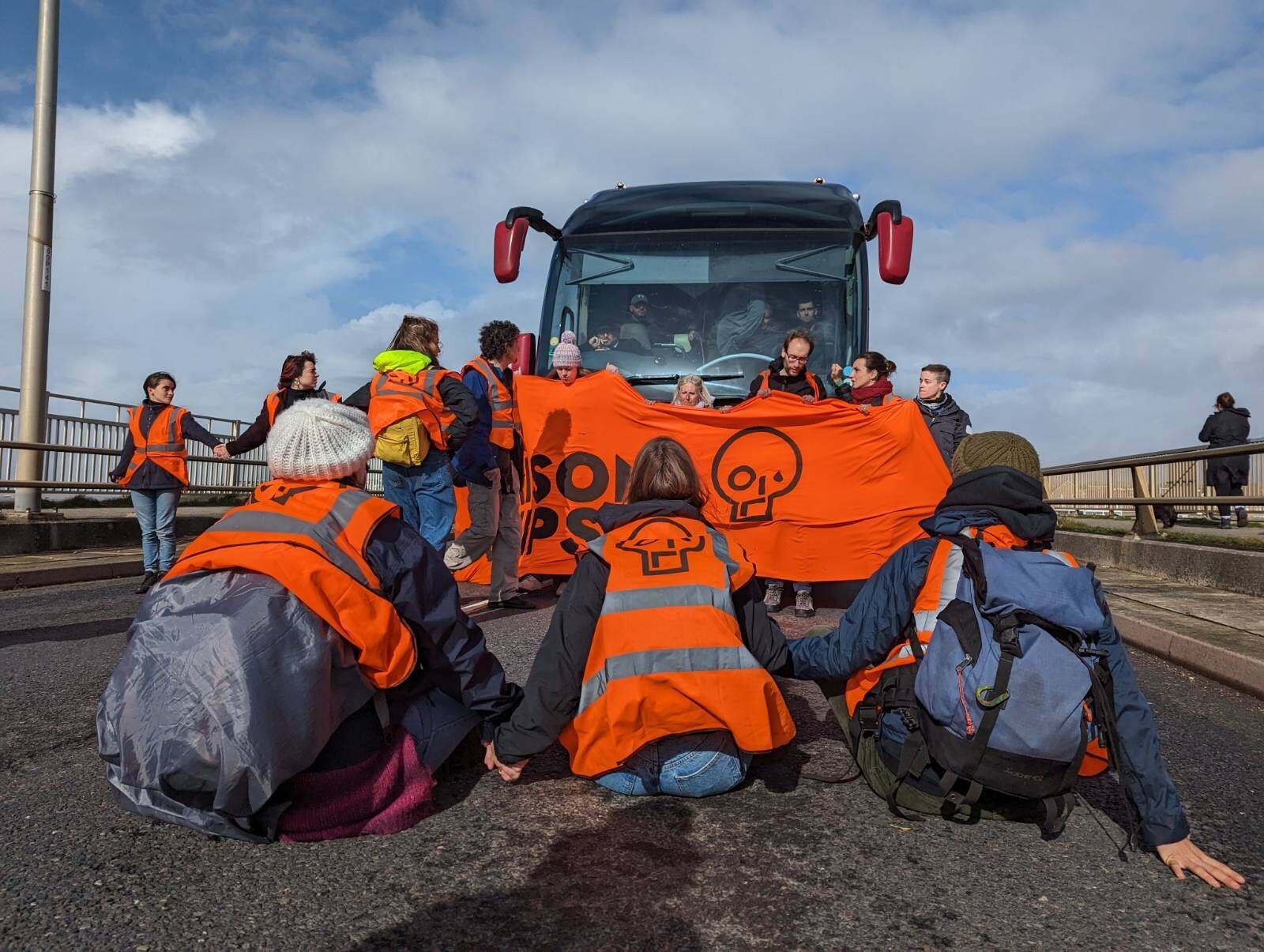 Activists attempted to block a bridge to the Isle of Portland, Dorset, where the barge is docked. Photo: Just Stop Oil
Climate activists have blocked a bus transporting asylum seekers to the Bibby Stockholm to stop their forced return to the barge.
Protesters with Just Stop Oil sat in front of the bus on the Ferry Bridge, Dorset, in order to block the route to the Isle of Portland, where the three-storey ship is docked, halting the vehicle.
The bus then drove into the protesters, forcing them to move and allowing the vehicle through.
Speaking to Novara Media, a spokesperson from Just Stop Oil – a group which usually takes direct action to stop new oil, gas and coal projects – said it was targeting the forced return of migrants to the accommodation barge because the vessel is "tantamount to a concentration camp" for asylum seekers, and "there is no climate justice without justice for all people".
"When we take action against the causes of the climate crisis, we're working to preserve people's rights to remain in their homelands," the spokesperson continued. "When we take action against the Bibby Stockholm, we're taking action to defend people's right to move safely with dignity."
29 asylum seekers were due to be moved to the Bibby Stockholm on Thursday from a hotel in Exmouth, Devon, after being evacuated from the barge in August following the discovery of legionella bacteria in the water system. The Home Office plans to ramp-up the number of people on the barge towards a capacity of 464 in the coming weeks.
Asylum seekers who were briefly housed on the barge in August have repeatedly protested about its "prison-like" conditions, while the Fire Brigades' Union has described the vessel as a "potential deathtrap".
The attempt to stop the return of migrants to the barge marks a shift for Just Stop Oil from a focus on "just stopping" the climate crisis towards action concerned with the state's response to its impacts.
As well as highlighting the connection between climate breakdown and forced migration, the group told Novara Media it aims to draw attention to increased state authoritarianism towards both asylum seekers and protesters.
The action comes despite the arrest of Just Stop Oil co-founders Roger Hallam and Indigo Rumbelow on Wednesday morning on suspicion of conspiracy to cause a public nuisance, after the group announced it would carry out three weeks of daily slow marches in London from 30 October. Both have since been released.
Clare Hymer is a commissioning editor at Novara Media.
Richard Hames is an audio producer at Novara Media.