The Home Office Is Forcing Child Refugees to Share Bedrooms With Adult Strangers
'I cried every day, every second.'
15 September 2023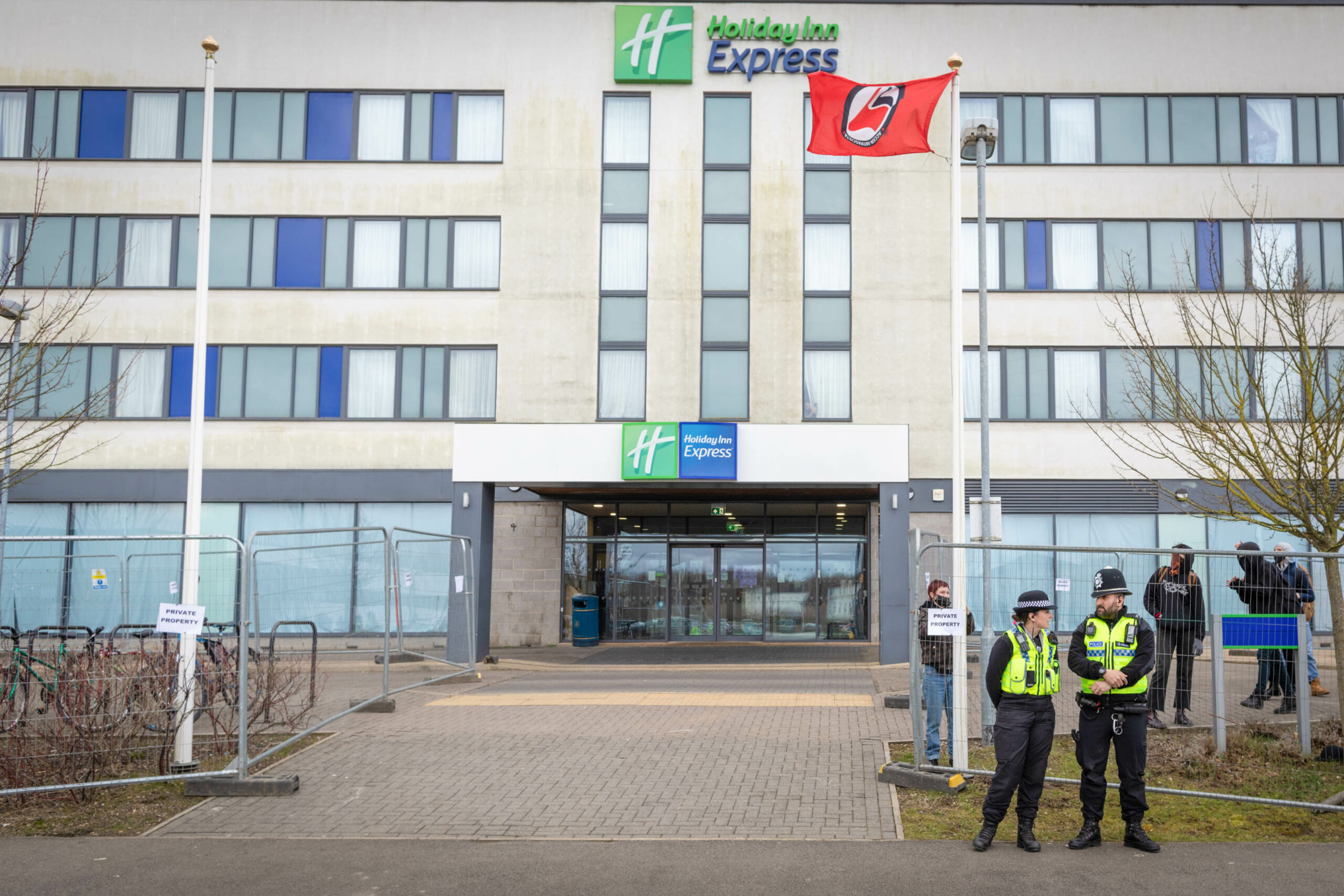 An antifa flag is raised outside an asylum-seeker hotel in Rotherham that has been targeted by the far right. Photo: Andy Barton / SOPA Images
Unaccompanied children are being made to share bedrooms with adult strangers while waiting for the Home Office to decide about their asylum claims, Novara Media can reveal. 
Zarith, who spoke to Novara Media about his experience in Home Office accommodation, but asked that we didn't use his real name in case it impacted his asylum case, said he was made to share his room with someone who looked "like a teenager". The two did not share a language, but Zarith spoke enough Arabic – his roommate's language – to ask how old he was, after a few days of living together. The boy told Zarith he was 15. 
"I was shocked," said Zarith. As a gay man, he said, he felt "horrified" by the situation, which placed him at increased risk of homophobic bullying, including false allegations of sexual abuse. He was equally concerned about the child's well-being. "I don't think adults and minors should share rooms […] anything bad can happen," he said, "not only physical hurt, but also emotional and sexual." 
Zarith initially wondered if children and adults sharing bedrooms was just "the way it is here," but was relieved when his lawyer was shocked by the situation, too. When she raised it with the Home Office, the department "provided no explanation at all," Zarith said.
It took Zarith and his lawyer two months to have the child moved to his own room, before being taken away by social services. "I can't believe I was [made] to fight for him," he said, rather than the Home Office ensuring "stringent" safeguarding. 
Since the summer of 2021, the Home Office has placed more than 4,500 children alone in hotels used exclusively to accommodate unaccompanied minors. This practice has been condemned by activists, charities and politicians who say children are neglected and unsafe, with hundreds feared kidnapped by trafficking gangs.
But some children don't even make it into these designated hotels, charities say, and are instead forced to stay in adult accommodation, where they must often share rooms with strangers. 
"We hear about this happening a lot and it is completely shocking," said Sonia Lambert, who works for the Refugee Council. "Personally I first saw this last summer," she said, "when I met a group of kids under 18 who had been placed in an adult hotel and were absolutely terrified."
While no figures are available that show the extent of the issue, she said that every year the Refugee Council works with "hundreds" of children who have been wrongly classed as adults by the Home Office's age assessment process. 
As a result of not being believed about their age, children are made to endure "all sorts of horrible things," said Lambert – including "being assaulted, going missing, and harming themselves." 
One 16-year-old boy who Lambert supported spent a month in an adult hotel because Home Office staff in Dover did not believe he was a child, even though he had an ID document.
"I looked at the people in the hotel, they were all adults. There were up to 10 beds in one room, I cried every day, every second," the child told Lambert. "There was one man, I think he was drunk, he threw my bag, and said get out of my room! For a week there was no bed for me. Lots of them were drinking and doing other things. I don't want other children to experience this."  
"Much more needs to be done to stop this from happening," said Lambert. "Where there is any doubt or where someone claims to be under 18 they should not be sent to adult accommodation until a full and proper assessment can take place by qualified social workers."
Children being made to share rooms with adults is "one of many ways in which children and young people in the asylum system are horrifyingly neglected and exposed to risks that no child should face," she said.  "It's part of the way the chaos in our asylum system causes further harm to people fleeing war and persecution who come to us hoping for safety."
The Home Office said it could not comment without being provided with asylum seekers' personal details.
Sophie K Rosa is a freelance journalist and the author of Radical Intimacy.