'Blood On Your Hands': Labour Faces Protests Over Israel-Palestine Stance
'Keir Starmer, you can't hide, you're endorsing genocide.'
20 October 2023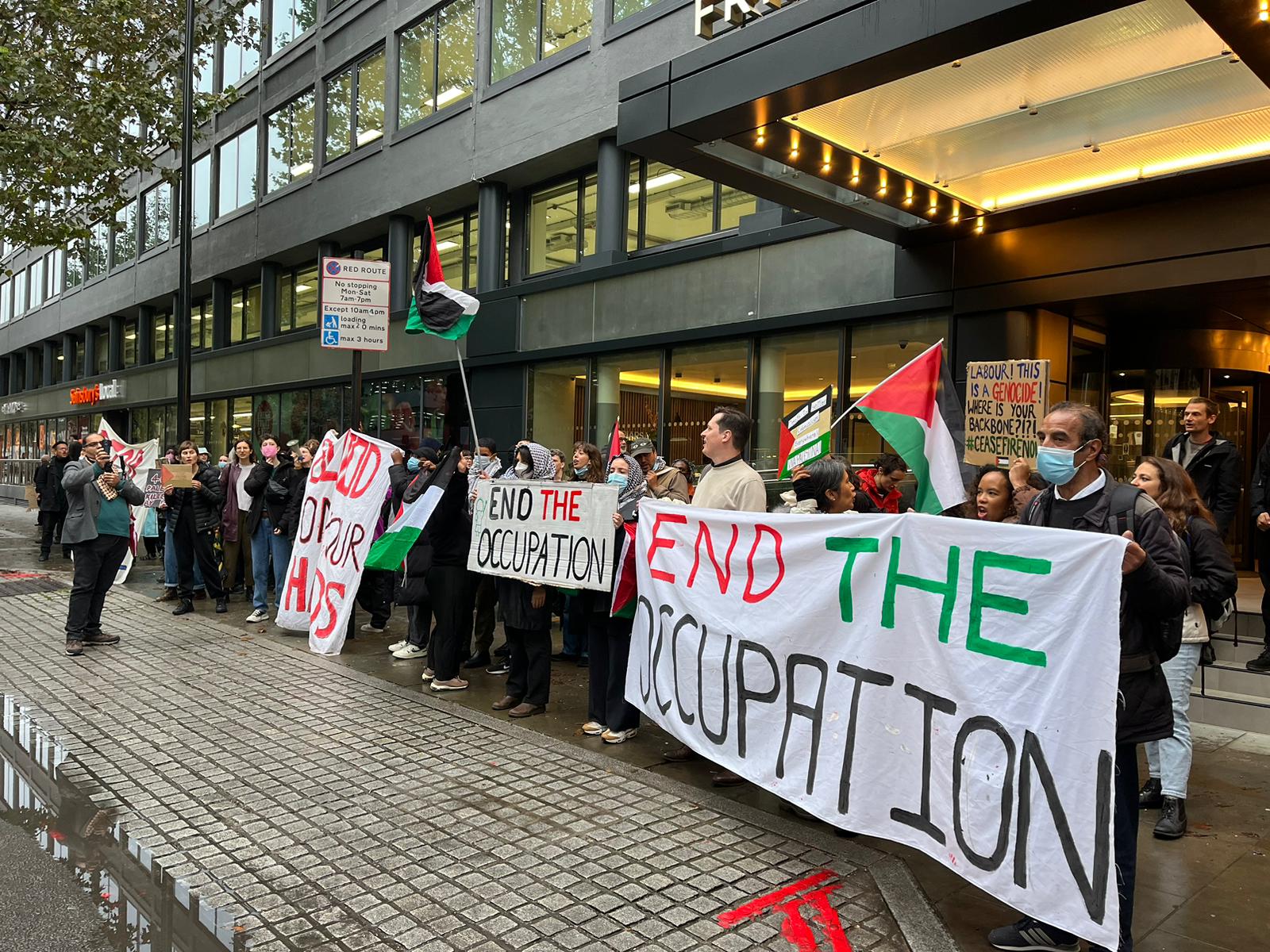 Protesters outside the Labour party headquarters. Photo: Clare Hymer
Labour's headquarters in London were hit by protests today, after the party's political crisis over its response to Israel's war on Palestine deepened throughout the week.
The protesters, organised by London Palestine Action, held banners saying, "Blood on your hands", "End the occupation" and "Stop arming Israel". They chanted: "Keir Starmer, you can't hide, you're endorsing genocide."
Alia Al Ghussain, who has family in Gaza, said: "Labour has been actively egging Israel on in its genocidal intent in the Gaza Strip. We know that most Labour voters don't support that, so we want them to change their policy, come out and to demand an immediate ceasefire.
"It feels really difficult for Muslims and Arabs in the Labour party because it feels like we're being told that the things that matter to us are not important because they're not politically expedient."
The protest comes as Starmer faces growing disquiet from members and elected representatives over his statements about Gaza which have appeared to show a lack of concern for Palestinian lives.
On 11 October, Starmer told LBC that Israel "has a right" to withhold power and water from Palestinian civilians.
Today, after a huge political backlash, Starmer sought to clarify his remarks. He told ITV: "I was saying Israel had the right to self-defence […] I was not saying Israel had the right to cut off water, food, fuel or medicines."
"For over a week now I have been leading the charge, calling for that humanitarian aid to come in."
Yesterday evening, Peter Soulsby, the Labour mayor of Leicester, wrote to Starmer saying that his condemnation of Hamas's attack on 7 October gave the impression of extending to "approving uncritically the Israeli government's response and ignoring the decades of injustice and the oppression of Palestinians and the violation of their human rights.
"Muslim councillors are under enormous pressure from their communities, who support Labour values, but perceive Labour as lacking sympathy for the plight of Palestinians."
Relations were already tense within the party in the super-diverse city, after Labour de-selected 19 councillors from re-standing for the party in March, 58% of whom were from ethnic minority groups.
The party has also sought to stop members from talking about the crisis in Gaza. Nine members of the executive committee of Glasgow Kelvin constituency Labour party (CLP) resigned their positions in protest after the party intervened to stop a debate about the situation from taking place.
In an email sent to members and seen by Novara Media, secretary Peter Duffy said: "We have been informed by the general secretary and the Scottish general secretary that any motions relating to the situation in Israel and Gaza are out of order for all CLPs.
"It seems preposterous to us that a local political party cannot have a substantive discussion on contemporary events which are commanding the attention of the entire world.
"We believe that the emergency motion which was submitted for debate was perfectly valid, and we refute any suggestion by party officials that the mere discussion of the Gaza situation would be 'prejudicial or grossly detrimental to the Labour party' (message from the general secretary).
"On the contrary, we believe that the absence of such discussion brings our party into disrepute."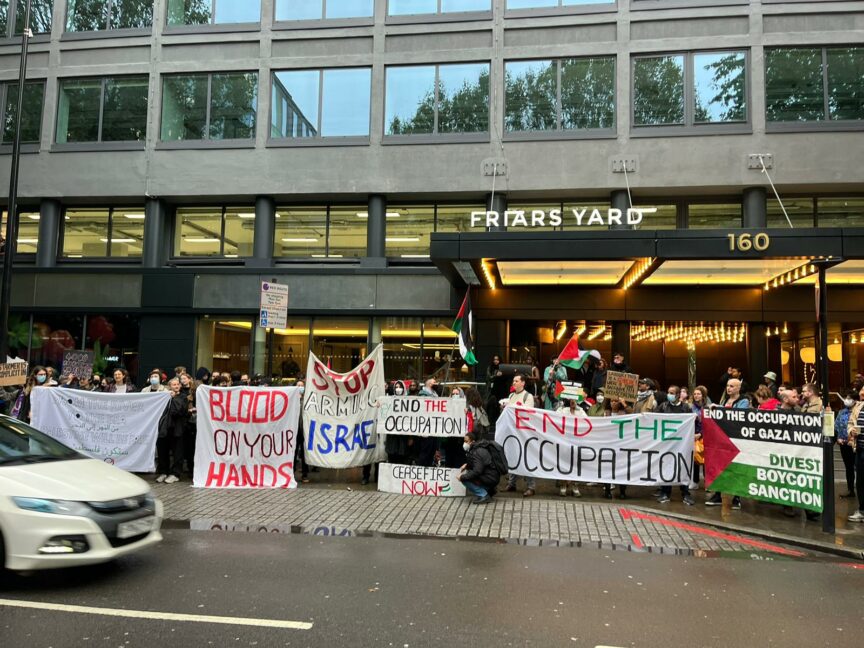 On Wednesday, in a sign of concern among the party's leadership, Starmer wrote to Labour councillors on the issue, thanking them for the "vital role in promoting community cohesion" and "ensuring our party's position is communicated to constituents concerned by recent events."
It follows a number of resignations of councillors and activists from the party, who objected to senior Labour politicians' failure to criticise potential Israeli war crimes.
The Labour Muslim Network has demanded an apology from Starmer, saying: "We have never opposed solidarity with all the Israeli families and condemning the horrific attacks. The problem has been Muslims across the country see Labour as unwilling to show value to the humanity of Palestinian lives and Muslim lives."
On Tuesday, legal scholars wrote to Keir Starmer, demanding that he "immediately issue a public and detailed clarification of Labour's legal position on collective punishment and on the forcible transfer of civilians. We request that you confirm that you and your party oppose the commission of war crimes, wherever and whenever they may occur."
Labour has modified its messaging as a result of the pressure, with shadow foreign secretary David Lammy calling for Israel to allow food, water, fuel and electricity into Gaza shortly after a crisis call with councillors. However, the party continues to back the bombardment of Gaza citing Israel's right to "self defence".
A spokesperson for leftwing group Momentum, which has published a lobbying tool targeting Labour MPs, said: "As Labour members and councillors across the country make known their deep discomfort with the leadership's stance, we call on every Labour MP: speak up now for an immediate ceasefire to end the bloodshed. Every minute counts."
Simon Childs is a commissioning editor and reporter for Novara Media.
Clare Hymer is a commissioning editor at Novara Media.