Jewish Activists Protest at Foreign Office Calling for a Ceasefire
'Keeping people oppressed does not make us any safer.'
31 October 2023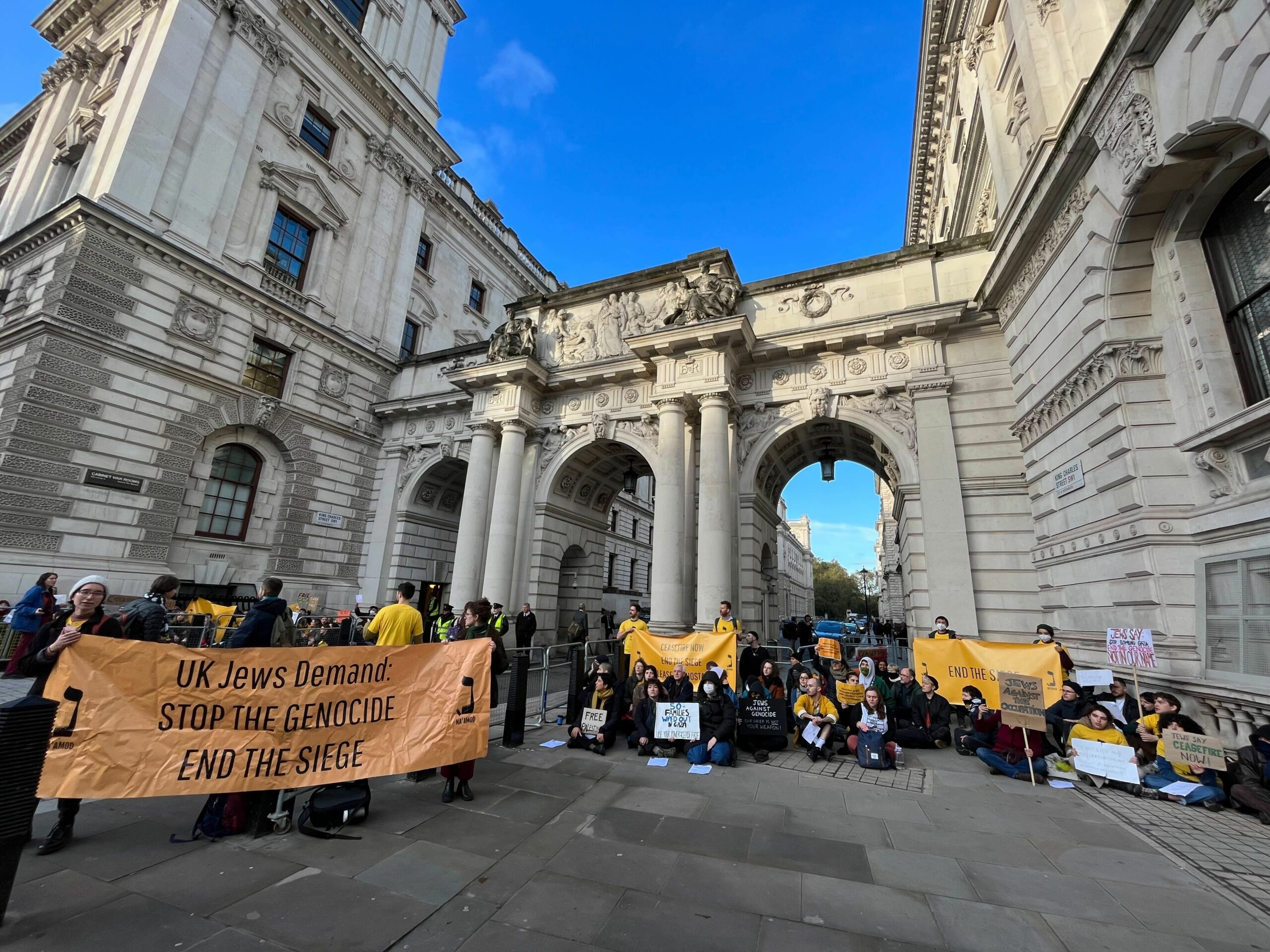 British Jews and allies protesting outside the Foreign Office, October 2023. Photo: Clare Hymer
Jewish activists gathered outside the Foreign Office in Westminster to demand an immediate ceasefire in Gaza, an end to the siege, the release of hostages and for an end to the UK's support of Israel's war crimes.
The protesters, organised by Na'amod – a group of British Jews opposed to Israel's occupation and apartheid in Palestine – sang "ceasefire now" and "end the occupation" in Hebrew. John McDonnell, former shadow chancellor, joined the protest on Tuesday morning.
Josh Cohen, one of the organisers of the protest, said: "A war crime does not justify another war crime. The bombardment of Gaza, the group punishment of Gazans by cutting off aid and food, water and power that's a war crime.
"We support the demands of Israeli families with the hostages. They are calling for a hostage swap now – everyone for everyone.
"We should be helping the people who are hurting the most right now. And those are the families of the people who have been taken hostage and the families that are being wiped out in Gaza.
"The Jewish community is being depicted as a monolith. Our communal institutions do not represent the views of everyone. We believe that in order to have long term safety for Jews in Israel and in the diaspora all around the world, we need collective liberation for everyone.  Keeping people oppressed does not make us any safer. The war will not make anyone any safer. It will just continue the cycle of violence."
Noga Levy-Rapoport, one of the protesters, said: "I'm here as an Israeli-born Jew who is unable to stand at the sidelines watching thousands of Palestinians being murdered in a genocide.
"We're here as Jews because it's our responsibility to challenge the narrative that Israel is using, by committing these murders in our name."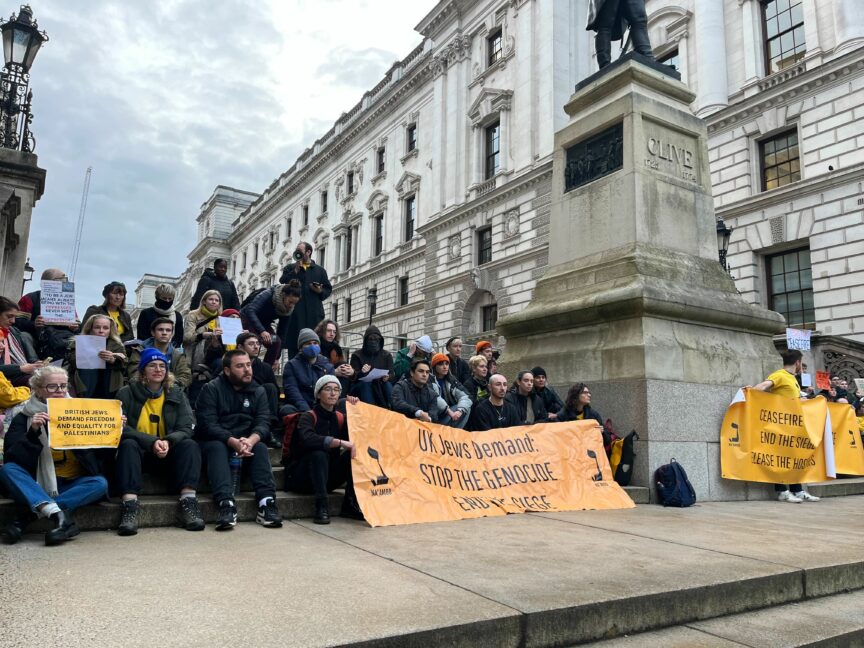 The demonstration comes amid growing protests against Israel's war on Palestine. On Saturday, half a million people marched through London to demand a ceasefire. While media commentators have suggested that these protests are motivated by antisemitism, Jewish activists have led a number of demonstrations against Israel's ongoing genocide in Gaza in recent weeks.
On 19 October, around 400 Jewish people gathered in Parliament Square, London, to condemn Israel's killing of Palestinians in Gaza and to protest the UK government and opposition's support for Israel.
On 27 October, thousands of US Jews and allies crowded into New York's Grand Central Station calling for a ceasefire, leading to hundreds of arrests. Organisers called the sit-in the "largest civil disobedience New York City has seen in 20 years".
A similar demonstration at Waterloo Station, London, on 28 October organised by direct action group Sisters Uncut featured speeches from prominent Jewish activists.
Clare Hymer is a commissioning editor at Novara Media.