Arms Factory Blockaded As Calls for Practical Solidarity With Palestine Grow
'The time to act is now.'
26 October 2023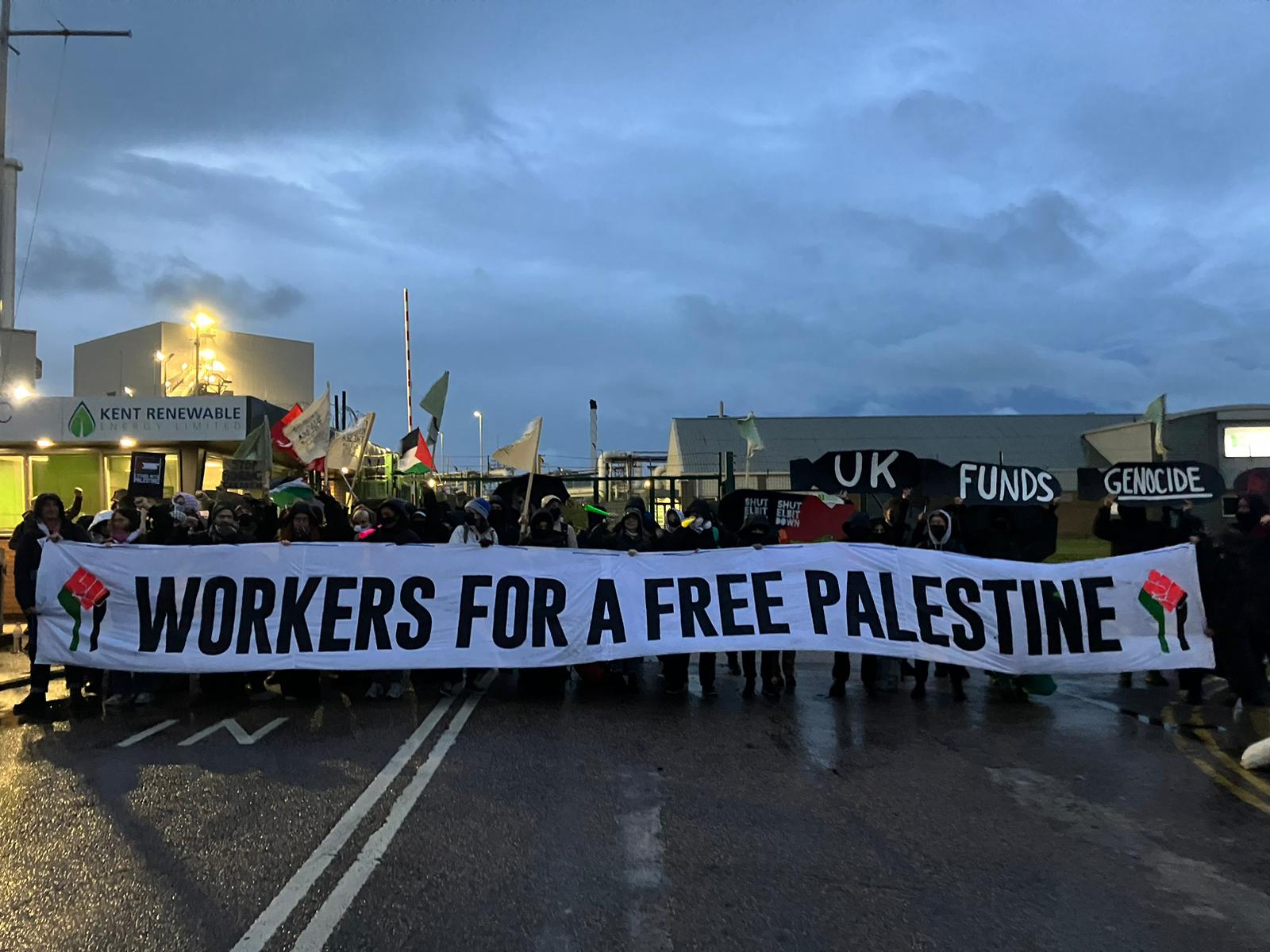 Protesters picketing outside Instro precision
Over 150 activists and trade union members are holding a mass picket blockading an arms factory, in protest over the use of UK arms exports in the current genocide against the Palestinian people.
The pickets are blocking the two key entrances to Instro Precision Ltd, a subsidiary of Israeli weapons manufacturer Elbit Systems, at a site in Sandwich, Kent. Protesters are holding banners that read "Workers for a Free Palestine" and "UK: Stop Arming Israel".
The action comes in response to a call from Palestinian trade unions for the international labour movement to "end all forms of complicity with Israel's crimes" by halting the trading of arms, all funding, and military research.
The UK has consistently sold arms to Israel, despite its illegal occupation of Palestine. UK industry provides 15% of the components in the F35 stealth combat aircraft that are currently being used in the bombardment of Gaza.
A member of Workers in Palestine, a coalition of Palestinian trade unions, said: "Many of the weapons used by Israel to sustain its settler colonial project and inflict catastrophic violence in Palestine are produced internationally, including in the UK.
"Pickets such as todays are a vital form of solidarity with the Palestinian people that can restrain Israel's military capacity. The time to act is now."
Abbie, an NHS junior doctor, said: "Seeing fellow doctors and their patients being killed is unbearable, and following the announcement that the healthcare system in Gaza has collapsed, many of us felt we had no choice but to take this action.
"We are disgusted by the role that the UK government and British arms industry is playing in enabling and resourcing the mass killings of civilians, with both the government and Labour shamefully refusing to call for a ceasefire."
The blockade follows nearly a decade of occupations and direct action against UK factories of Elbit Systems factories by protest group Palestine Action. The Instro site in Kent was occupied by protesters in 2015, over arms sales to Israel and Afghanistan.
It comes amid growing calls for trade unions to commit to practical solidarity with Palestine.
Hundreds of members of Unite, which represents workers at a variety of weapons manufacturers in the UK including Babcock, Leonardo, and Thales, have signed an open letter calling on the union to pledge practical support to workers who refuse to build or handle weapons destined for Israel.
The open letter also calls for the union to examine its investments to ensure that it is not doing business with or investing in companies involved in Israel's siege on Gaza.
It also calls on Unite to provide education about the occupation of Palestine to members in workplaces involved in the building and transportation of weapons destined for Israel, and to issue a public statement of solidarity with the Palestinian people and express support for Boycott, Divestment and Sanctions.
So far, the union has issued a statement saying it "condemns" and "expresses revulsion" at the "appalling acts of violence" against Israeli civilians while it "deplores suffering and loss of life" experienced by civilians in Gaza.
However, it makes no mention of support for the Boycott, Divestment and Sanctions movement, recognising Israel's practising of apartheid, nor calls for an to end the government's proposed free trade agreement with Israel, all of which were affirmed in motions passed at the union's annual conference in July.
Unite's young members committee has passed a motion expressing their "dismay" at the statement, which they called "an unprecedented deviation from decades of democratically mandated policy and solidarity work by the Union" that flew "in the face of commitments made by members to our partners and comrades in Palestine."
Novara Media understands that Unite's executive committee have called an emergency meeting over the statement.
Most UK trade unions have issued statements in response to the humanitarian crisis in Gaza. While not all unions represent workers directly involved in weapons manufacture or associated industries, only the RMT's statement specifically heeds the call of Palestinian trade unions by demanding that the British government stop its support of hostilities including halting of UK arms sales to Israel.
Union reps are also approaching munitions workers, in an attempt to build a union presence in the arms industry.
Sam, a Unite member, told Novara Media: "What we do is ask: 'Do you know where the parts that you produce here end up? What do you think the regulations should be around who can buy weapons from sites like this?'
"Most of the people you speak to feel that there should be regulations around where the arms end up, and that they shouldn't be used to kill civilians indiscriminately. That's the beginning of the conversation. We can say, 'well, that is how they are being used. So, what do we do next?'"
The task is made more difficult by the decentralised nature of arms manufacture, with workers often producing a small part of a weapon, unaware of where it might end up.
"It's in the boss' interest to give very little information to the people working in these sites," the Unite member said.
On the international stage, the Italian logistics union S.I. Cobas has declared that it "will oppose any shipping of weapons to Israel which they become aware of."
Polly Smythe is Novara Media's labour movement correspondent.