Palestine Activists Are Planning to Besiege an Israeli Weapons Factory
They've served Elbit Systems an eviction notice.
14 April 2023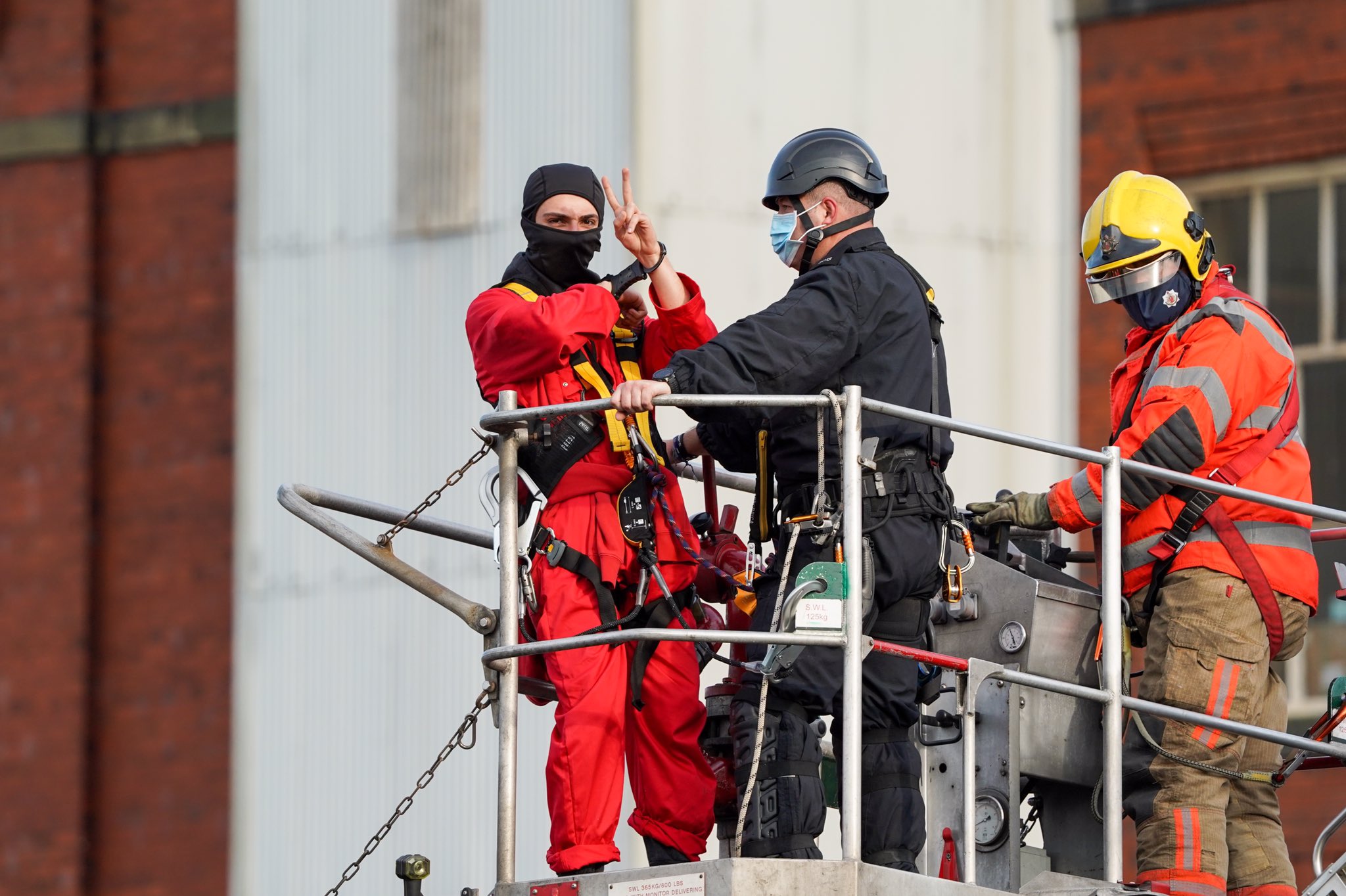 Palestine Action activists are removed from an Elbit Systems factory in Oldham, Greater Manchester, January 2022. Photo: Palestine Action
Gus* has never fancied himself an activist. Sure, he wore an Anti-Nazi League badge as a teenager in the 1970s, but in the Socialist Republic of South Yorkshire, who didn't? Eventually, Gus settled down – had kids, took a job in operations, moved to Leicester – and work and family became his priorities. "When you're consumed in work for 50, 60 hours a week, you let the world run past you," he tells Novara Media on a call. Only since he retired two years ago did he decide to do more than vote for Labour every five years.
Last year, Gus saw a Tommy Robinson counter-demo in Telford advertised on Twitter and – sensing an opportunity to make good his adolescent anti-fascism – travelled alone to attend it. Then in March, he went to a local protest following Gary Lineker's suspension from the BBC, where he was handed a flyer about a talk the following night. There he learned something that shocked him: he'd spent over a decade living around the corner from an Israeli weapons factory, and a group of activists was planning to shut it down. Having never even been a member of a political party, Gus was now part of a siege.
Red boiler suits.
On 1 April, Palestine Action (PA) was only half-joking when it served Elbit Systems with an eviction notice. On 1 May, the group plans to occupy the Israeli weapons company's Leicester factory for the second time in just over a year. Founded in July 2020 by a pair of longtime pro-Palestine activists disillusioned with polite resistance – co-founder Huda Ammori quit her job at the Palestine Solidarity Campaign after tiring of the NGO model of political campaigning – PA has earned a reputation as one of the UK's most militant direct action groups. Andrew Feinstein, a South African anti-apartheid activist, arms trade expert and PA advisor, called the group "undoubtedly the most effective campaign against a specific arms company I've seen anywhere in the world".
The group's sole target, Elbit Systems, is Israel's largest private weapons manufacturer, which happens to have a major UK manufacturing base. PA's preferred tactics are raids and occupations; images of its activists in red boiler suits and black balaclavas scaling and spraypainting redbrick buildings have become fixtures across mainstream media. Since launching, PA has occupied all five of Elbit's UK sites, one of which the company sold off last January after multiple rooftop occupations; the company also abandoned its London HQ in the summer after PA activists occupied and defaced it. The Siege, which starts on 1 May, will see PA return to the Leicester factory they first occupied two years ago (activists were eventually removed by police after six days).
At a time when many activists are feeling burned out by intensifying crises and relentless repression, PA keeps upping the ante. How do they do it? Feinstein attributes PA's success in part to its laser focus on one target. Just as activists in his home country targeted Barclays and Royal Dutch Shell for their engagement with the apartheid government, rather than attempting to pressure the entire banking or oil sector, he says that PA has chosen its target "very cleverly".
This narrow focus has enabled the group to keep its eyes on the prize: PA is often highly specific about the weaponry made in the factories it targets, linking these directly to attacks on Palestinians in the West Bank and Gaza. It's disrupting this supply chain, rather than tarnishing Elbit's reputation, that is the group's absolute focus – and in this, they've been remarkably successful.
In January last year, PA estimated that its actions had cost Elbit around £15m; that figure has since grown exponentially. In November, the company's share price dropped 18%, which the company claimed was due to stock price-linked employee compensation plans. In December news broke that was far harder to explain away: Elbit lost a ministry of defence (MoD) contract worth £160m, with another £123m contract hanging in the balance.
Given the deep ties between Elbit – which as well as its own factories, operates out of three Royal Air Force sites – and the British state, Feinstein says the significance of this news cannot be overstated. He links it directly to PA's disruption of Elbit's manufacturing operations: "Obviously the MoD would never say this, but […] [Elbit is] now an unreliable supplier."
Buoyed by their success in Oldham, the Siege will differ from PA's previous actions in one crucial way: whereas all of PA's past protests have been planned in secret, this one is being publicised; the talk Gus attended in March was one of around 15 PA has held in towns and cities across the north and midlands.
Speaking to Novara Media, Ammori says that this decision was made in part to attract people like Gus: locals who might not usually engage in "highly specialised, secretive actions", but who want ways to get involved with PA. It's a pivot not dissimilar to that of Extinction Rebellion, which earlier this year announced that it would temporarily ditch disruptive action led by a crack team of activists in favour of more peaceful mass mobilisation.
"This is about opening up [our activism] to the local community," she says. It helps that the community in question is primed for engagement.
A double effect.
"The Palestinian cause is not just a Muslim cause, but we feel the double effect of it because of the religious connection." Abu Hamza* speaks to me on the eve of his annual Ramadan trip to Al-Aqsa mosque in occupied East Jerusalem. The 43-year-old is one of the 86,443 Muslims that according to the latest census lives in Leicester, a city which has produced some of the country's best-known Palestine activism: Friends of Al-Aqsa was established there in 1997.
For Abu Hamza, Palestine activism is the water he swims in: as a teenager, he remembers being bussed down to pro-Palestine demos in London. Still, he and many locals have spent their whole lives unaware they were living right next to an Israeli weapons factory – the outrage at Elbit that PA has sown, he says, has "given the movement energy" – and attracted a great deal of local support.
The last time PA occupied Elbit's Leicester factory, located in the Meridian Business Park, business owners came down and provided free food; the fire brigade refused the police's request (at the time, a spokesperson for the Fire Brigades Union said that the organisation "stand[s] in support of Palestinian solidarity and the right to protest") to remove the occupiers. When the police finally came, hundreds of locals blocked the factory gates for eight hours before the cops put on their riot gear and broke through the crowd. Two years later and with the Israeli occupation intensifying under a new far-right government (just last week, footage emerged of Israeli police beating worshippers at Al-Aqsa), Abu Hamza reckons "they'll have [even] more sympathy now."
Shareefa Energy is evidence of this. The 33-year-old local poet is part of Shut Elbit Down Leicester, a local campaign that grew out of PA's first occupation and has since been holding regular demos outside the factory and organising nearby banner drops, keeping the ground warm until the next PA escalation. Speaking to Novara Media, she says that PA's savviness has been targeting a community already politically invested in the takedown of the Israeli arms trade – and now, personally so. "It's about re-owning responsibility for the local community," she says.
The group has the support of local independent MP Claudia Webbe: "In the absence of the government taking immediate action to end all sales of weapons that could be used unlawfully against Palestinian people," Webbe told Novara Media, "I believe direct action in the form of peaceful protest is justified."
'We're already criminalised.'
If the community wants the factory shut down, will the police stop them? In a statement to Novara Media, a spokesperson for Leicestershire police said: "We respect the right to peaceful protest and an appropriate policing plan will be in place." They added they'd been in touch with Elbit Systems.
Given the escalating state crackdown on protest through the Policing, Crime, Sentencing and Courts Act and now, the public order bill, Ammori doubts the police will "respect" PA's activists, but doesn't care. "We're already criminalised in the eyes of the state. Adding a few different versions of laws doesn't make much of an impact. If anything, it's more of a reason to take direct action." She may also be emboldened by the fact that legal repression of PA has mostly floundered: in September, charges against five of its activists were dropped due to a lack of evidence.
For his own part, arrest doesn't scare Gus. "I've been a football fan for a number of years," he tells Novara Media. "I've felt the rough end of a truncheon for no good reason." He also isn't exactly worried about the professional consequences: "I've got less to lose, I haven't got a future ahead of me, [I'm not worried about] being tarred [as] a troublemaker." This isn't to say he's going out looking for trouble, just that he sees potential arrest as a small price to pay: "I don't intend to be arrested, but the greater principle of this is that there are people that are suffering death and families being ripped apart, and if you're not prepared to stand up for the right values in life, then it will continue unabated."
*Names have been changed.
Rivkah Brown is a commissioning editor and reporter at Novara Media.