There Is Zero Evidence of a Shoplifting 'Epidemic'
In fact, rates are down.
31 October 2023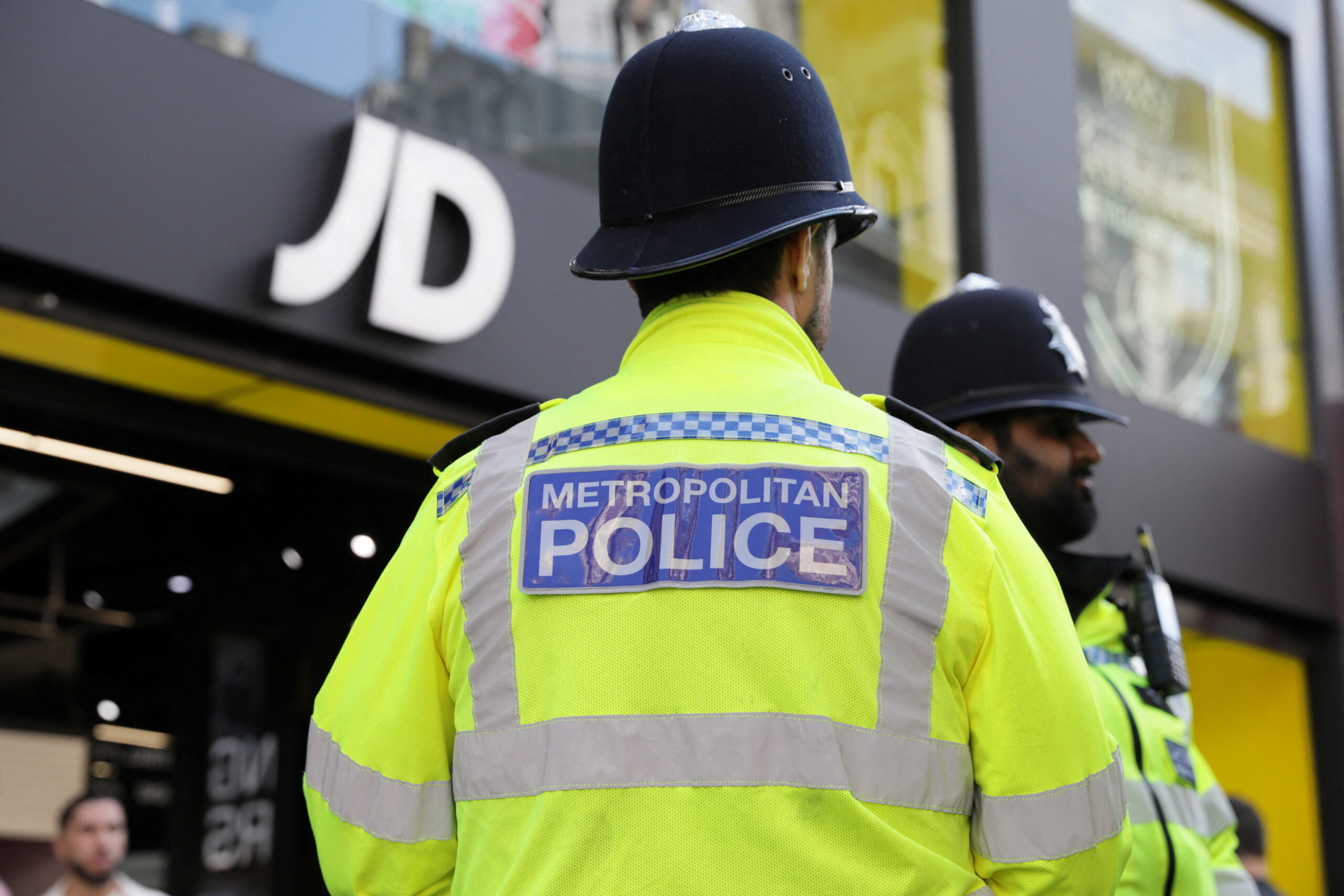 Police officers patrol Oxford Street, London, August 2023. Alishia Abodunde/Reuters
"Organised looting". "Year of the shoplifter". "On the verge of anarchy". These are some of the ways Britain's newspapers have reported on a supposed "epidemic" of shoplifting. On the surface, business owners would seem right to be concerned – the average number of recorded cases is up 59% since 2020, and the vast majority of cases are not resolved.
In reality, shoplifting has virtually zero impact on retailers' income and is simply returning to its previous levels after a pandemic-driven decline. What's more, the decline in police action regarding shoplifting actually began several years ago. The shoplifting epidemic, then, is a textbook moral panic.
Levels of retail theft have indeed risen in the past three years. Since 2020, recorded cases have increased from an average of 20,000 per month to 32,000 in 2023 (+59%). However, this superficial statistic fails to consider two important facts. Firstly, the country spent most of 2020 and early 2021 in lockdown. Secondly, the population of Britain has increased; simply looking at total cases does not paint an accurate picture of the shoplifting rate.
What we should be doing instead is looking at the levels of shoplifting over a longer period of time, adjusted for population increase (ie the rate per 100,000 people). When we do, we find something surprising – levels of retail theft in 2023 (47 per 100,000) are only fractionally higher than in 2019 (43 per 100,000), and slightly lower than it was in 2017 (48 per 100,000).
Yet some mainstream media outlets continue to insist that the shoplifting rate has massively increased, with ITV News claiming that it has "nearly doubled" since 2019 – a statement that is factually inaccurate.
Furthermore, the actual material impact of shoplifting on UK businesses is not particularly high. One Telegraph article quoted the Co-op as saying that theft and fraud in its food business is expected to cost the firm £70m in 2023. This sounds huge until you see that the company's revenue for 2022 was £7.8bn, of which shoplifting cost a measly 0.9%.
The same is true of John Lewis, which told the media that shoplifting had cost it £12m – 0.3% of its £3.7bn total revenue.
One could argue that even a small cost to retailers is significant if shoplifting has increased exponentially in the past few years – but it hasn't.
The British Retail Consortium produces annual reports on retail crime using data sourced from a sample of its members. In 2021-22, it estimated the cost of shoplifting at £953m, or 0.5% of the total revenue of the businesses surveyed. This was actually lower than in 2019-20, when it cost them 0.6% of their revenue (the survey concluded in March 2020, before the lockdown). Shoplifting costs are a long-running issue for retail firms, but the fact is that they are no more of an issue today than they were before the Covid-19 pandemic.
Yet with all that, it is undeniable that many business owners feel that shoplifting has worsened. Despite shoplifting being no more of a problem than before the pandemic, there is a perception of a crisis. The explanation may be the genuine collapse in police action on shoplifting. But this isn't new either.
In 2015-16, nearly half of all recorded shoplifting crimes (48%) resulted in the suspect being identified and action being taken. Yet by 2022-23, action was taken against a suspect in less than 20% of recorded cases – and someone was charged in only 15% of cases.
This decline began long before the pandemic. Between 2016 and 2020, the share of cases where a suspect was identified fell from 48% to 25% (-23 points). Since 2020, it's only fallen by 5 points.
In other words, the issue is not that more people are shoplifting – they aren't. The issue is that very few of the people who do shoplift are being caught, whereas several years ago they often were.
The overarching point, then, is this: there is no epidemic of shoplifting in Britain. Both in terms of the total number of cases and the financial impact on businesses, levels of customer theft have simply returned to what they were before the pandemic. It is true that most cases go unresolved, but this is a trend dating back to the mid-2010s. In reality, the supposed epidemic is a straightforward moral panic – one designed to distract our attention from the real villains of the cost-of-living crisis.
Ell Folan is the founder of Stats for Lefties and a columnist for Novara Media.