Suella Braverman, Far-Right Activists and the Media Are Stoking Tensions Ahead of Saturday's Palestine March
How dare you call for a ceasefire on Armistice Day?
9 November 2023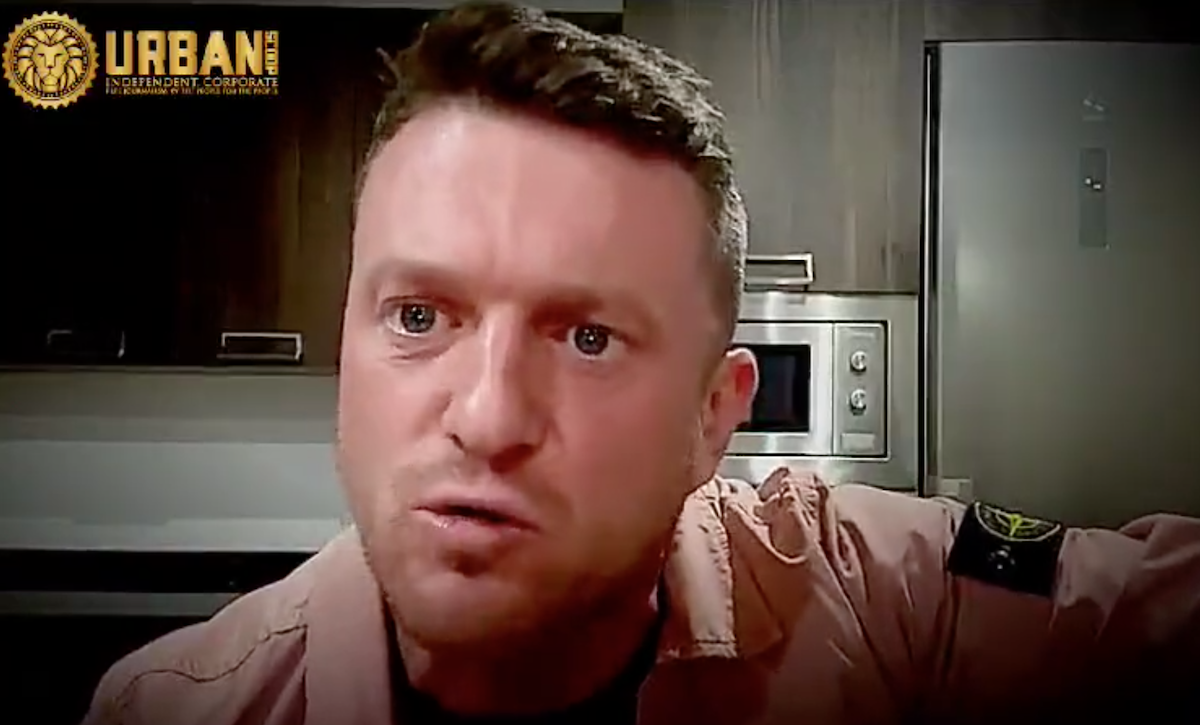 Tommy Robinson. Screengrab: Urban Scoop on Twitter/X
After a week spent pressuring the Metropolitan police to ban Saturday's pro-Palestine march, home secretary Suella Braverman – who is to enlightened public discourse what smoking a delicious pack of cigarettes on a petrol station forecourt is to health and safety – has claimed in an op-ed in the Times that "there is a perception that senior police officers play favourites when it comes to protesters".
"Rightwing and nationalist protesters who engage in aggression are rightly met with a stern response, yet pro-Palestinian mobs displaying almost identical behaviour are largely ignored," she said.
When Met police deputy assistant commissioner Ade Adelekan asked the organisers of the pro-Palestine march on Saturday to "reconsider", he said that it is "not appropriate to hold any protests in London this weekend" in light of the remembrance service for Armistice Day. So Novara Media asked the Met if it had made a similar appeal to far-right groups which are planning to come to London to "defend" the Cenotaph.
The force did not respond directly. A spokesperson referred us instead to a statement from Met commissioner Sir Mark Rowley, saying that "the intelligence surrounding the potential for serious disorder this weekend does not meet the threshold to apply for a ban" on the pro-Palestine march.
The Palestine Solidarity Campaign has explicitly said its march, which will start to gather an hour after the remembrance service, will not actually go near the Cenotaph. The same can't be said for far-right agitators.
On Sunday, former English Defence League (EDL) leader and convicted fraudster Tommy Robinson was reinstated to X/Twitter, following a ban in 2018 for "hateful conduct". In a video statement on Wednesday, he told followers: "We're going there to show respect and to make sure that there is respect shown at our Cenotaph".
While encouraging his followers to behave "with respect", he said that they would be "prepared to defend if we need to defend – because that's what men do".
Robinson recalled how he founded the EDL in 2009, and credits it with having "shifted the Overton window" on Islamism. Robinson has previously tried to distance himself from the EDL, acknowledging the "dangers of far-right extremism". Presumably he feels that the Overton window has now shifted so far that he doesn't mind reminding everyone of the association.
Turning Point UK will also be in attendance, despite the tiny rightwing group having made an offer to "call off all our people and contacts for Saturday" if the Met banned the Palestine march at its behest. The group has praised Braverman, saying: "It's great to have a home secretary who stands up for the British people".
The spectre of a far-right presence in London on Saturday follows an increasingly shrill ramping up of tensions in the rightwing media, as Islamophobia and establishment disdain for the woke-mob meets poppy-season-mania in a story line that feels like the first draft of a culture-war fan-fic written by chat GPT.
Writing in the Telegraph, columnist Alison Pearson said that the march going ahead shows the country has "bent over backwards to appease an aggrieved minority that uses tolerance as a ligature with which to strangle western values."
On Monday, GB News presenter and former Brexit party leader Nigel Farage referred to a picture of some people selling remembrance poppies for the Royal British Legion, who look bored as they are caught up in a sit-in for Gaza in Charing Cross station on Saturday.
Farage told viewers that "for all the much vaunted talk" of the success of multiculturalism, "we can see here in our country we have a significant number of people with whom we have no shared history, with whom we have no shared culture and who it seems have absolutely no respect whatsoever for our ways, our customs, our traditions or indeed our national act of commemoration".
Rightwing commentators have framed the existence of pro-Palestinian protests as a threat to western civilisation itself, and suggested that all the demonstrators are antisemites who support Hamas terrorism, all the while defending Israel's right to "self defence".
Last week, Douglas Murray, associate editor at the Spectator, who wrote in his book The Strange Death of Europe that the EDL "had a point", posted on X/Twitter: "UK Hamas supporters are now planning a 'million man march' on Remembrance Day. They plan to defame our war-dead and desecrate the Cenotaph itself," not offering any evidence for these claims. "This is the tipping point. If such a march goes ahead then the people of Britain must come out and stop these barbarians," he said.
Speaking on rightwing podcast Triggernometry on Monday, Murray claimed that Muslim pro-Palestine demonstrators are motivated by antisemitism. "It's at the absolute core of their being. This is why they are on the streets of this city and others marching. It's not because they love fellow Muslims, it's because they hate Jews," he said.
Last week, Murray wrote in the Sun blamed "decades of uncontrolled migration" for the marches. He previously called for arrests of pro-Palestine protesters "by the thousands" in the Daily Mail.
Writing in the Sun, anti-woke doom-monger Matthew Goodwin said that the protests calling for a ceasefire are "a symbol of what I call a 'civilisational moment'", claiming that, "millions of decent, hard-working, law-abiding and patriotic Brits" are "watching these events unfold with a creeping sense that their British history, identity, values and cultural inheritance are being rapidly undermined".
In October, Alistair Heath, editor of the Sunday Telegraph, wrote: "These are shameful times for Britain, for America and for the West, a point of no return from our accelerating descent into nihilism and depravity."
He asked: "Are we now so degenerate, so corrupt, so ignorant of history, theology and philosophy, so morally bankrupt that we can no longer tell good from evil? Is there even a way back for our civilisation?", before claiming that "Israel is held to a higher standard not just to every country in its region but to every democracy in the world".
Simon Childs is a commissioning editor and reporter for Novara Media.