Activists Just Shut Down a Factory That Makes Parts for Israeli Fighter Jets
Israel's 'most lethal fighter jet' is part-made in the UK.
10 November 2023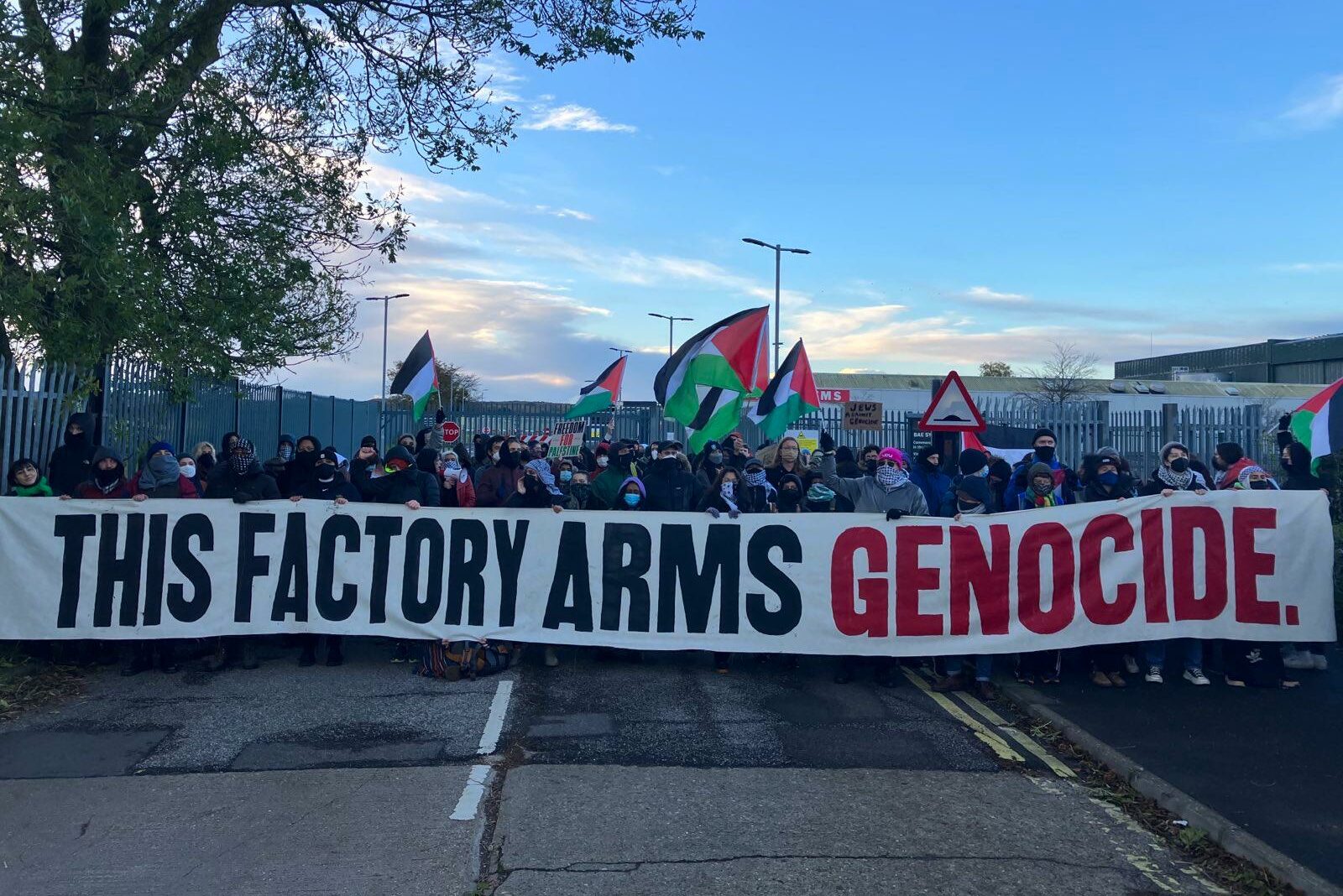 Around 400 people have blockaded the entrances to an arms factory in Kent.
Hundreds of activists have shut down an arms factory in Kent this morning by blockading the entrances to prevent goods and workers from getting inside.
Around 400 people left London on eight coaches in the early hours of this morning to take part in the action, organised by new group Workers for a Free Palestine and calling for an immediate ceasefire in Gaza.
"As workers and trade unionists, we have the power to disrupt arms supplies to Israel. We're taking this action because we will not stand by and let genocide happen with the backing of the British government and its arms industry," an organiser told Novara Media.
BREAKING: 400+ trade unionists are blockading multiple entrances to an arms factory in Kent which provides weapons for the Israeli military.

We demand an immediate #CEASEFIRENOW to halt the killing of civilians in Palestine & an end to British complicity in Israeli war crimes! pic.twitter.com/a1us8eQo1h

— Workers for a Free Palestine (@Workers4Pal) November 10, 2023
The BAE Systems site in Rochester makes parts for Israel's most advanced fighter jet, the F-35.
F-35 manufacturer Lockheed Martin boasts that the "stealth combat" aircraft is "the most lethal […] fighter jet in the world", giving pilots a "critical advantage against any adversary".
At the start of this year, Israel purchased 25 additional F-35 jets, taking its total fleet to 75. It is the only country in the Middle East to own any of the high-tech and deadly aircrafts, which it is currently using in its bombardment of Gaza. Israeli forces have killed over 10,000 Palestinians in Gaza in the last four weeks, including more than 4,000 children.
Around 15% of the aircraft's components are made in the UK, according to Campaign Against Arms Trade, representing tens of millions of pounds to the British arms industry each year.
Visiting the Israeli Air Force's fleet of F-35I fighter jets, IDF Chief of Staff Lt. Gen. Herzi Halevi warns that Israel "knows how to reach anywhere in the Middle East."

"We are already a month into the war, hitting Hamas very, very hard, hitting the leadership of Hamas,… pic.twitter.com/SDeQ0ehW4x

— Emanuel (Mannie) Fabian (@manniefabian) November 6, 2023
Alexandra, a teacher taking part in Friday's blockade, said:
"As a teacher, seeing 185 schools and other educational institutions in Gaza bombed is utterly heartbreaking. If our government and the Labour opposition won't support a ceasefire, as workers we will continue to take action to stop the slaughter of civilians in our name, funded by our taxes. 
"The British arms industry, which is subsidised by public money, is involved in the mass killing of Palestinians. We're here today to disrupt the Israeli war machine and take a stand against our government's complicity."
Workers for a Free Palestine – which says it includes health workers, teachers, hospitality workers, academics and artists, all of whom are members of trade unions – organised its first action last month. On 26 October, the group targeted a factory operated by Instro Precision Ltd, a subsidiary of Israeli weapons manufacturer Elbit Systems. Around 150 people blockaded the factory gate for six hours, preventing lorries from entering or leaving the site.
An organiser pointed out that the group's actions are rapidly gaining momentum, with almost three times as many people taking part this time. "There is a growing network of workers and trade unionists who want to organise in solidarity with Palestinians," they said. "We will continue to escalate our actions until we see a ceasefire and an end to UK complicity in Israeli war crimes."
The blockade today was planned to coincide with an International Day of Action for Palestine, called by Palestinian unionists who want workers around the world to use industrial action and civil disobedience to halt the arms trade with Israel.
A member of Workers in Palestine, a coalition of major Palestinian trade unions, said:
"Massive marches send a powerful message, but it's equally important to exert targeted pressure on governments and corporations that profit from the arms trade with Israel. We salute all trade unionists who took up the call made by the Palestinian trade union movement and acted decisively against complicity, only such clear actions by people of conscience can bring an end to Israel's impunity."
Earlier this week protesters in the US blocked a ship from carrying arms to Israel, and in Australia activists occupied a shipyard to disrupt an Israeli shipping line. Meanwhile, dockers in Barcelona refused to load or unload military equipment on Tuesday, following a similar action by a transport workers' union in Belgium last week. 
In the UK, the majority of the public supports a ceasefire – as does the United Nations which has warned of the potential for "genocide" and called for an immediate end to the "epic suffering" in Gaza. Yet neither British prime minister Rishi Sunak nor Labour leader Keir Starmer has called on Israel to end the bombardment. 
National marches have seen hundreds of thousands gather in London for four weekends in a row, while across the country activists have organised smaller demonstrations, sit-ins at train stations, boycotts, strikes and protests at MP's offices. 
Last Friday, 300 sixth formers at a school in east London boycotted an assembly with shadow minister Wes Streeting over his position on Palestine, while other children skipped school in Bristol to call for a ceasefire. 
On Saturday a march from London's Hyde Park to the US embassy is again expected to attract several hundred thousand protesters.
Charlotte England is head of articles at Novara Media.