Revealed: Outsourcing Companies Are Lobbying Labour to Sell Out Public Services
They're pushing at an open door.
16 November 2023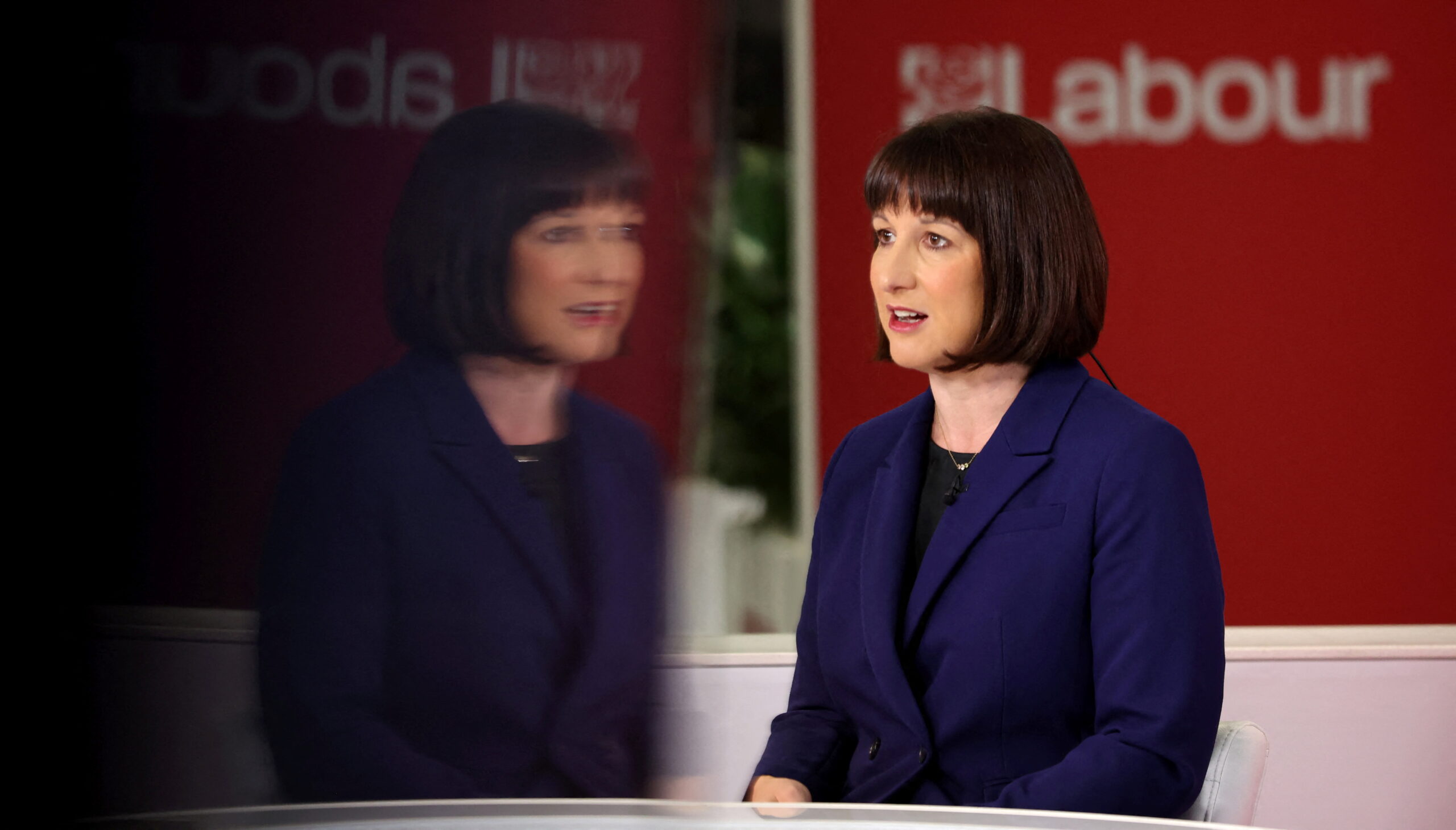 Shadow Chancellor Rachel Reeves at the Labour Party conference in Liverpool. REUTERS/Phil Noble
Private outsourcing companies are set to profit from the care of elderly and vulnerable people in the valleys of south Wales, after Labour run Rhondda Cynon Taff County Borough council announced plans to outsource all long-term home care.
The announcement came despite the party's apparent commitment to end outsourcing, which is being chipped away at by a concerted lobbying effort from a sector that is desperate to save its skin after years of scandal, Novara Media can reveal.
Demonstrating outside the council offices on October 23, care workers protested the transfer of long-term home support away from the council's own Support@Home service to an as yet unknown private company, chanting, "it started with a clap and ended with a slap."
Despite the council stating that the proposed changes would be made "alongside full cooperation with the trade unions," Unison has accused the council of privatising care provisions "without proper consultation with trades unions."
The GMB said that it would "fight tooth and nail to protect and support any members affected by this betrayal of the affected staff" who are "predominantly women workers."
However, the council's decision will be welcome news for outsourcing companies, as the likelihood of a Labour government supposedly committed to ending the practice approaches.
While outsourcing was introduced by Thatcher, the practice was turbocharged by the last Labour government, with Blair putting billions of pounds worth of public services into private sector hands.
Far from delivering a new culture of entrepreneurship, cutting costs, and rolling back state bureaucracy, outsourcing instead ushered in an era of extreme corporate greed and exploitative employment practices.
A series of botched contract deliveries, particularly during the Covid-19 pandemic, the collapse of Interserve and Carillion, and a string of high-profile scandals has left the practice synonymous with the failure to deliver quality public services.
Sack Serco?
Against the backdrop of growing public scepticism towards outsourcing, at the 2022 Labour conference Angela Rayner pledged to oversee the "biggest wave of insourcing for a generation."
How serious the party is about that remains to be seen. "Public services should be in public hands, not making profits for shareholders," was one of Keir Starmer's now infamous 2020 Labour leadership pledges. In 2022, Starmer rowed back on this, telling Andrew Marr that private provision was "likely to have to continue" in the NHS.
Nevertheless, outsourcing companies are antsy over Labour's insourcing plans.
As an outright defence of outsourcing in its current guise grows increasingly untenable, lobbyists are instead seeking to transform Labour's opposition to the practice into one of caveated acceptance.
And it appears that lobbyists are pushing at an open door.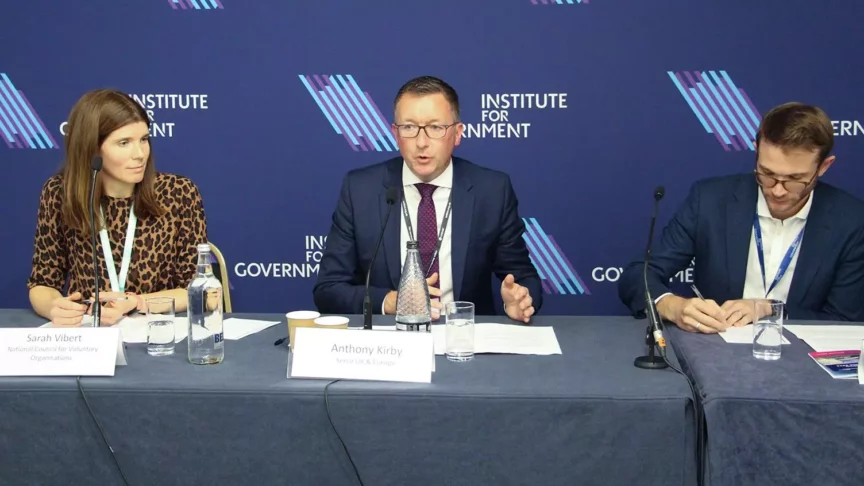 Despite shadow chancellor Rachel Reeves having tweeted "sack Serco" in 2020, the scandal-ridden company sponsored a panel at last month's Labour conference, titled "What is the future of government outsourcing?" On the panel was Serco UK and Europe CEO Anthony Kirby and shadow minister for international trade Nia Griffith.
Serco, which has been handed more than £56m in fines since 2010, has served as a lightning rod for criticism about private provision. However, Kirby complained that too often we "only hear about the failures," and that "overwhelmingly outsourcing has delivered positive outcomes."
Kirby described Serco's work as "doing the right thing in local communities," and attributed failures to the fact that companies "don't talk positively enough clearly about the value of the people that are out on the frontlines delivering those services day in day out."
Griffith set out no timeline for insourcing, nor any explanation over whether funding for insourcing would be provided centrally or expected to come from the budgets of highly cash-strapped local councils.
"You can't simply just jump up now, and insource everything," said Griffith. "The wish is to try to fast forward with insourcing. But realistically, we have to look at what can be done, how quickly it can be done, and what it's appropriate to do.
"The will is absolutely there to want to do as much insourcing as we can. The reality is that there will be sections which will remain outsourced."
With the immediate in-housing of services looking off the table, outsourcing companies are working backstage to broaden the scope of where outsourcing will remain.
Developing relationships
In summer 2022, global consultancy firm SEC Newgate held a series of "roundtable discussion dinners" between senior business representatives from outsourcing company Sodexo and shadow business secretary Jonny Reynolds, then shadow business minister Seema Malhotra, and "senior Labour officials", according to the firm's website.
With a brief to help clients "develop relationships with senior Labour figures" to help them "position themselves to influence Labour's policy agenda," the roundtables "fed into an internal report which the Labour party is drafting, which will inform the future direction of Labour's policy platform."
The roundtables were hosted by the firm's executive chairman Mark Glover. His SEC Newgate biography describes him as a "leading expert in understanding the Labour Party," boasting of his position as vice chair of Small Medium-Sized Enterprises for Labour, 12-year stint as a councillor in Southwark, and marriage to Johanna Baxter, who was previously chair of Labour's controlling National Executive Committee (NEC).
Alice Perry, also a former Labour NEC chair, is an associate director at corporate lobbying firm Cicero, who represent Serco. Perry sat on this year's Labour's Conference Arrangements Committee, which is responsible for overseeing proceedings at the annual gathering.
And they're lobbying trade unions too
The campaign hasn't stopped with Labour. Outsourcing companies have also been targeting trade unions in their bid to halt insourcing, presenting themselves as suddenly willing to be friendly to workers.
Speaking at TUC congress in September, RMT general secretary Mick Lynch said that outsourcing companies are "in the TUC, in Congress house, meeting senior officials, in order to dilute" Labour's package of reforms for workers.
Novara Media can reveal that in October, the TUC hosted what was billed as a roundtable on skills agenda. Present at the meeting were outsourcing firms Business Services Association, Sodexo, Mitie, Serco, VINCI, Capita, OCS, BT, Bouygues E&S, IBM and Corndel, with Amey invited but not in attendance.
At the meeting, the outsourcing companies told the trade unions present that they were willing to invest in new skills and training schemes for outsourced workers. More meetings are planned.
There are differences within the union movement over how significant the fight against outsourcing is. Should unions embrace the overtures from companies like Serco and Mitie, they risk helping outsourcing companies demonstrate to Labour their ability to work with trade unions, without securing any genuine concessions for workers or recognition agreements.
Given that the employment track record of outsourcing companies is one of overwork, chronic low-pay, and institutional racism, the question needs to be asked whether this sudden friendliness towards trade unions is just another cynical tactic from companies anxious to secure their future under a Labour government.
Polly Smythe is Novara Media's labour movement correspondent.