A Third of Keir Starmer's MPs Defied Him Over the Vote for a Ceasefire
It's his biggest rebellion yet.
16 November 2023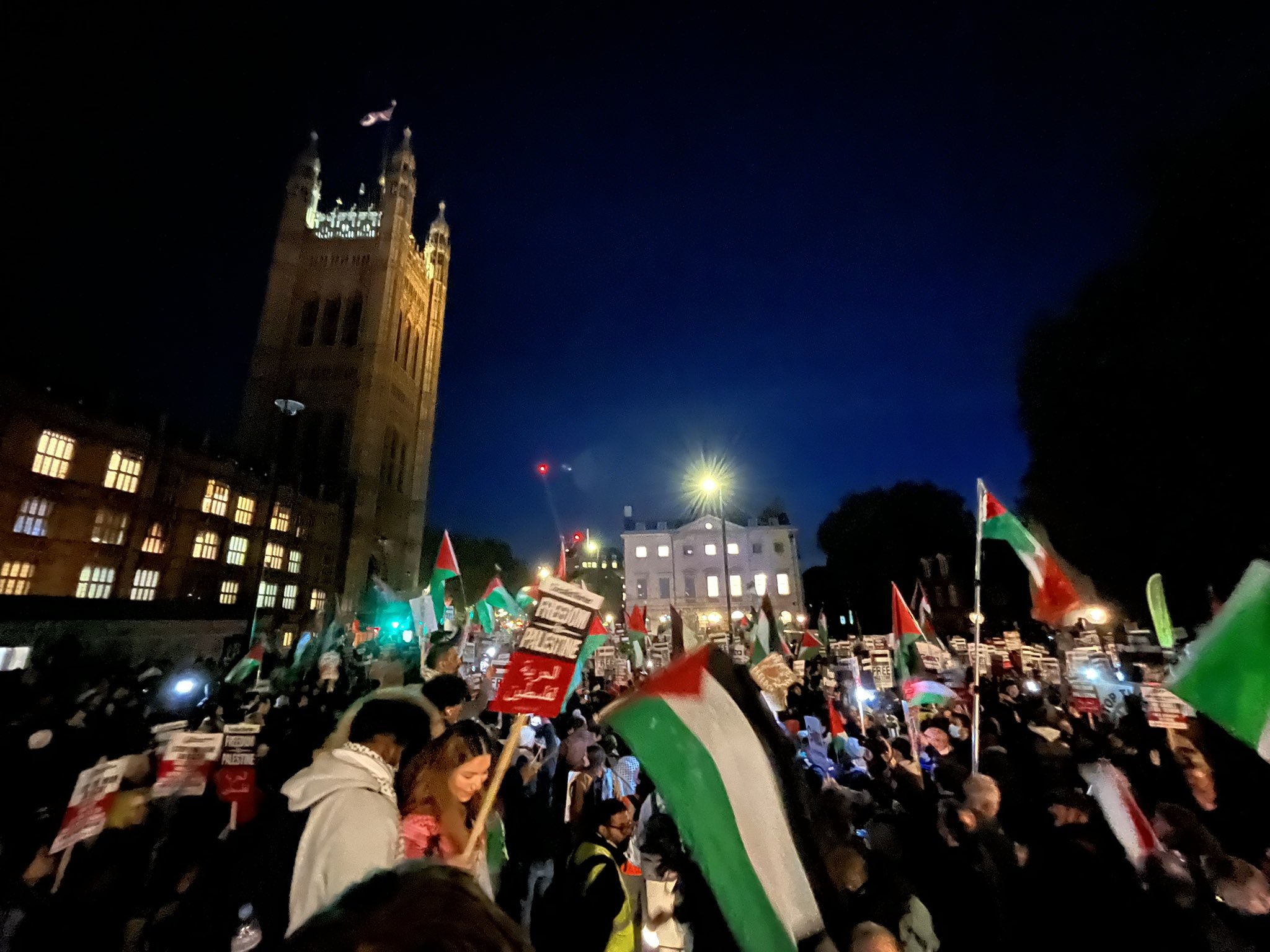 Pro-Palestine protesters outside parliament as MPs vote on an amendment calling for a ceasefire. Photo: Clare Hymer
Labour leader Keir Starmer suffered his biggest ever rebellion last night, with a third of his MPs voting for an amendment calling for a ceasefire between Israel and Hamas.
56 Labour MPs – including 10 frontbenchers and eight of his shadow cabinet – defied the Labour whip to vote for the Scottish National party (SNP) amendment.
Jess Phillips quit as shadow minister for domestic violence and safeguarding, writing in a letter: "I must vote with my constituents, my head, and my heart," suggesting that public protests and constituents' emails were having an effect.
Yasmin Qureshi also quit as shadow minister in the equalities office. In her resignation letter, she criticised Labour's calls for "humanitarian pauses" – a measure short of a ceasefire. "I believe that the scale of need is so high that 'pauses' cannot offer the time and security needed to meet even basic civilian needs. Anything short of a ceasefire will lead to the loss of more lives," Qureshi said.
One Labour source told the Times the rebellion was a "massive, damning indictment of Starmer's judgement on this issue".
Commenting on the vote last night, Starmer said in a statement: "I regret that some colleagues felt unable to support the position tonight.
"But I wanted to be clear about where I stood, and where I will stand. Leadership is about doing the right thing. That is the least the public deserves. And the least that leadership demands."
That "leadership" has so far involved disastrous messaging, followed by cack-handed attempts to row back on previous statements.
Starmer has been trying to clean up his mess ever since his now infamous LBC interview in which he was seen as giving Israel carte blanche to withhold power and water from civilians in the name of self-defence.
Asked by LBC's Nick Ferrari whether cutting off power and water was a proportionate response to the 7 October attacks, Starmer replied: "I think that Israel does have that right … It is an ongoing situation. Obviously, everything should be done within international law."
The interview triggered resignations of more than 30 Labour councillors, and an internal crisis that has been escalating ever since. Party advice not to attend pro-Palestine protests has been roundly ignored by MPs. Earlier this month Imran Hussain, MP for Bradford East, resigned as a shadow minister.
Starmer's spinelessness on Gaza is having impacts on his perception by the electorate, too. Polling from November shows that voters' perception that he is a "strong leader" is down 10 points since early October. Labour's score on being seen as "united" is down 18 points, while its score on being seen as "tolerant" is down 12 points. This is from a leader who promised to unite the party under strong leadership, and said that his party would be more tolerant than under its previous leader.
Labour's attempt to have it both ways reached its peak last night. A Labour source confirmed to Novara Media claims that MPs were given permission by the party leadership to make statements in favour of a ceasefire, so long as they did not actually vote for one. They voted instead for a Labour amendment which called for "humanitarian pauses", a credible, diplomatic process to deliver a lasting peace, but stopped short of calls for a ceasefire.
Shortly before the vote – on what she described as "probably the hardest day of my political career" – MP for Batley and Spen Kim Leadbeater published a video of herself in which she said that while "of course, I want a ceasefire", she wouldn't be voting for the SNP amendment, because "even if I did, nothing would change". She instead expressed her support for Labour's watered-down amendment, which she described as "a framework that leads towards that much-needed ceasefire".
Navendu Mishra, Labour's MP for Stockport, tweeted as the votes were being counted that he stands with the "call for a ceasefire now and enduring peace. I will continue to make that case within Labour and to government, so that humanitarian aid reaches civilians and the siege ends."
Helen Hayes, MP for Dulwich and West Norwood told parliament: "My conscience tells me that I must call for a ceasefire today – a halt to this dreadful destruction and conflict. Far too many have already died on both sides, and more will continue to die if the violence does not cease. We must call for a ceasefire."
Both Mishra and Hayes abstained on the ceasefire amendment.
Simon Childs is a commissioning editor and reporter for Novara Media.
Moya Lothian-McLean is a contributing editor at Novara Media.