The Rightwing Media Is Very Upset About the Remembrance Day Disorder It Helped Cause
Who could have seen that coming?
13 November 2023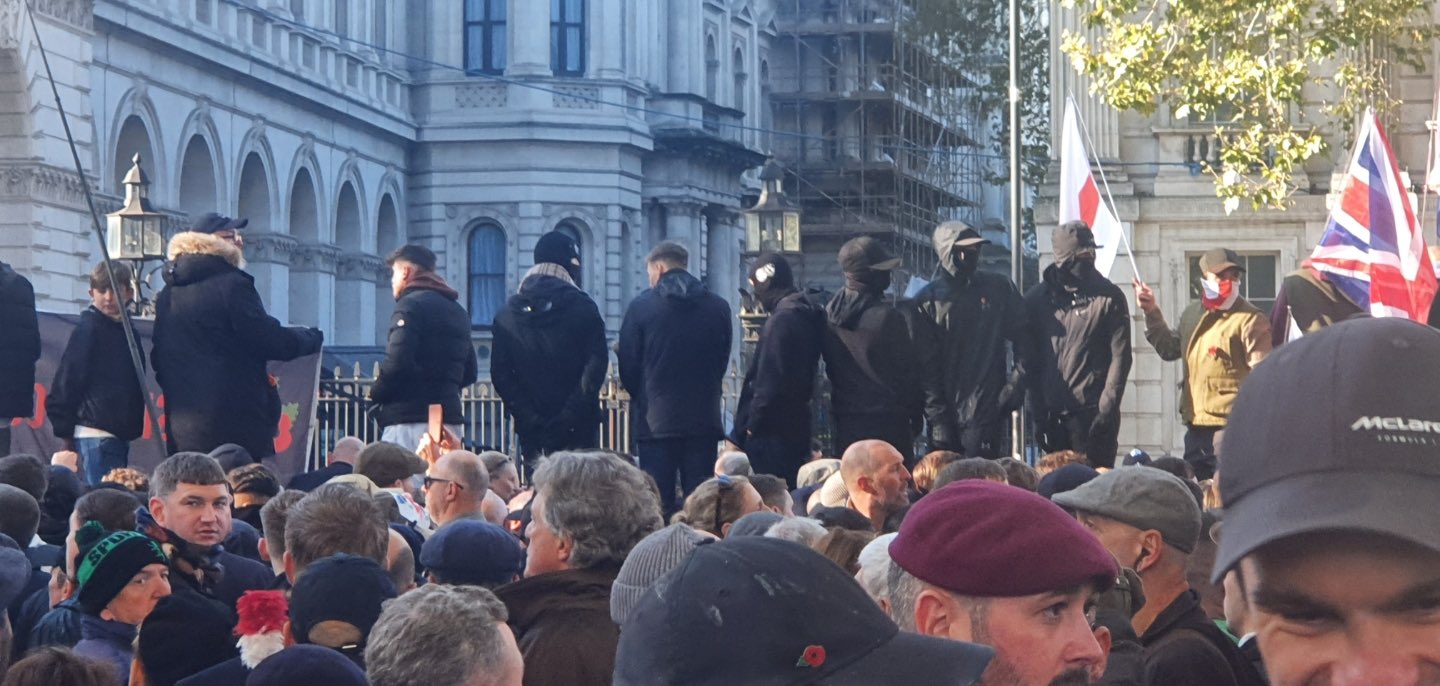 Far-right activists near the Cenotaph on 11 November 2023. Photo: Stand Up to Racism on Twitter
After spending the week suggesting that marching for peace on Armistice Day was an unpatriotic provocation and criticising the police for going soft on pro-Palestine protesters, rightwing media were shocked and appalled that a couple of thousand far-right activists showed up to "defend" the Cenotaph and caused chaos. "Despicable", blasted the Sun – a "day of disgrace".
The relatively small number of incidents connected to the hundreds-of-thousands strong pro-Palestine march, including the "jostling" of cabinet minister Michael Gove at Victoria station, meant the Mail on Sunday could criticise "extremists from all sides". Meanwhile, the Sun editorial defended Suella Braverman, blamed the Palestine march organisers, and said "there must never be a repeat of this insult to our war dead", laying the groundwork for a potential increase in police powers against protests.
Telegraph columnist Allison Pearson, who went to Westminster to "take a stand" against the Palestine march, admitted that events at the Cenotaph were "blighted" by the far-right. She spent Saturday by the Churchill statue in Parliament Square taking selfies with a small number of fans, and claimed that "the silent majority of decent people, who agree with Suella Braverman" had showed up, listing a grand total of nine places where these masses had appeared from ("From Kensington, from Yorkshire, from Dorset…"). Disorder from the far right "was hardly the whole story," she said.
It's unusual for Pearson to be averse to tarring large groups of people with the same brush. She previously wrote that pro-Palestine protests "looked alarmingly like an endorsement of one of the worst massacres of modern times", accusing protesters of "providing cover for murderers, some naively and out of the best humanitarian intentions no doubt; others willingly and full of hatred".
Over at the Mail on Sunday, columnist Sarah Vine said: "Far-right, far-left, they're all the same, bedfellows in hate." She contrasted them to "everyone else who – entirely reasonably – wants to voice their distress at the terrible loss of human life taking place in Gaza".
This is a bit of a turnaround from just a few days earlier, when she lambasted "all those planning to disrupt Armistice Day on Saturday by mounting pro-Palestinian marches against Israel" and called them "pampered little snowflakes". Addressing the protesters, she said that, to Hamas, "you are nothing more than useful idiots who, in your naivety and ignorance, are doing their work for them".
A report on the remembrance event itself said that "dignity triumphed… just", no thanks to the "yobs" who were "apparently intent on 'saving' the Cenotaph, as if the police's much-vaunted right of steel wasn't up to the job".
What could have given them that idea? In the same newspaper, a comment piece from an anonymous Met officer said that the police "play favourites" with protesters as "a symptom of years of wokery and political correctness […] Put simply, senior officers are terrified of being accused of racism if they fully enforce the law against pro-Palestinian protesters".
GB News presenter Martin Daubney was filmed amid the far-right ruckus on Saturday, trying to hold back a man who was squaring up to the police while pissing blood from his head. On Monday he was back on TV, asking whether it is time for the Labour Party to "make a distance" from the Palestine protests and to "call for them to be banned and admit that maybe the Suella Braverman had a point".
Update: This article was updated at 20:45 on 13 November.
Simon Childs is a commissioning editor and reporter for Novara Media.