Why Is Showing Solidarity With Palestine Getting People Cancelled in Germany?
Almost anything can be construed as 'pro-Hamas'.
20 November 2023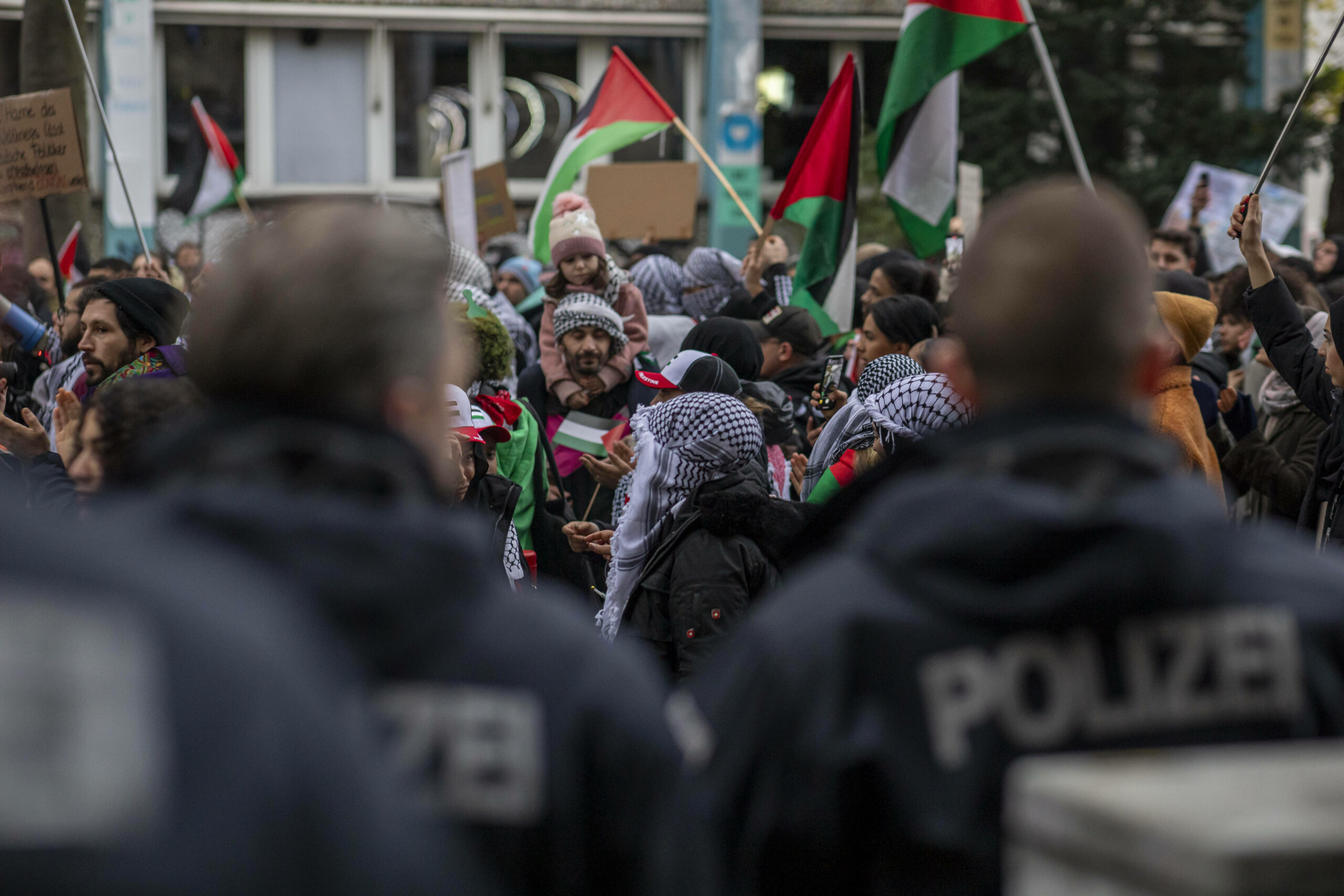 Initially banned, protests in Germany calling for a ceasefire in Gaza have been heavily policed. Photo: Reuters
When Jeremy Corbyn was disinvited from speaking at a conference in Berlin last week he joined a growing list of public figures to have been cancelled in Germany for their views on Israel-Palestine. 
Corbyn had been due to speak at an event on Friday, co-organised by the left-leaning Volksbühne theatre and the Rosa Luxemburg Foundation (RLF), on the relationship between the European and Latin American left. But on Tuesday the venue said it would not host the British politician because of "statements [he made] in the past". 
The Rosa Luxemburg Foundation confirmed to Novara Media that the theatre had chosen to cancel the British politician's appearance "due to the current situation in the Middle East". A spokesperson for the foundation said it respected the decision made by the venue, but added that it had worked with Corbyn for years and regards him "as an important representative of the left in the UK and worldwide." 
While the Volksbühne didn't specify which statements it objected to, in the weeks since the Israel-Hamas war began, even the minimum assertion that Palestinians, too, deserve human rights has been repeatedly challenged or construed as a "pro-Hamas" position in Germany. With the bar this low, the country has witnessed a spate of cancellations across civil society, arts and culture, and substantial pressure on anyone with a public profile to self-censor. 
In mid-October, the Frankfurt Book Fair cancelled an award ceremony for the Palestinian writer Adania Shibli over concerns about how the ceremony might be perceived in the context of the war. Slovenian philosopher Slavoj Žižek, in pointing to the importance of listening to Palestinians to better understand the conflict, was himself accused of relativising Hamas. And Social Democratic co-party leader Saskia Esken even called off a meeting with Bernie Sanders due to his stance on the ongoing escalation.
In a particularly unsettling incident in Munich, the musician Nicolás Jaar was told he could not give a workshop at the Academy of Fine Arts over an Instagram story, in which Jaar criticised the White House for calling the Hamas attack "unprovoked." Many experts have emphasised that the Hamas massacre cannot be fully understood when it is isolated from the context of Israel's occupation, and yet the Süddeutsche Zeitung newspaper framed Jaar's comments as "pro-Hamas" and an attempt to justify the group's actions. "To give context to what happened doesn't justify it," Jaar told Novara Media, noting that he wasn't even approached by the newspaper for comment. The Süddeutsche later corrected its initial interpretation of his statements, but only after Jaar threatened legal action.
Meanwhile German newspapers, from right to left, have published glaring polemics against criticism of Israel's increasingly indiscriminate war policies, including attacks on prominent Jewish thinkers such as Judith Butler and Naomi Klein.
Germany's 'Staatsräson'.

While individuals and institutions have made autonomous decisions to cancel speakers and events, Germany's attitude to Israel-Palestine has undoubtedly been set from the top down – and is heavily influenced by the country's history.
Following the Hamas terror attack on 7 October, when the group kidnapped roughly 200 Israeli civilians and killed over a thousand, the German government has been unshakable in its support for Israel's increasingly drastic escalation of the conflict. German chancellor Olaf Scholz has repeatedly emphasised Israel's "right to self-defence" while opposing the United Nations' calls for a humanitarian ceasefire. During the first two weeks of the war, German authorities even issued outright bans on most pro-Palestine protests – although many are now allowed – claiming they would incite antisemitism.
This response is easier to understand when you consider that Germany has long felt a special responsibility towards Israel, which was officially founded as a Jewish homeland just three years after the Nazis systematically murdered six million Jews in the Holocaust. In 2008, then-chancellor Angela Merkel articulated Germany's responsibility towards Israel as its "Staatsräson" – or "reason of state" – suggesting that protecting Israel's interests is an integral part of Germany's existence. 
In general, Staatsräson is an abstract policy, characterised by light, if any, critique of Israel's settlement activities and unconditional support for its wartime measures. But since 7 October, it has been invoked repeatedly by Germany's leaders. "At this moment, there is only one place for Germany. That is the side of Israel," Scholz said, a few days after the Hamas attack. "That's what we mean when we say, 'Israel's security is Germany's 'reason of state'". 
In recent years, this perspective has gained traction across the political spectrum in Germany. And while it is understandable that, given its history, Germany has cultivated a degree of sensitivity towards Israel, some fear that this increasingly blunt over-identification with the country is beginning to override the values that should guide any right-minded individual towards a firm rejection of both antisemitism and all other forms of racism.
Racial profiling.
Police and politicians justified the initial bans on nearly all pro-Palestine protests on the grounds that these demonstrations would "emotionalise" Muslims in particular. There was an "imminent danger", the police claimed, that these assemblies would result in "inciting anti-Semitic slogans".

Many interpreted the bans as a reaction to a widely publicised gathering that happened on 7 October in the Berlin borough of Neukölln. On Sonnenallee, a street with a high concentration of Arab and Palestinian residents, about 50 men reacted to the Hamas attacks by sharing baklava to celebrate "the victory of resistance". Besides this, some shocking instances of blatant antisemitism in the wake of the war – such as a Molotov cocktail thrown on a Jewish community centre in Berlin-Mitte, and stars of David painted on the front doors of Jewish people's houses – underscored the urgency of the concerns that led to the bans. Both as a leftist, and as a German, I vehemently denounce these incidents.
But as the bans expanded, questions about their proportionality with regard to freedom of speech, as well as concerns over discriminatory behaviour on the part of police, became ever more pressing. The bans included everything from peaceful Palestinian protest to a demonstration organised by the German partner organisation of Jewish Voice for Peace, as well as a school rally titled "Youth Against Racism". 
Neukölln residents of Arab descent reported several instances of racial profiling and brutal police violence in the name of preventing antisemitism. A woman of Jewish-Israeli descent was detained for carrying an anti-war message in Herrmannplatz. Images started circulating showing Arab minors being arrested for wearing the colours of the Palestinian flag. On 13 October, Berlin police prohibited the chanting of the slogan "From the river to the sea, Palestine will be free," marking it an indictable offence. Concurrently, Berlin's education senator, Katharina Günther-Wünsch, issued a directive to school principals, providing them with the option to forbid students from wearing symbols of Palestinian identity such as the keffiyeh, the Palestinian flag, or its colours. The directive asserted that "any act or expression of opinion that can be understood as advocacy or approval of the attacks against Israel" was deemed a threat to the peace within Berlin's educational institutions. 
On 23 October, a group of Jewish artists and scholars living in Berlin published an open letter entitled Freedom for the One Who Thinks Differently. The letter explicitly opposes violations of civil liberties in Germany under the guise of Jewish safety. "As Jews," it states, "we reject this pretext for racist violence and express full solidarity with our Arab, Muslim, and particularly Palestinian neighbours." The letter also expresses concern about the disquieting undercurrent of xenophobia that is increasingly evident when immigrants and Muslims in Germany are accused of antisemitism. For instance, in a recent widely-discussed speech, German vice chancellor Robert Habeck rightfully decried contemporary antisemitism. Yet, he also expressed a broader expectation for Muslims to distance themselves from it – effectively casting Muslims as antisemitic until they proved otherwise. President Frank-Walter Steinmeier doubled down on this stance a few days later by calling on people of Arab origin to distance themselves from Hamas. 
The role of the German media in exacerbating such odious assumptions can hardly be understated. The right-leaning tabloid Bild, Germany's most widely distributed newspaper, recently released a manifesto, warning of a surge in animosity "against our values, democracy, and against Germany" since the start of the Israel-Hamas war. Similar views have been voiced in liberal and left-leaning outlets.
Antisemitism and the far right.
The very real, recent surge in antisemitism in Germany has intersected with anti-immigrant rhetoric in worrying ways. A few weeks ago, Scholz featured prominently on the cover of Der Spiegel beneath the quote: "We must finally deport on a grand scale." This reflects a rightward shift in Germany's asylum policy, which some have interpreted as a panicked centrist response to a dramatic rise in support for the far-right – and staunchly anti-immigrant – AfD party.
Liberal politician Max Mordhorst went a step further along the same path as Scholz when he tweeted on 6 November about the importance of addressing the "topic of migration and antisemitism", asserting that it must remain a "top political priority".
Recent statistics challenge the notion of antisemitism in Germany as the "imported" problem several politicians are portraying it to be; in 2022, the federal police disclosed that in fact over 80% of reported antisemitic incidents were attributed to far-right individuals or groups. 
But the actual facts didn't stop Mordhorst from suggesting "a clearer distinction between German fundamental rights and the rights of everyman" – essentially a proposal to prevent non-EU foreigners from participating in political activities. 
Increasingly, statements like Mordhorst's are taking genuine concerns about increasing antisemitism in Germany and contorting them into fuel for a sort of xenophobic McCarthyism. Palestinians and other immigrants in the country now feel obliged to demonstrate their worthiness of inclusion in society and are increasingly cautious of speaking their views on Israel-Palestine. 
While things have got rapidly worse since the start of the Israel-Hamas war, this problem isn't entirely new. A few months ago, I spoke with Osama Mekky, a Gazan pharmacist in the German state of Hessen. Having lived and studied in Germany for a decade, Mekky still remains without a passport. Earlier this year, he received a letter from his regional council quoting statements he made on Facebook that the council claimed indicated an "anti-Israeli attitude." The letter focuses, among other things, on Mekky's claim that many of the attacks committed by Palestinians in the region "were reactions to actions [by Israel] that had preceded [them]." Mekky's residency permit, a prerequisite for obtaining a German passport, has been revoked as a result. The letter explicitly states that Mekky is to be expelled from Germany. It doesn't specify where to.
With Berlin standing as a hub for the largest Palestinian diaspora in Europe – while also hosting a steadily expanding community of Israelis – the Israel-Palestine conflict is increasingly becoming a yardstick for measuring how much Germany's commitment to an inclusive society has waned.
Hanno Hauenstein is a German journalist.