How We Won: The Mother Who Stopped Her Son's Deportation
The campaign offers a blueprint for how to take on the Home Office - and win.
30 July 2021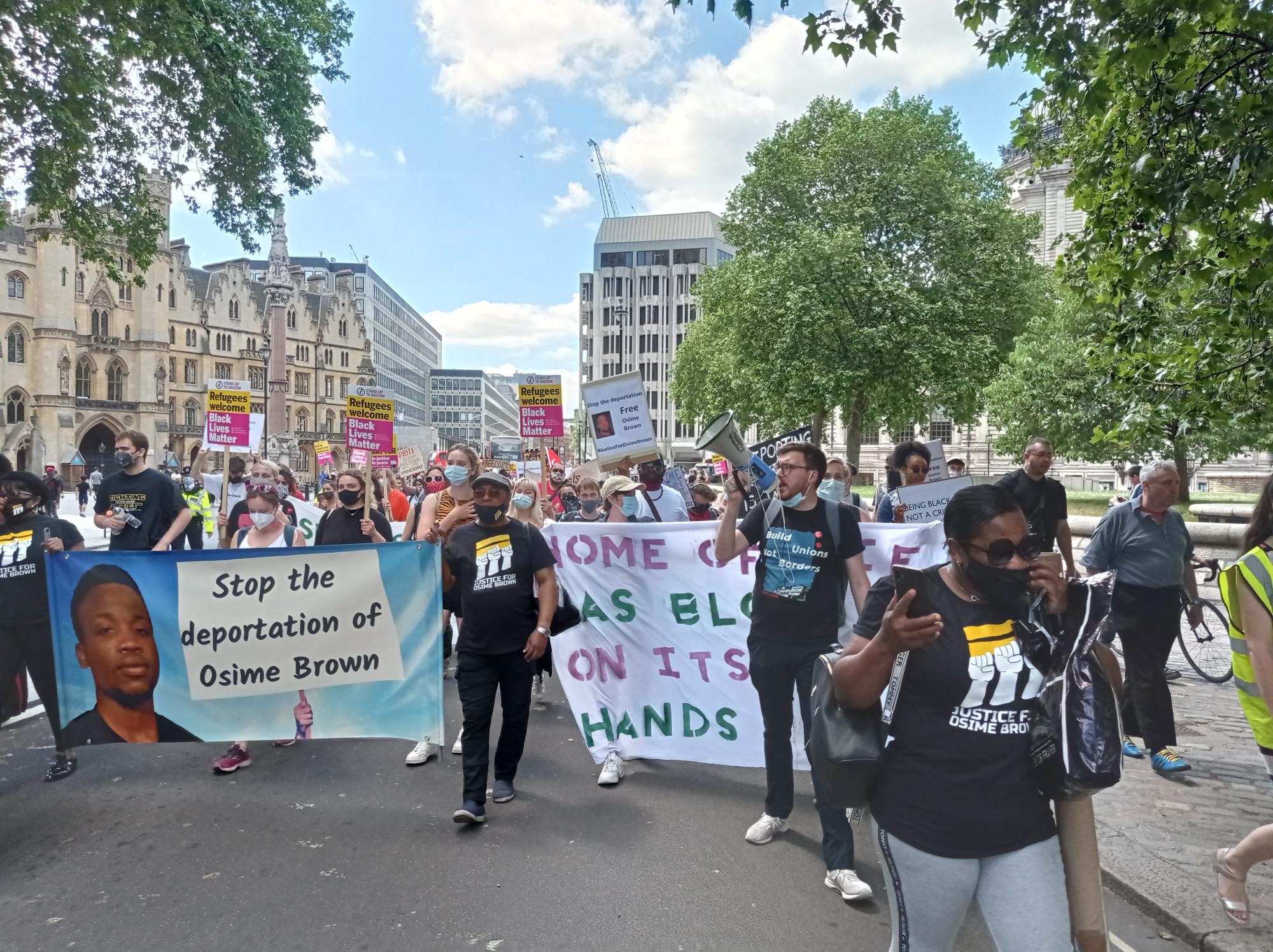 (Mark Montegriffo)
"Because of you, I remained rooted in hope when all things around me were falling apart. Because of you, Osime will remain [in] his home. I have restored trust in humanity because of you. You have demonstrated what love looks like," These were the words of Joan Martin, as she addressed the crowd of protesters gathered in Westminster to celebrate the halting of the deportation of her son, Osime Brown. 
In August 2018, Brown, who suffers from autism, a heart condition, PTSD and depression, was served with a deportation order to Jamaica – a country he left at just four to settle in the UK with his mother. The order came after he finished serving time for the robbery of a friend's mobile phone – a charge both he and the victim deny. "He was convicted of a crime…he did not commit," asserts Martin. 
Brown's time in prison had a devastating impact on his mental health. Subjected to racial abuse, physical restraint and violence, he began to suffer from anxiety and depression, which led him to start self-harming. 
Osime Brown is coughing up blood. He has had two major heart surgeries since being incarcerated for literally trying to stop the theft of a mobile phone as a teen in foster care. Yet he was not released to his family during covid early release. He can't see a doc until NEXT WEEK!

— NeuroClastic #StopTheShock #iStandWithNonSpeakers (@NeuroClastic) July 24, 2020
Fearing that her son's complex needs, along with the complete lack of a support network in Jamaica, would make it impossible for him to survive in the country alone, Martin, a qualified mental health nurse, campaigned tirelessly to stop his deportation. 
After three years of grassroots agitating, both online and on the streets, the Home Office finally withdrew its decision to deport Brown. The campaign provides a blueprint on how to take on the hostile environment and win. 
‼️ UPDATE #OsimeBrown ‼️

Please read the images below!!#StopTheDeportation #OsimeNeedsHisFamily #JusticeForOsimeBrown pic.twitter.com/MO463tjVVT

— JUSTICE FOR OSIME BROWN (Official Account) (@FreeOsimeBrown) June 15, 2021
For two years, the campaign to stop Brown's deportation was helmed solely by his mother. Upon learning the news of her son's pending deportation, Martin created a Facebook page to raise awareness of his plight, writing a series of heartrending, personal posts: "The trauma, strain and upheaval is beyond painful for my whole family. It's like a never-ending horror story." 
After two years of consistent posts, in June 2020, Martin's page caught the attention of Emma Dalmayne, the CEO of charity Autistic Inclusive Meets. Dalmayne, who is herself autistic and has an autistic son who is around Brown's age. Dalmayne was compelled to start the original petition protesting Brown's deportation after being moved by Martin's words. "I had to help," she says, "especially after I had contacted Joan and heard [her and Brown's] story." Within a year, the petition had half a million signatures.
'It came from the grassroots.'
In understanding why so many people felt compelled to support Martin's fight, Ana Oppenheim, an organiser with the Labour Campaign for Free Movement, who helped with Brown's campaign, says that "the half a million people who signed the petition were people who were moved by [its] authenticity and spontaneity." This wasn't a campaign by "people who worked in big NGOs," she explains, "we didn't have fancy strategy documents. It came from the grassroots".
Indeed, research conducted by Jarrow Insights shows that "most of the virality in the campaign was driven by grassroots organisers, the official campaign account, plus a network of dedicated individuals," says company director Nolan MacGregor. "[It was] very grassroots and networked."
Beyond the emotional aspect of Brown's case, the fact that his story was so intersectional allowed the campaign to appeal to a broader coalition of supporters than usual. "School exclusions, social care, ableism, immigration, the criminal justice system, [Brown's case] shows so many different failings of the British state," says Oppenheim. 
Indeed, a crucial part of the campaign was the dedicated support it garnered from disabled charities and organisations – groups that wouldn't typically be involved in an immigration case. Neurodivergent Labour, a lobby group within the Labour party focussed on policies for neurodivergent people, got Labour MP John McDonnell on board in the fight against Brown's deportation, along with "[bringing] people together campaigning on race, disability immigration, school exclusions," says Oppenheim. The former shadow chancellor was a key – and extremely vocal – advocate for the campaign, along with other sympathetic MPs like Diane Abbott, Claudia Webbe and Nadia Whittome, who all showed solidarity, whether online or through speaking at the rallies that would later take place. 
Gaining momentum. 
As the signatures on Dalmayne's petition grew, so did the media attention. Leftwing journalist Owen Jones was a key player in the campaign's growing visibility, first writing about Brown's case for The Guardian in December 2020. He continued to feature Martin on his Youtube and social media channels, interviewing her about developments in the campaign. 
As a result of the growing interest in Brown's story, along with the massive success of Dalmayne's petition, his case was raised in Parliament. A motion calling for the halting of Brown's deportation was sponsored by six MPs across three political parties – Labour, the Lib Dems and the SNP – with 76 MPs signing on. Oppenheim attributes this support to the fact that "MPs [often] find it easier to get behind opposing a specific deportation or charter flight than speaking out against the system that causes them" – because, in other words, they have less to lose. 
I've signed this letter calling on @pritipatel to urgently #StopTheDeportation of Osime Brown.

The government must learn the lessons from Osime's case, and the experience of countless others, and end the Hostile Environment. #JusticeForOsimeBrown pic.twitter.com/NQNxcBxQkj

— Olivia Blake MP (@_OliviaBlake) February 16, 2021
That said, Oppenheim is also tentatively hopeful that this wave of support could be signalling a slow change in attitude towards immigrants with criminal records. "We forget that even under Corbyn, the line was to be open to refugees but tough on criminals," she says. "The left didn't have a line that welcomed people who have been criminalised."
'It felt empowering seeing everyone pull together.'
With momentum building, the campaign transitioned from online to on the streets, with its first rallies taking place in the autumn of 2020. "Although the campaign was gaining a lot of traction online, our initial protests were relatively small," explains Oppenheim, who acted as an organiser. She observes that people became more energised towards the end of the campaign when they saw "more energy in the streets, in part, probably, because of the more relaxed lockdown rules, and in part inspired by the Kill the Bill movement and the halted deportation in Glasgow".
Maisie Sheriff, an autistic student who attended one of the later rallies in London, recalls how inspiring it was to see "completely different groups coming together and intersecting. It felt empowering seeing everyone pull together."
In amidst these protests, the campaign got its final boost in December 2020, when more than 100 public figures came out in support of Brown – a move that not only received overwhelming press coverage, thus raising even more awareness,  but also helped provide momentum for the post-lockdown demonstrations. Prominent voices such as Benjamin Zephaniah and former archbishop of Canterbury Rowan Williams signed open letters branding the deportation a "death sentence" and demanding that the Home Office halt it. Such condemnation from respected public figures was crucial in shaming the government into overturning its decision.
'People power pushed the government.'
After hundreds of social media posts, thousands of signatures, countless rallies and the unwavering efforts of a mother unjustly separated from her son, on Tuesday 15 June 2021, the Home Office finally withdrew the deportation order during a review called for by the Immigration Tribunal. Meanwhile, Martin took to Facebook to expressed her gratitude, writing in the heartfelt style that had attracted so many to the campaign initially: "I could not have done it by myself. Without you, my family would have been lost and my son, Osime, would have been condemned to a very short and miserable life."
Emma Dalmayne heaped praise on Martin. "She is a powerhouse of a woman who never gave up…we didn't let up until the Home Office saw some sense." 
WE DID IT!! 👊🏽TOGETHER WE WIN. LET'S CLEAR HIS NAME!!#JusticeForOsimeBrown #LetsClearHisName pic.twitter.com/bk2b7xqOKh

— JUSTICE FOR OSIME BROWN (Official Account) (@FreeOsimeBrown) June 15, 2021
"It shouldn't have taken a whole year of organising, numerous protests, a petition signed by nearly half a million people, repeated interventions from MPs and the media for the Home Office to decide that a vulnerable disabled man can stay in the only country he knows," says Oppenheim. "Osime's family shouldn't have gone through years of pain and uncertainty." 
Despite this, she is confident that the campaign has shown how to successfully pressure the Home Office into overturning an immigration order. "[It] will treat cases differently if there's a PR backlash," says Oppenheim. "[Brown's case] is not unique. Many campaigns [are successful] when there's a compelling story."
Meanwhile, Minnie Rahman, the campaigns director for the Joint Council for the Welfare of Immigrants, says that the victory sets a precedent for migrants' rights. "The government's hostile environment is designed to sow division in our communities, but the public has shown time and time again that they reject these punitive policies," she explains. "People power pushed the government to withdraw Brown's deportation, and people power stopped two people from being taken away by immigration enforcement on Glasgow's Kenmure Street."
At 10am this morning, Home Office Officials came to #KenmureStreet, Glasgow, to deport two men

People began to gather & one lay under the immigration van for hours as crowds gathered

This is the moment, at 5pm, when they were released (via @david_millar) pic.twitter.com/rcQS1c6H7L

— Stefan Simanowitz (@StefSimanowitz) May 13, 2021
Despite the victory, this is by no means the end for Martin. The next battle is to quash the conviction against her son, push for a public inquiry and clear his name. "Let's help stop this nightmare," writes Dalmayne in her latest petition for the campaign. 
You are never free until your name is cleared and so we will be fighting for justice and for his name to be cleared from the false conviction following police lies and manipulation of evidence.

— JUSTICE FOR OSIME BROWN (Official Account) (@FreeOsimeBrown) July 25, 2021
"Some innocent people have died without their innocence being proved," she says. "I am grateful that Osime is still alive. Now he needs his name to be cleared, and for those who knowingly and wilfully showed contempt for justice to be held accountable for their maleficent actions."
Mark Montegriffo is a socialist writer and organiser based in London.