A Labour Council Just Greenlit the Social Cleansing of Bangladeshi Brick Lane
"This will be the final nail in the coffin for a lot of Bangladeshi voters in Tower Hamlets."
22 September 2021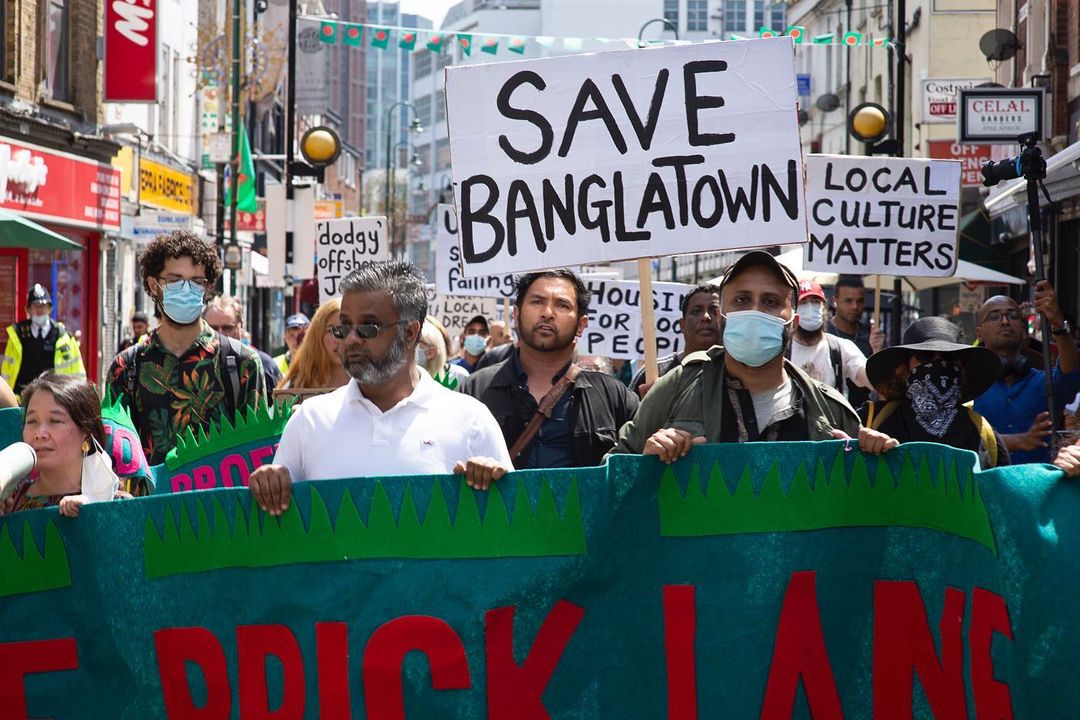 Nijjor Manush/Instagram
Last week, Labour councillors on the Tower Hamlets planning committee made history for the wrong reasons. On Tuesday, Kevin Brady and Kahar Chowdhury gave developers the green light to redevelop and extend the Old Truman Brewery site on Brick Lane, turning it into a mixed-use complex including office spaces, a mall, a restaurant and a gym. Locally, there are concerns that the plan will privilege large corporate businesses over independent curry houses that employ predominantly Bangladeshi migrants.
Brick Lane holds a unique space in the hearts of British Bangladeshis and Bengalis; it is home to 32% of the British Bangladeshi population. One of my earliest memories is visiting Bangla Town Cash and Carry on Hanbury Street, just off Brick Lane, where my parents would stock up on halal produce and spices that were hard to find elsewhere in the early 2000s. My dad bought cupfuls of chana chur, exchanging pleasantries with the uncle selling them outside of the cash and carry. Yet even then, Brick Lane was changing.
so upsetting to hear that Labour councillors have voted to push through the Brick Lane Truman Brewery development. East London is changing before our eyes and before you know it, home will no longer be home.

— mishti ali 🏳️‍🌈🇧🇩 (@heresmishti) September 14, 2021
Home to rich political and social history, the East End is known for welcoming communities escaping persecution, from Huguenots to Irish and Ashkenazi Jews. In the 1970s, swathes of Sylheti Bangladeshis arrived after the war of independence decimated infrastructure and the economy. Throughout this period, social geographer Sarah Glynn notes that many Bangladeshi migrants turned to their Labour MPs for immigration support; however, threats from the National Front and racist housing policies called for community-facilitated direct action. Following the racially motivated murder of Altab Ali, a Bangladeshi textile worker in East London, thousands of Bangladeshis took to the streets in protest. The community would guard East London overnight, driving away those distributing racist propaganda. To fight racism present in housing, the Bengali Housing Action Group emerged in 1976, developing into a squatters' organisation that took direct action against the council.
By the late 80s and 90s, Bangladeshis dominated local Labour politics, hoping to make changes inside the political establishment. However, by the turn of New Labour, distrust of the party heightened. In 2005, Labour's selection of a pro-war candidate, Oona King, over Bangladeshi candidates was the icing on the cake. For Bangladeshis and Bengalis who escaped the devastating 1971 Liberation war, the anti-war position was non-negotiable, resulting in many turning to George Galloway's anti-war Respect Party. In the post-Blair era, however, Labour has won back many Bangladeshi households.
Nevertheless, it is Labour that has primarily controlled the council since its inception in 1965, and Labour councillors – including Bangladeshi ones, such as Chowdhury – that have stood by as the East End has gentrified. Given the dubious honour of most gentrified borough in London in a report by Runnymede Trust and Centre for Labour and Social Studies (CLASS), Tower Hamlets has both a higher economic output than any UK city (barring London) and the highest levels of child and pensioner poverty in the UK. Luxury lousing developments are routinely planned in Canary Wharf, appealing to rich out-of-city workers looking for weekday boltholes. Social housing, by contrast, remains scarce in and around Brick Lane, where a family could wait up to a decade for a three-bedroom house.
While family-run shops and Bangladeshi curry houses struggle against rent spikes, trendy bars, overpriced restaurants, and thrift stores that mainly draw in tourists pop up regularly. They are clear markers of the slow gentrification of Brick Lane.
The Old Truman Brewery development is the latest phase in the gentrification of Brick Lane. The five-story complex will house office space (10% of which will be "affordable"), a gym, two restaurants and a shopping mall. It will, claim supporters, create 700 new full-time equivalent jobs; however, there is no guarantee this will employ residents in the local community.
Not everyone has agreed with the development. In a statement detailing reasons for his vote, councillor Kevin Brady conceded that "a large number of people [were] opposed [to the development]". This is an understatement: 7,500 objections to the proposal were registered versus 82 statements of support.
Much of this opposition has been rallied by groups forming the Save Brick Lane campaign, established in June 2020 to resist the gentrification of East London. The campaign is led by British art historian Dan Cruickshank and the Spitalfields Trust, a conservation charity protecting historic buildings and communities. It notes that the proposed building is out of scale with nearby Victorian terraces, resulting in a 60% loss of light for families living on those terraces.
Nijjor Manush has also played a crucial role in the Save Brick Lane campaign. The group emerged in 2018 to promote critical intervention and organising around issues impacting Bangladeshis and Bengalis in the diaspora. Over the last year, activists from Nijjor Manush canvassed door-to-door, urging residents in hundreds of homes across Tower Hamlets to resist the development. Alongside canvassing, there were regular demonstrations, with speakers including Bangladeshi restaurant owners and residents. Notably, before Tuesday's vote, the group organised a mock funeral procession led by a bellman and pallbearers carrying a coffin through the streets leading up to the Truman Brewery site. Everyone attending wore black – a symbol of mourning for the death of Bangla Town. Labour councillor Shad Chowdhury of the Spitalfields and Banglatown ward participated in the protests and spoke against the demonstrations; however, there was a distinct absence of the Labour party representatives who voted for this plan at demonstrations resisting the development.
Isn't it weird posing this question in an article that doesn't – as far as I can tell on first reading – quote any Bangladeshi East Londoners?

— Ash Sarkar (@AyoCaesar) September 18, 2021
The Save Brick Lane campaign called for the withdrawal of the Truman proposal in favour of consultations with the community. Not only this, it has proposed an alternative: a master plan that accounts for the needs of locals, including social housing and community spaces. The Spitalfields Trust provided Labour councillors numerous grounds for refusing the developers' plan; still, the council backed it.
In his statement, Brady said that widespread local opposition "is not, in itself, a material planning consideration." This begs the question: what is? Whose interests do councillors serve other than those of their constituents?"At the council vote," said a spokesperson for Nijjor Manush said in a statement to Novara Media, "the councillors voting in favour of the proposal spoke as if the decision was a done deal over which they had no control […]. What we have, then, are elected political representatives acting like little more than bureaucratic pencil pushers."
Labour in Tower Hamlets has taken the working class and British Bangladeshi vote for granted. The spokesperson from Nijjor Manush stressed that the Labour Party's approach to Bangladeshis in Tower Hamlets relies on a "mix of paternalism and patronage politics – [Labour] are actively invested in eroding the political independence of the community to insulate them from any backlash for their decisions." Residents are beginning to realise this – and to show it at the polling booth. In a recent council by-election in Tower Hamlets, Aspire's Kabir Ahmed won Weavers ward from Labour with 47% of the vote. One Labour activist who lived in Tower Hamlets for over a decade cited Labour's "aloof approach to community engagement" as a factor in the party's decline in the area. Another – a former executive member of Bethnal Green and Bow CLP – put it more bluntly: "Two Labour councillors voting through the Truman Brewery proposal will be the final nail in the coffin for a lot of Bangladeshi voters in Tower Hamlets."
For Bangladeshis and Bengalis in the East End, our relationship with Labour will remain pragmatic. We know that it's our community organising that will get the goods – even if, as with Latin Village, it takes 15 years. Locals are determined to keep fighting until they achieve a similar victory. The alternative is unthinkable.
Maliha Reza is a researcher of public and social policy.