Priti Patel Is Right About One Thing: Our Asylum System Is Fundamentally Broken
We need one grounded in care and respect.
25 November 2021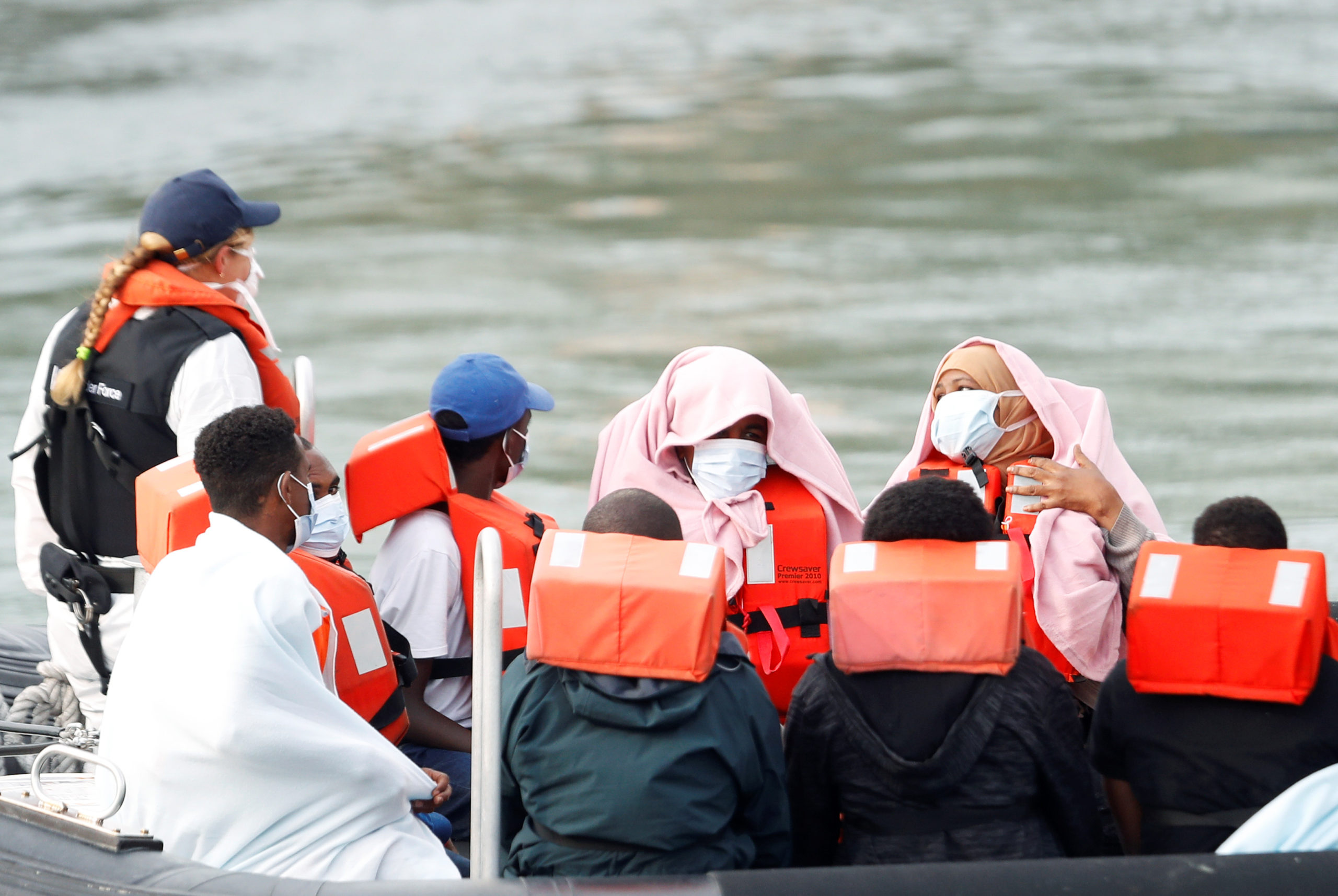 Humanitarians are finding themselves criminalised for helping refugees – if they're not white. Peter Nicholls/Reuters
The 27 people who died trying to cross the Channel last night offer more tragic proof of the violence and untenability of the UK's border regime. True to form, home secretary Priti Patel used the grimly predictable tragedy as an opportunity to double down on the government's harsh new immigration plans.  
May you never know a second of peace in this life. https://t.co/dBiA9NnZgr

— Eleanor Penny (@eleanorkpenny) November 25, 2021
The Tories are now busy pointing the finger at people smugglers and France, with ministers pretending that spending more money on border fences and security patrols will 'stop the boats'. But people seeking safety have been making dangerous journeys from France to the UK for decades. 
Brexit and coronavirus have made these journeys riskier and more visible, with people increasingly taking boats rather than stowing away in lorries. But regardless of the transport they take, people will continue to risk their lives on these dangerous crossings until our government establishes safe alternative ways to come here. Nobody's first choice is a boat across the cold, dangerous sea.
If you don't want people to cross in dinghies, let them come by safe and legal means. Nobody's first choice is crossing the Channel in an inflatable. https://t.co/qhsrpCFqUA

— Ash Sarkar (@AyoCaesar) November 25, 2021
One key part of the problem is our external border policy in Northern France. This border zone is unique in British terms, as, unlike our other borders, a person reaching it has no right to claim asylum in the UK – they would, however, if they reached airports or seaports. 
To prevent further tragedy, the government must grant people the right to travel in order to claim asylum in the UK from France. But to bring about this change, we need an effective opposition. The Labour party must provide a focussed and assured opposition to the Tories' ongoing border regime. Instead of strengthening the right's hardline anti-migrant narratives with their marked silence, Labour MPs must loudly advocate for these safe routes – and for a more caring and compassionate asylum system. 
"Until we have a bill that offers people an alternative way to travel… we are complicit with the people smugglers"

Zoe Gardner, from the Joint Council for the Welfare of Immigrants, urges the government to change its approach on migrant crossings https://t.co/8BnFs1Ln0X pic.twitter.com/FTXCfmO7hk

— BBC Politics (@BBCPolitics) November 24, 2021
Brexit has left migrants and refugees stranded.
Greater border security, as both the Tories and Labour are demanding, will get us nowhere. Home Secretary after home secretary has struck deals with their French counterparts, sending millions of pounds their way and establishing ever more draconian approaches in a bid to keep a few thousand desperate, homeless people – most of whom have connections to the UK – out of this country. 
Before Brexit, the government relied on the Dublin Regulation to try and do this. Based on the flawed logic that asylum seekers ought to seek protection in the first EU country they reach, the policy was praised by politicians, but in practice resulted in relatively few, poorly administered returns from the UK to mainland Europe each year. Those who were returned under these rules were denied any choice over where to rebuild their lives, and often faced destitution and arbitrary detention. 
One significant benefit of the law, however, was that it provided the means for asylum seekers in the EU to safely rejoin their families in the UK. Under the regulation, more asylum seekers were, in fact, allowed into the UK each year than were sent away. 
But with the UK no longer under the EU's jurisdiction, all this has changed. Migrants and refugees stranded across Europe have no way of rejoining their families in the UK, except by pursuing these risky, irregular journeys. Instead, they join those who have linguistic, colonial, or other ties to the UK in the no-mans-land at the border zone, ready to put their lives in the hands of smugglers to seek protection in Britain. 
Our asylum system is broken.
Unsurprisingly, Patel has responded to this humanitarian crisis with cruelty, putting forward the Nationality and Borders Bill, which both reinforces and exacerbates the tried and failed draconian measures of past immigration policy with the aim of dismantling refugee protection in the UK altogether.  
MPs just voted on Priti Patel's horrific Nationality and Borders Bill.

It criminalises boats rescuing people at sea and attacks refugee rights, violating our 70-year commitment to the Refugee Convention.

I voted against it. Not a single Tory MP did the same. Heartless.

— Zarah Sultana MP (@zarahsultana) July 20, 2021
There is no evidence to support the hardline approach the government takes in this Bill, which seeks to effectively criminalise those seeking safety here. Alarmingly, those who arrive in the UK "without prior permission" could face up to four years in prison – a clear breach of international refugee law, which recognises "irregular" routes as a necessary part of many refugees' journeys.
Even the Home Office's own Impact Assessment finds that the Bill is more likely to make the situation worse, pushing people into taking ever more dangerous journeys and fuelling the trade of people smugglers and traffickers. 
However, Patel is right at least about one thing: the asylum system is "fundamentally broken". Unfortunately, the opposition is failing to provide any solutions. 
The Labour party needs to step up. 
Though it has opposed the Borders Bill, the Labour party has failed to offer an alternative to the programme of exclusion and rejection laid out in the Conservatives' brutal asylum plans. This failure to provide its own plan is significantly impacting its credibility to speak out on the issue. 
"Both Labour and Conservative governments have actually curtailed safe routes in recent decades through more draconian asylum and immigration laws forcing refugees to take dangerous journeys instead" https://t.co/Tg7yW7fjaG

— Jack 🧣 (@Jack_Potato15) November 25, 2021
It is high time that Labour comes forward with a distinct vision for a fair and compassionate asylum system, which offers refugees safe and viable routes to the UK.  In the absence of such an alternative, the Tories will continue to play politics with migrants' lives; blaming France, bankrolling fences along the French border and enacting ever harsher restrictions – without, of course, actually changing the situation. 
It takes political courage to put forward this alternative vision, but the need for one could not be more urgent. Labour must therefore set out practical, evidence-based solutions that will allow more people to safely claim asylum here. 
Fundamentally, the Labour party, and all those who reject the government's violent asylum plans, must move beyond the language of crisis and securitisation. We need an approach that's grounded in care and respect, and that gives people the safe routes they need in order to build a life here in the UK. 
An emergency demonstration is happening outside the Home Office tonight at 6.30pm.
Zoe Gardner is policy and advocacy manager for the Joint Council for the Welfare of Immigrants.