Traders In, Developers Out: The Fight for Ridley Road
The market has been saved - but traders' future is still uncertain.
3 February 2022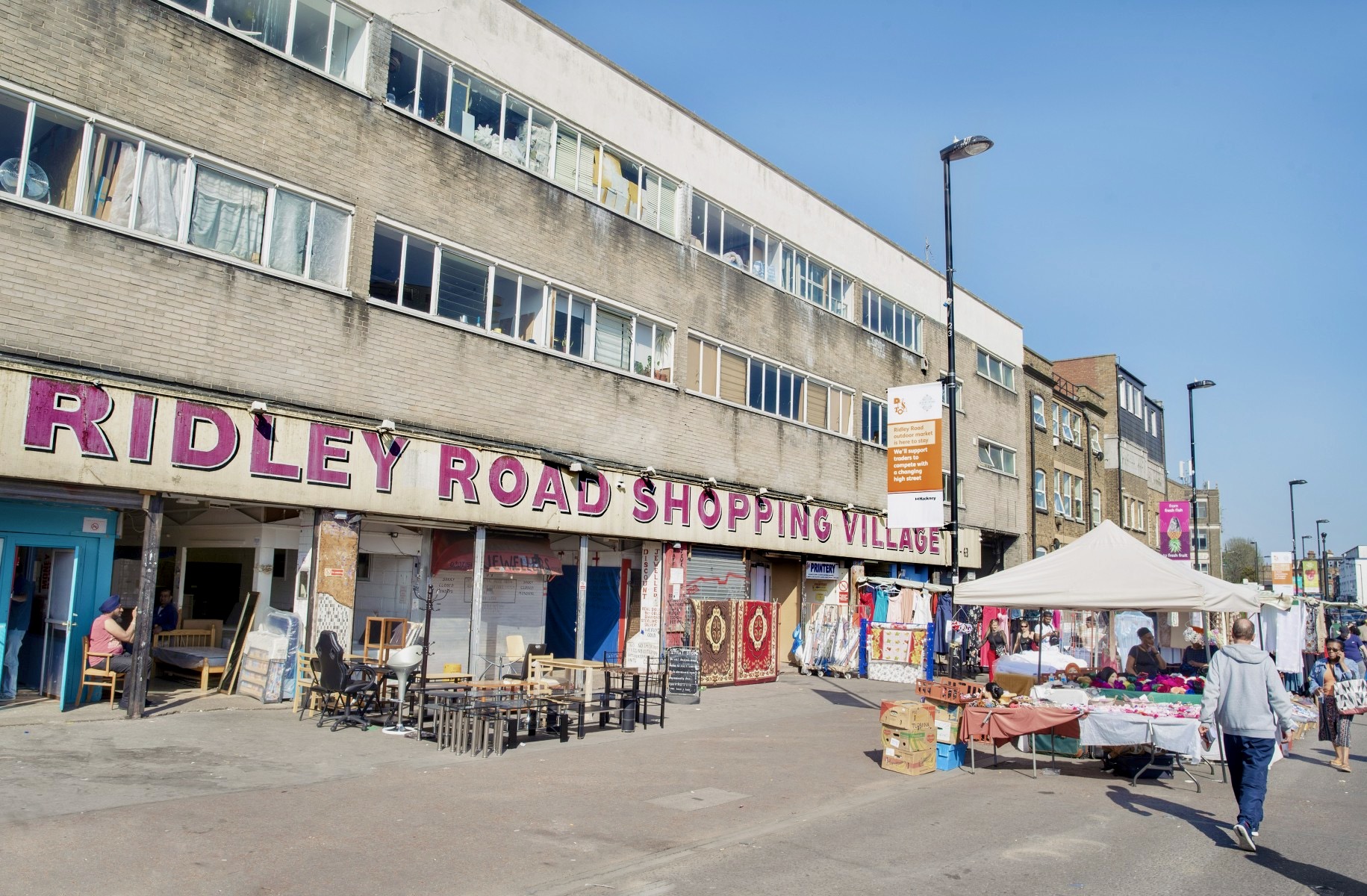 Ridley Road indoor market. (Photo: Hackney Council)
Even on a rainy weekday afternoon, Asli Uyghur's stall is busy. "This is nothing, nothing right now," she says proudly, between sales of coats and dresses. "My shop is [usually] packed."
But it hasn't always been like this. When she first set up her east London market stall, she didn't know what she was doing. "I lost so much money," she says, while she was learning how to run a business. The past three years, meanwhile, have been marked by precarity: a looming eviction notice, amid the turmoil of Covid. "That's why I'm upset if they ask us to leave," Uyghur explains, "because after four years of hard work this year was the only year that I actually started making something out of it."
Uyghur – who describes the market as "most of my life" – hopes she will soon be able to enjoy her success at last: after a protracted battle, a community campaign has just defeated plans to evict her and other traders to make way for luxury flats on the site. The indoor market on Ridley Road in Hackney should now be safe from demolition for at least 15 years after the council agreed to sign a lease and take over management of part of the building from a property developer. 
For Uyghur, her fellow traders and the Save Ridley Road campaign – which has fought for three years to keep the indoor market open – this should be a cause for unequivocal celebration; both life and livelihood, the market means "everything" to the people that work in it. "I love my shop. I love what I'm doing. I love my business," Uyghur says. "If this market was open Sunday, I would come then as well." 
But a lack of communication from the council means that while the traders Novara Media speaks to are cautiously optimistic, they still feel too precarious to really celebrate their victory. In a video shot in front of Uyghur's shop, Hackney mayor Philip Glanville says his council declared the site "an asset of community value" after talking to traders and campaigners about "what a part this market plays in wider Dalston". But Uyghur says she only found out about the council's decision when her friends tagged her in a post on Instagram. Despite filming in front of a rail of Uyghur's dresses and coats, Glanville didn't stop in. Meanwhile, Mohammad Barry, who sells bags and jewellery at the other side of the market, says he found out from his solicitor. 
🎉 We're pleased to share that the indoor market now has a 15 year lease with @hackneycouncil.

This is great news for the whole Dalston community, including our traders, who will be able to take advantage of storage space.

Read more at: https://t.co/4UZRegfdAx pic.twitter.com/R2C9ibKMuc

— Ridley Road Market (@RidleyRd) January 25, 2022
As far as traders have gleaned, they could be asked to leave the site from as soon as the end of February for six months or even a year while the market is refurbished.  
Barry – who says he can't imagine a world in which his two small daughters won't be able to visit his stall on a Saturday morning – has spent years worrying about his future. "Now I hear about Hackney council taking over I'm more comfortable," he says. "This is the right thing, that the council is supposed to do."
But he's not sure how he will cope with his shop closing for six months. "The only thing we are worried about is where we're going to be until they're ready to bring us back […] How are we going to survive?" 
Save Ridley Road.
Precarity is nothing new for Uyghur and Barry. Traders in Ridley Road's indoor market have lived with uncertainty since October 2018, when they were given two weeks notice to leave. Developer Rainbow Properties Ltd, which owns the site, put in a bid to turn the ground floor of the building into a supermarket, the upper floors into high-spec commercial offices and to build high-end flats on top of that.
Danny Hayward was a member of London Renters Union (LRU) at the time. He lived nearby and when he read about the eviction in a local paper he went to the market almost immediately to speak to traders. "It's a totally essential place of meeting and social life in a situation where public spaces are being taken away all the time in Hackney and across the city," he says, describing a new development in the area as little more than a "wind tunnel" in comparison to Ridley Road. 
Kieran Kirkwood, who grew up in Dalston and says he's seen "social cleansing and gentrification" rip through the area, describes the market as a "lifeline for Hackney and for London". It's a place where working-class and diaspora communities can still access affordable food and other goods, he says. "People come from across the city, and sometimes from across the country, just to come to Ridley Road."
Such is the market's gravitational pull that the community – traders, customers, local organisers and artists from the buildings upstairs studios – quickly coalesced under the Save Ridley Road banner, to resist the eviction order. "It was this flashpoint that brought people together," Hayward says. "There was a concerted effort to get objections for the planning application and it became a kind of hot button issue in Hackney, with the result, I think, that the council never made a decision on that application."
But while the planning application wasn't approved, it wasn't rejected either, lingering for several years in the council's system. "We lived with it [for] the last two years, the pressure," Uyghur says. "Are we going? Are we extend[ing]? Shall I look for another shop? Shall I save money? Shall I buy stock? Shall I not buy stock? It was stressful."
Recently, the campaign was roused again when the developer submitted a new application for improvements to the building: double glazing, air conditioning – nothing objectionable in itself, Hayward stresses. But when local artists who occupy some of the cheapest studio spaces in Hackney above the market (and who have been central to the Save Ridley Road campaign) were also given notice by their landlord, it became a concern. The campaign began asserting pressure on the council again, and it was in this context that the announcement was made last week, guaranteeing traders a new level of security. 
While it is the council that has stepped in to save the market, Kirkwood and Hayward are "really clear, crystal clear" this wouldn't have happened without the campaign. "Every stage of the struggle around the shopping village since 2018 has required people to take initiative to put pressure on the council," Hayward says. "This is a victory for community initiative and people coming together from different walks of life in Dalston to defend a part of the common history and social life."
The council and the community.
Barry and Uyghur agree the market needs to be improved. The building is dilapidated from years of neglect; Barry describes it as "remaining like debris [with] nothing going on". He spent £4,500 upgrading his shop himself to put in a window and an awning to protect his stock from the weather. Better toilets and better security would be welcome, he says. "The council are the ones that can kill it. They're the ones that can wake it up."
But at the same time, closing even temporarily would devastate business. "If I close [for] more than a week, I lose customers," Uyghur says. "Thinking about six months, that's like proper: I have to start again." She is unsure whether to buy in summer stock, while Barry has stopped already – he doesn't know whether he'll be given space to store it, and his stock dates – people don't want old things, he says. With no qualifications except "buying and selling", he's extremely worried about what he would do in the interim period to earn a living. "We are traders, we [are] used to this kind of life: waking up, coming to market," he says. "If they kick [us] out [with] nowhere to go, it's a disaster."
Errol Beckford has sold records on Ridley Road for decades. He seems resigned to the market closing: he says he is done and ready to go. But the three customers crowding his tiny shop raise a volley of concerns. "If they move it out of the area, this market is dead. If you have to leave the market for six months the customers will go," one tells him. Another suggests the refurbishment is an underhand plot to destroy the market. "How much would the rent go up if they've done it all up though?" he asks. 
When I spoke to them last week, Uyghur, Barry and Beckford had no idea what – if any – provisions were in place for them. All of them said they had had no communication from either the council or the developer. But when Novara Media put traders' concerns to the council, the response was positive. 
"We want to ensure all traders have transitional arrangements in place before any work begins, and are offering discounted space on the street market and discussing the possibility of using temporary space in Kingsland Shopping Centre," mayor Glanville said in a statement. "Every existing trader will then have the right to space in the newly refurbished building and will be prioritised in discussions around leasing the new units. 
"This is a vast improvement on the position before the council's involvement, and we're keen to listen to views of all traders about how we can make the future of Ridley Road shopping village a success together."
The refurbishment itself was proposed and is being delivered by the building's owner – Rainbow Properties Ltd – prior to the council's involvement, a press officer clarified, suggesting it wasn't the council's role to consult with traders.
"After such a long period of uncertainty, I of course understand the need for traders at Ridley Road Shopping Village to have clarity on their future," Glanville said. "Our intervention was only agreed last week, and we will now have detailed discussions with each of them about what the council's management will mean and how we can support them while work takes place."
Rents, they said, would rise by only 5% despite a "significant upgrade in facilities" – something Hayward stresses is crucial to the market's future. "They're running very, very small commercial units, their customers are poor and working-class people, they need low rent to be able to serve the communities they serve," he says. 
Hayward says the campaign will now "be watching to see" that the council fulfils the promises it's made, as well as supporting the building's artists, who still face imminent eviction. It will also do what it has always done: put pressure on local politicians to listen. "It's perfectly possible otherwise, that the council taking over will just lead to the traders being pushed around by another faceless authority who isn't interested in what they have to say about their own working conditions and the environment."
This is a victory.
Despite their reservations, traders and campaigners agree this is a victory. 
"It's really easy to feel defeated in London, when you see skyscrapers going up everywhere and not much consultation or involvement from the people who are most affected," Kirkwood says. "What this [win] means for a lot of people is that there is a possibility things aren't just taken away from us, things aren't just demolished, and that we actually have the power and agency to safeguard and secure things.
View this post on Instagram
"It's also a victory for the campaigns that we are in solidarity with and communities across London that are also dealing with gentrification and social cleansing: Save Latin Village, Save Nour Brixton, Latin Elephant."
Hayward adds: "Every time any of us wins it's a kind of proof for all of the others. You know that it's worth it and if you take action you can achieve things in a context where powerful forces are always trying to ignore you or act as if they are unaccountable."
Charlotte England is head of articles at Novara Media.