Were Unions Right to Cancel Strikes to Respect the Queen? We Asked Members
"Respect only seems to work one way."
15 September 2022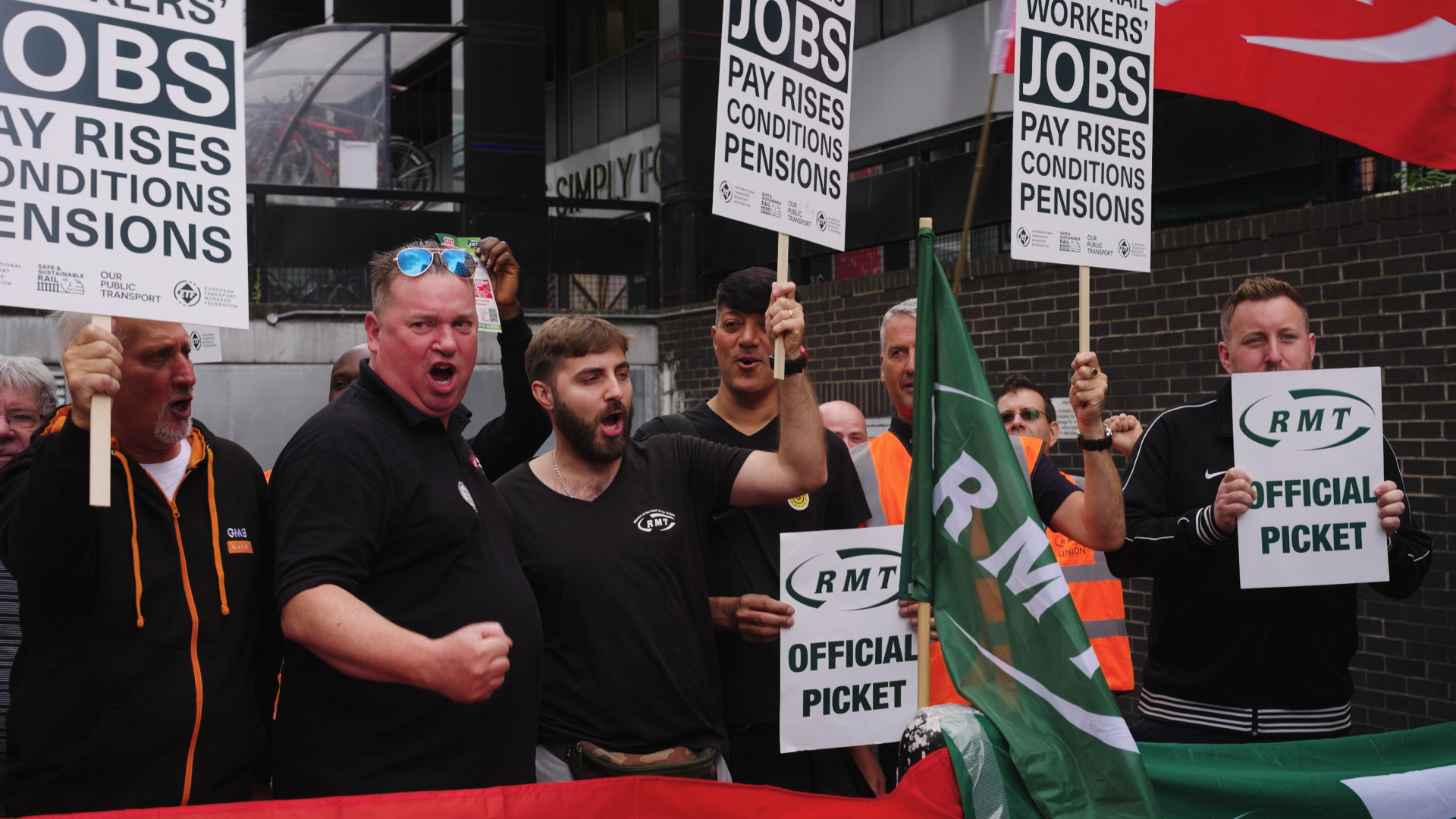 An RMT picket line at Euston station in July. Jack Barraclough / Novara Media
Thursday 15 September was set to be another day of disruption on the railways, with workers from RMT and ASLEF unions taking simultaneous strike action in a long-running dispute over pay and conditions, but it's not.
Following the death of Queen Elizabeth II, ahead of her funeral on 19 September, unions have put a pause on the strike wave sweeping the country.
On the railways, RMT, ASLEF and TSSA cancelled scheduled strike dates, most of which fell on 15 and 17 September. The PCS cancelled strike dates in court between 10 and 18 September. The Royal College of Nursing postponed the opening of their NHS pay ballot, and paused campaigning until further notice.
It's a decision that has caused some debate within the union movement, with some members supportive and others outraged.
Strike action this summer has taken place on a scale not seen in decades, as the cost of living rockets in a country where more than one in five people – and almost one in three children – are living in poverty. The explosion in industrial action is set to continue in the months ahead. But now, amid the scenes of near-compulsory national mourning, with the postponement of guinea pig awareness week and the muting of Morrisons self-checkout till beeps, the strike wave has also taken a pause.
When the Queen's death was announced, the CWU only had 12 hours to decide what to do about a planned strike of 115,000 Royal Mail postal workers. It cancelled the strike, "out of respect".
Following the very sad news of the passing of the Queen and out of respect for her service to the country and her family, the union has decided to call off tomorrows planned strike action.

Further information and communications will follow.

— The CWU (@CWUnews) September 8, 2022
On his round through Liverpool last Friday, postman and CWU member Kieran – who chose to give only his first name – encountered members of the public who appeared to think that he was scabbing on his colleagues until he explained that the strike had been called off.
"People I interact with most days who'd usually say hello or ask how I'm doing – normal chit chat – that instead was often a fairly pointed remark about thinking we were on strike. A couple of them were, if not openly hostile, a lot less friendly than usual."
The experience compounded his frustration at the decision. "Everyone is very demoralised. In the office on Friday, there was a sense that the last three days that we'd been on strike, and the three days of pay that we'd lost for it, were wasted," Kieran said. The next strike dates in the dispute are not until 30 September and 1 October.
On a livestream on Monday night to discuss the "next steps" in the dispute, CWU general secretary Dave Ward said the decision to cancel the strike days had been unanimously endorsed by the CWU postal executive.
Ward said, "We know a lot of you are not happy. There was never going to be a decision that everybody was happy about."
"Knowing that if we want to win this dispute in the longer term, we must continue to keep the public on board with our members."
Deputy general secretary Terry Pullinger also backed the decision to call off strikes.
"We live in a society where respect, dignity, honour, and values don't seem to matter. That's why we're in dispute, the way companies and billionaires running these companies are treating people. We show more class than any of those people, and I think we showed that class when we called off the industrial action," he said.
He mentioned a video Prince Charles' made during the pandemic, thanking postal workers for their efforts.
"He showed respect to every one of our members, and the service itself, and so he paid respect to our trade union. And last week we paid respect to him, his mum, and the nation's queen. I don't think we have anything to apologise for."
This rankled Kieran. "Are management, out of respect, going to give us a pay rise? Are management, out of respect, going to stop trying to change our conditions? Respect only seems to work one way," he said.
Kieran suggests that picket lines could have been suspended with the strike maintained, or that new strike dates could have been announced alongside the cancellation. Not all union activity has ceased. A strike by Unite members at London branches of Grosvenor Casinos began at 6PM last Friday, with the action finishing on Tuesday. A Unite press officer said, "They didn't picket the venue, as a mark of respect, but took the view that with the casinos opening, their strike for a wage rise should continue."
The RMT announced that it would suspend rail strike action planned for 15 and 17 September with a tweet saying, "RMT joins the whole nation in paying its respects to Queen Elizabeth… We express our deepest condolences to her family, friends and the country." The tweet has since been deleted.
An RMT member with knowledge of the discussion at the union's executive council said that the decision was informed by worries over a backlash, both external and internal. Negative media attention could drown out the message of the strike and there were fears of physical attacks against members. There was also concern that not all union members would support striking at the moment.
Nevertheless the decision disappointed RMT rep Tony, who chose to give only his first name. "When a strike is called off, you lose all the feeling that's been built up through the discussions in the workplace and discussions online. That feeling of 'right we're going on strike' has really dissipated," he said.
Mark, an RMT member and activist who spoke under a pseudonym, was also disappointed with the way the cancellation was announced. "The manner and tone of the announcement was as concerning as the cancellation of the strike. We didn't need to post a fawning message which very much suggests a narrative of class unity."
He pointed out that the union's constitution commits the RMT to, "work for the supersession of the capitalist system by a socialistic order of society."
"On a strategic level, it loses momentum," he said.
Not all union members are concerned about public support. Tony says, "In order to understand whether public support matters, we have to understand the strategy that we're following. Has public support done anything for that so far? Has Network Rail felt pushed back?"
"Does this mean we are just going to keep doing one-day strikes, and having people waving at us on the picket line, and losing? Or are we going to ramp up, which is going to involve people starting to hate us?"
Tony said that Bob Crow, former RMT general secretary, had been a Millwall supporter. "Their slogan is 'no one likes us, we don't care.' On the RMT we know we're not always going to get public support."
The CWU's decision to cancel strike dates was also made, in part, with public opinion in mind. Responding to frustration about the decision, the CWU's Twitter said, "we have public opinion, strategy and industrial power."
While he's frustrated, Kieran thinks these concerns are valid. "You can see the Daily Mail headline," he said. "Woke Posties throw away Her Majesty's mail and disrespect her memory.
While specific strike dates have been cancelled, the disputes are ongoing. During the CWU the livestream, there were demands from members for an escalation in action, with either a ballot on work to rule, action on commercially critical days like Black Friday, or longer strike periods.
While the CWU had around a 12-hour window in which to decide whether to proceed with planned action, there was a week until the next planned RMT strike date, leaving some members frustrated at a missed opportunity to conduct a consultation with members.
Beyond the feeling for some members that cancelling strike dates was a strategic miscalculation, is political disappointment.
"The strike wave has cut against an unchallenged narrative of there being a unitary national interest, where there are all these crises going on, but we're in it together," Mark said. "It challenged that and said there's a class conflict going on within the nation, and people need to take a side. Now, this dents that."
Polly Smythe is Novara Media's labour movement correspondent.