An Outsourcing Firm Is Hiring Scab Firefighters With Only Three Days Training
They'll be running around like "headless chickens".
6 October 2022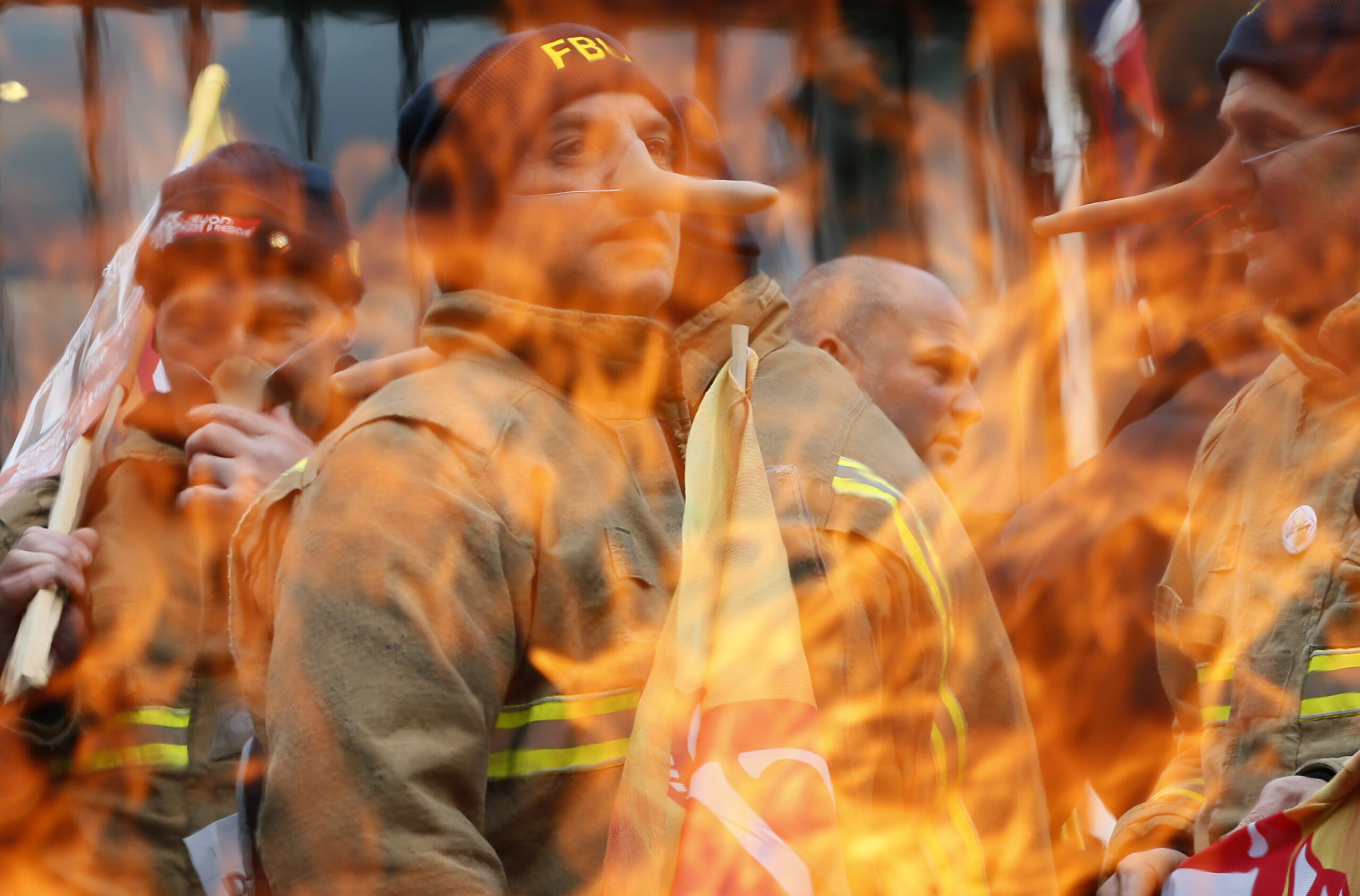 A striking firefighter by a brazier in 2015. REUTERS/Stefan Wermuth
Emergency firefighters with as little as three days training are being hired to scab on potential strike action, with some being paid almost twice as much as regular firefighters.
Novara Media has identified nine recently posted job advertisements for "contingency", "resilience" or "emergency" firefighters on zero hours contracts who would be used in the event of potential strike action. Adverts were posted by several fire services across the country and by private sector outsourcing firm Securitas.
The maximum amount of training offered in any of the roles was two weeks, with two services – Avon and Humberside – offering as little as three days and four days of training respectively.
A normal full-time firefighter does at least 13 weeks of basic training before being assigned to a fire station where they will spend as long as three years as a trainee being directly supervised by more senior firefighters.
Members of the Fire Brigades Union (FBU), which represents more than 32,000 of the country's roughly 40,000 fire and rescue staff, are currently being consulted on strike action over a proposed 2% pay award, which the union says would leave firefighters facing a real terms pay cut. The FBU is consulting its members over plans to propose a full strike ballot. If members take industrial action, it would be the first firefighter strike since 2015.
FBU general secretary Matt Wrack said: "The way to provide a decent and safe fire and rescue service is through fairly paid, properly trained firefighters. Between four and 14 days of training is entirely inadequate to appropriately train a firefighter to respond to a variety of incidents and ultimately leaves communities less safe. It's a half-baked idea and an insult to professional firefighters and to the communities they serve."
Lloyd Akers, an FBU organiser and firefighter based in Scunthorpe said: "Four days isn't even enough to lightly cover everything that is expected of us as a firefighter. I have no idea how they're going to try to deliver that." He said that he spent two weeks on the training around handling house fires and using breathing apparatus alone.
"If you have people with four days experience going into a burning building, there's no way that they'll be able to make sure that they're safe."
Gavin Marshall, the Humberside FBU brigade secretary said: "It risks the safety of the community, but more importantly, the safety of these people who could be carrying out this work.
"It concerns me that these people may be asked to go into dangerous situations with very, very little experience and surrounded by other people with very little experience as well."
Many of these "resilience" roles will be earning as much as £24 an hour (almost twice the less than £15 an hour most full-time firefighters earn) in the midst of a dispute over low pay.
At least four fire and rescue services – Humberside, Tyne and Wear, Cleveland and Avon – directly advertised roles on their website for resilience firefighters.
The five other job adverts identified by Novara Media were for a variety of roles through private security company Securitas, whose executives recently faced accusations in Sweden, where it is based, of frequenting brothels allegedly involved in trafficking and bribing officials to win a security contract worth 20 million Swedish Krona (£1.6 million) in the city of Malmo. The accused deny any wrongdoing and Securitas said the actions of individuals do not represent Securitas as a company.
In the online job listings, Securitas says it offers contingency firefighters to "various fire services across the UK in the case of major incident, industrial action or any other circumstance that could reduce normal fire service capability".
Neither Securitas nor the National Fire Chiefs Council – the membership body for firefighting bosses – gave Novara Media a comment on this story, or disclosed how many different fire services the advertised roles in Securitas would cover.
However, Securitas has received outsourcing contracts from at least four fire services in the past –  Royal Berkshire, South Yorkshire, West Midlands and Leicestershire.
The firefighters Novara Media spoke to also raised concerns that badly trained resilience firefighters would be working without more experienced colleagues they could rely on for help.
Akers said: "Without experienced leadership it also runs the risk of people running around like headless chickens."
The dispute comes as the fire service is already dealing with slashed budgets and record understaffing. One Guardian analysis found that firefighter numbers in England have fallen 20.4% since 2010, while local government funding for fire services has been cut by 14% in the past five years.
Firefighters often earn about £30,000 but can earn as little as £23,000. Some are being forced to take on record levels of second jobs, sometimes for as much as 100 hours a week to pay for essentials.
Those unable to take on second jobs have reported being at risk of using foodbanks, being reliant on donations from colleagues to keep their children clothed and only being able to afford to heat two rooms of their house.
Andrew Kersley is a journalist.