My Stepfather Became My Dad the Day He Took Me to My First Football Match
The game is an emotional faucet for generations of working class men.
17 November 2022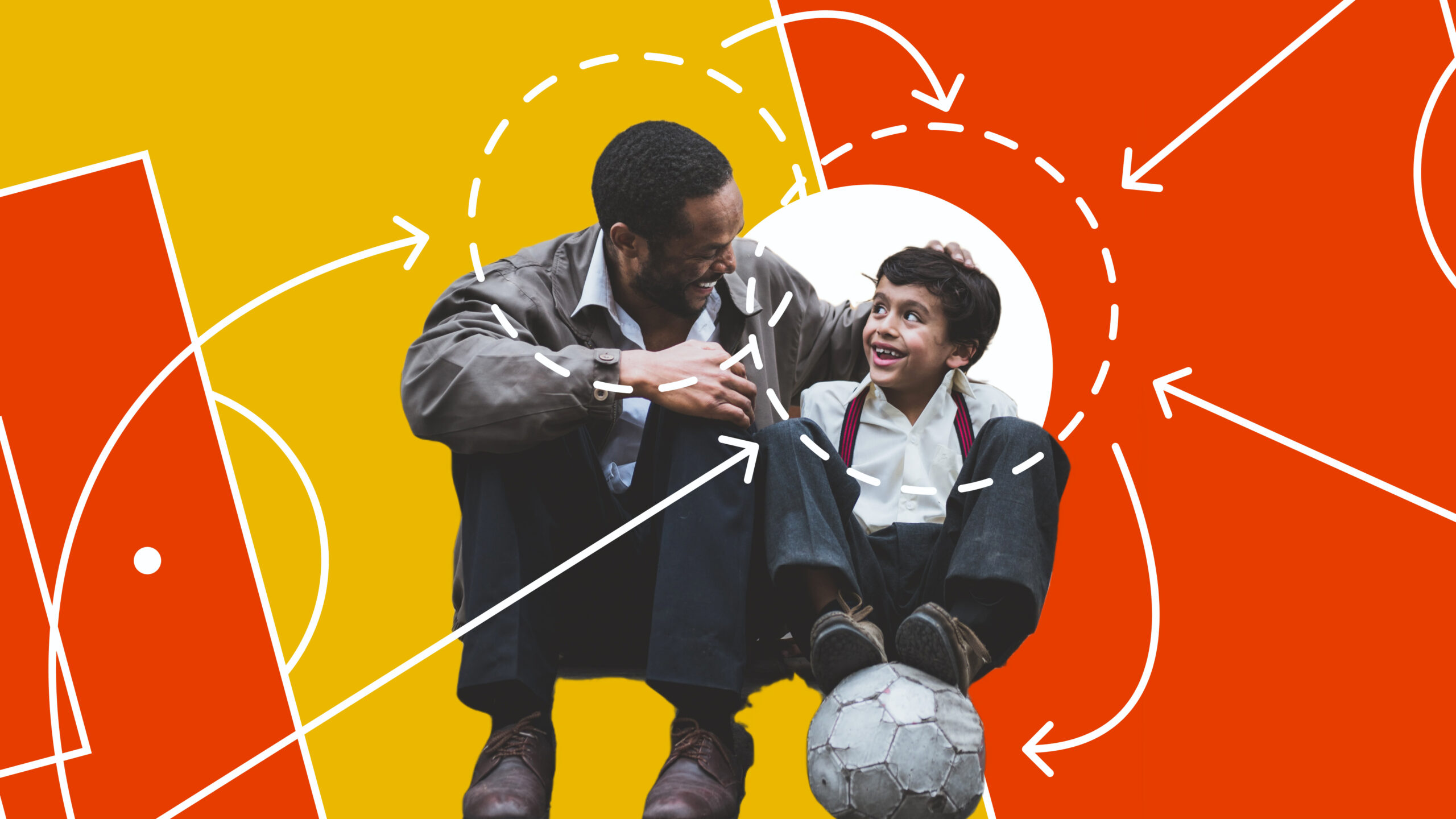 Photo: Sebastián León Prado/Unsplash. Design: Tom A-O/Novara Media.
My dad, Barrie, isn't technically my dad. He's my stepdad, but he became my dad on 12 November 1988 when Southampton beat Aston Villa 3-1 at The Dell, the club's dilapidated former home. My birth father had effectively disappeared by then, leaving my mum with two sons, one of whom was football mad. That was the first game of football Barrie took me to.
Barrie, or "Baz", is a Labour councillor in Southampton. Because we're not blood-related and don't look alike, I sometimes get unguarded insights into what people think of him – people who have no idea he raised me. On an RMT picket line earlier this year, one union organiser said to me: "You know, we haven't had a single Labour councillor join us." "Yeah?", I said slightly quizzically, as I knew the old man had been there. "What about Barrie?" "Oh Barrie's been down here, yeah, course he has! He must have been kicked out by now, though, right? He's far too leftwing for them!"
After the 2019 general election, Barrie sat on the stairs at our family home and sobbed. Then, a few days later, he and my mate Simon set up Southampton Social Aid Group to provide cheap food to those struggling to make ends meet. That's the kind of bloke my dad is: he's incapable of backing down. To the Labour party bureaucrats currently trying to deselect him from the council, he's a socialist headbanger they'd love to see the back of. To me, he's books and sun and stoicism and love. 
It's through football that I was initially able to access this love. Over the years, it's helped pull me away from the darker, stultifying side of what it means to 'be a man'. A nascent form of this masculinity was already taking hold when we went to that Villa game: I was withdrawn and serious as a child, and my mum (the best mum I could have wished for, by the way) was worried I was bottling things up. This was in part due to my estrangement from my birth father, no doubt, but also to the idea that "boys don't cry" used to discipline working class people – especially boys – throughout their lives. This wasn't a phrase my mum would ever have used, but it is one I heard a lot at school – and one that has had lasting effects on millions of men and, by extension, all those who come into contact with us.
But from an early age, football was an emotional faucet for me, as it is for generations of working class men. The joy and pain of football helped me to express myself instead of withdrawing into brooding solitude. These outpourings of emotion aren't always positive, of course. After intense experiences, things can erupt out of us. But after a game, I often find I can talk about things that I might not otherwise be able to.
A few weeks ago, my dad was diagnosed with prostate cancer. I first suspected something was up when I got an uncharacteristically sentimental text from him after Southampton secured Premier League survival for another season. He talked about how we've never seen our team win a major trophy, and probably never will – but we've seen some great players (Alan Shearer, Matt Le Tissier, Gareth Bale, Sadio Mane and Virgil Van Dijk). He recalled how we've experienced plenty of "head-exploding moments" – the collective joy of a goal, an important or dramatic win, getting promoted or surviving relegation. 
Games we didn't watch together feel like a hole in me now. I worry that if I live to see Saints win a major trophy and he doesn't, it will feel like it almost doesn't count, because nothing in my life matters until I've told him about it.
My dad is as unlikely to back down from cancer as he is anything else – it's treatable, and his prospects are fairly good. But regardless, we or any Saints fan reading this might have had our last head-exploding moment. Perhaps it was Shane Long's clinching goal at Anfield in the League Cup semi-final in 2017, or maybe Danny Ings' goal against Tottenham a couple of years ago. We just don't know. 
This isn't really an article about my dad – I don't need to write an article to tell him I love him. It's not even really about dads and football. It's about relationships and football, or perhaps, more broadly, relationships and culture. My relationship with my dad has been one of the most important, nurturing and nourishing relationships in my life, and I want more people to be able to develop relationships like this through football. I want more people to be able to develop relationships like this full stop, but for my dad and I, football was the conduit. 
When people on the left say 'abolish the family', they're not calling for your granddad to be sent to the gulag. They're saying that often, traditional, biological family units are inadequate for the provision of the kind of love and care we need. Abolishing the family is about pulling down the barriers to meeting those needs. Football fans should take the same approach to the game we love, striving to create a sport in which everyone can experience not just the action and excitement of a match, but the bonds of love and friendship that are forged in and around the game. 
The reality is that football is still more welcoming to some people than others. Misogyny, homophobia and heteronormativity linger within the game. There still isn't a single openly gay player in the men's Premier League (and as a friend said to me last year, "you don't take your queerest self to the football"), and there's still racism in the stands and in the changing rooms. 
Then there are the economic barriers. My little boy is rarely out of his Saints kit, which my folks buy for him every season, and while he's already been to St Mary's Stadium (the old man and I took him to watch Southampton's women's team, choking back tears as three generations listened to the brass band playing 'When The Saints Go Marching In'), he's desperate for me to take him to watch our captain, talisman and best men's player, James Ward-Prowse. Soon, I will. I can't take him regularly, though, because I can't afford it. Football survived Margaret Thatcher, who hated it – but the game has been ruined by the free market economics she espoused. Many working class fans are now priced out of top-level football by either prohibitively expensive ticket prices or the sale of broadcast rights to Sky and BT.
Until this changes, the joy of football won't be accessible to everyone. The whole point of being a football fan, really, is to experience the highs and lows and silliness of the game with others – experiences that then pass into collective memory and help build and sustain wonderful relationships (and even ameliorate more difficult ones). Breaking down barriers within the game will make the game itself better, yes – but more importantly, it will allow more people to access its emotional riches together.
If you are over 50 and have symptoms of prostate cancer, visit your GP and ask for a PSA blood test. You can find more information about prostate cancer on the NHS website.
This piece is part of Pro Revolution Soccer, a Novara Media series on football, the Qatar World Cup, and how we can change the game.
Tom Williams is a socialist writer, educator and organiser.