'Fuck Foxtons': Londoners Demand Rent Freeze Now
Freeze rents, not renters.
5 December 2022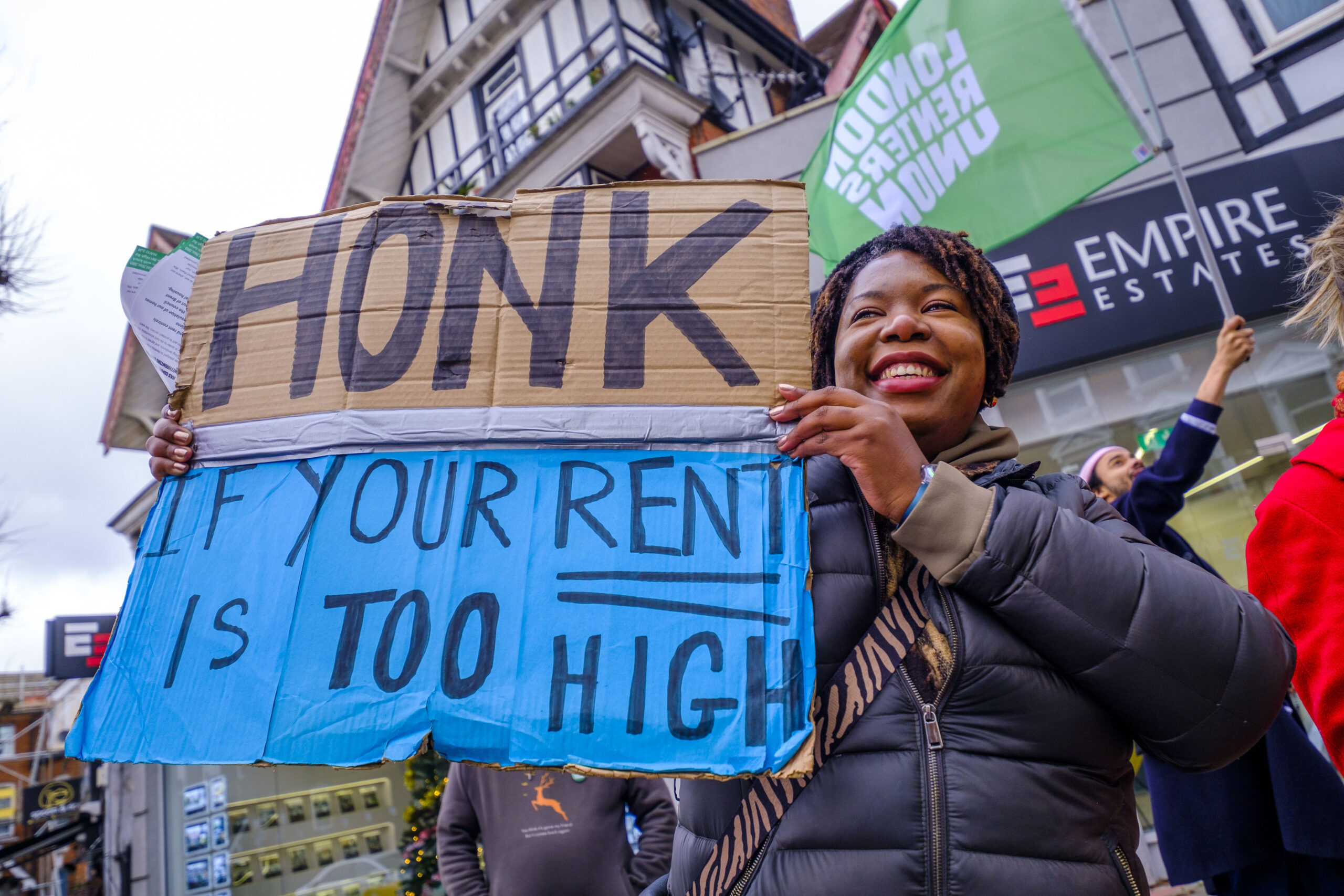 A protester holds a placard outside an estate agent in Brent, December 2022. Credit: Jess Hurd/London Renters Union
On Saturday 3 December, hundreds of renters across London mobilised to demand a nationwide rent freeze to tackle the cost of living crisis.
Members from all six branches of the London Renters Union (LRU) – Brent, Lewisham, Hackney, Haringey, Newham and Tower Hamlets – took part in the launch of the union's Rent Freeze Now campaign, which demands that central government follows Nicola Sturgeon's lead.
The cost of living crisis has exacerbated an already critical situation for renters across the UK, particularly in urban centres. The LRU says its members' rents have increased by an average of 20.5% since September, while data collected by the Guardian suggests UK estate agents upped rents by an average of 28% in the past three years, rising to 48% in places such as Westminster.
The increase has largely been attributed to rising mortgage rates – yet 39% of landlords have no debt on their properties.
LRU's day of action primarily targeted letting agents that the union claims have been instrumental in driving the housing crisis, including by encouraging bidding wars between renters and hounding landlords to inflate their rents.
https://twitter.com/LDNRentersUnion/status/1599018536394899456
Outside one branch of Foxtons in Stratford, renters staged a "move-in", pitching tents and laying mattresses to highlight that skyrocketing rents were pushing them towards homelessness. Others sang themed carols, including "We wish you a merry rent freeze and rent cap this year."
Rent rises are forcing us out of our homes so we're moving into foxtons instead!#rentfreezenow! pic.twitter.com/4yPoyCreMX

— London Renters Union (@LDNRentersUnion) December 3, 2022
At another branch of the London estate agent in Hackney central, renters hung a banner reading "Freeze Rent Not Renters", while others made speeches and held banners criticising the company's role in exploiting them.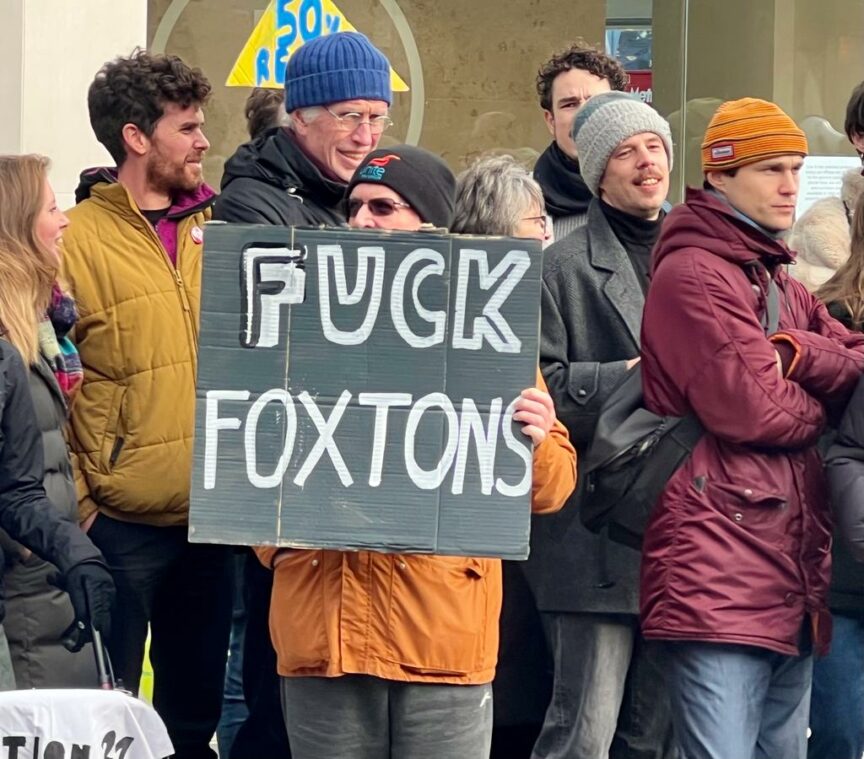 In October, Foxtons reported a 25% rise in quarterly revenues to £43.8m, saying the company planned to do better than expected this year. Its CEO Nicholas Budden was paid £1.6m last year. The company is notorious within the LRU, for good reason.
The letting agent recently offered one LRU member a £5,000 rent increase, organising 30 viewings while they were still living in the property. Another member who couldn't pay a £2,000 rent rise was told by Foxtons that their replacements would need to pay a year's rent – £21,000 – upfront.
"Landlords and estate agents like Foxtons are using the current economic crisis to artificially increase rents and boost profits," said LRU member Rebekah Hesse-Clark in a statement. "The rent rises being pushed through are unfair and unjustifiable."
Rent freezes can be counterproductive in isolation, encouraging landlords to hike rents as soon as the freeze ends. The LRU is well aware of this. Alongside its central demand, it is calling on the government to introduce a cost-of-living-pegged eviction ban and to fulfil its 2019 manifesto pledge to scrap no-fault evictions. The union is also putting pressure on local authorities to enforce current rules for landlords.
Still, a rent freeze is a moonshot. The Tories have recently flirted with shelving their pledge to ban section 21 or "no-fault" evictions and kicked their planned renters' reform bill into the long grass. London mayor Sadiq Khan has long been demanding devolved powers to control London rents, to little avail. In Wales, Plaid Cymru's plan to control rents was shot down by Labour.
Yet with pressure mounting – 72% of the public supports rent controls, including the majority of Conservative voters – it's not unthinkable that a rent freeze will spread south of Stormont.
Rivkah Brown is a commissioning editor and reporter at Novara Media.