Chinese Students Are At The Forefront Of Anti-Lockdown Protests
Young people in China are finding their political awakening.
6 December 2022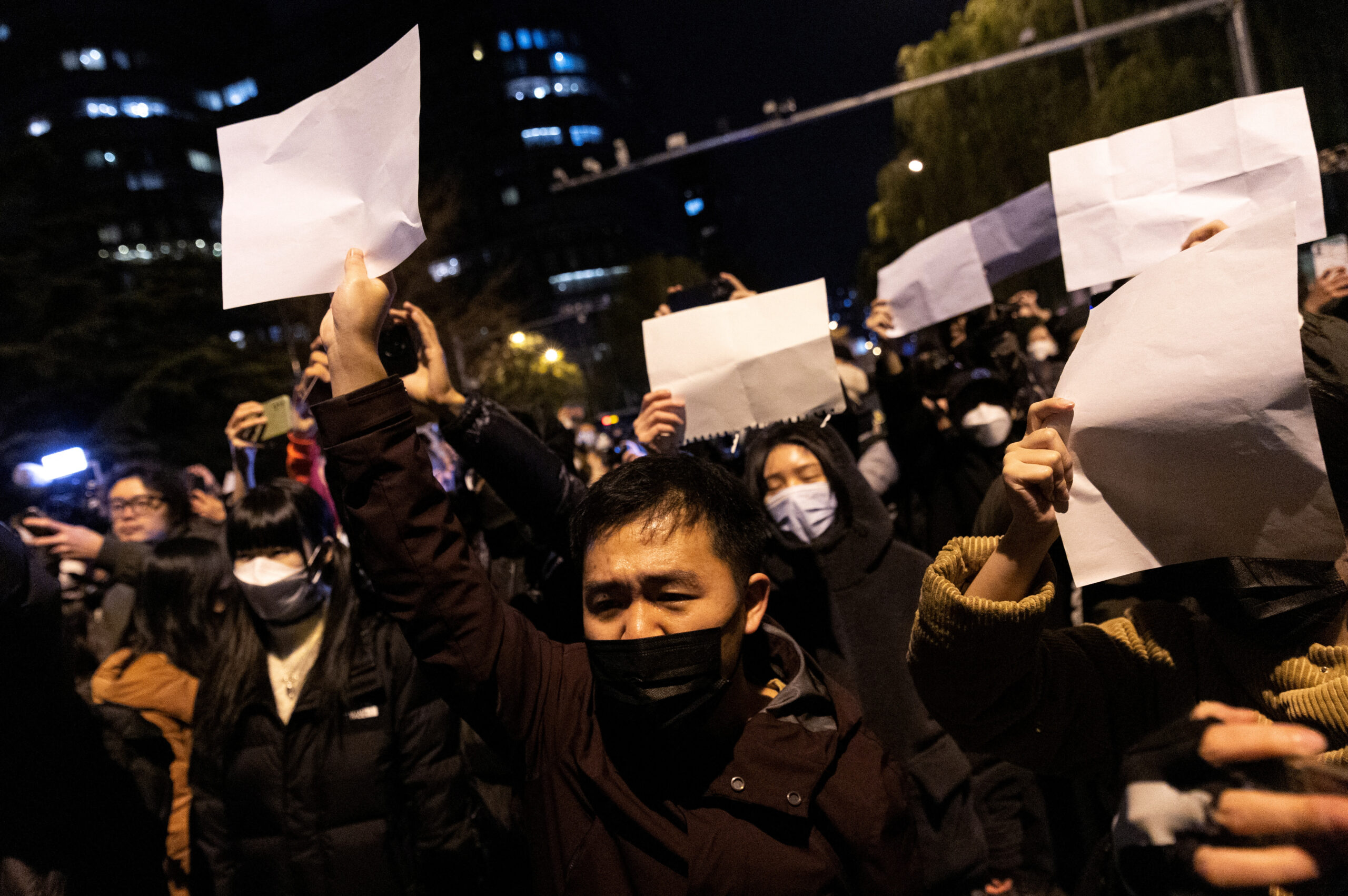 Blank sheets of paper have become a symbol of dissent in China. Thomas Peter/Reuters
It was dark by the time Lear* made his way alone to Shanghai's Wulumuqi Road, on 26 November. The 23 year-old graduate student was attending a spontaneous vigil, called to mourn 10 victims of an apartment block fire that broke out in Urumqi, the capital of the autonomous Xinjiang region, in northwest China. 
The tragedy had first sparked protests in Urumqi against lockdown restrictions, which the public believed delayed the rescue of block residents. Then, in an unprecedented move, the demonstrations were spreading – like wildfire – across the rest of the country.
Lear had never attended a political protest before. In China, citizens are closely monitored by the state and any hints of protest are quickly suppressed and censored. But he'd seen photos on social media of people lighting candles and placing flowers on the road nearby, and felt moved to show his support. By the time he arrived, the police had already set up a cordon in an attempt to control the crowd, which grew from an initial dozen or so protesters to hundreds in the hours leading up to dawn, before the demonstration was shut by authorities.
"When I got there, everyone was mourning silently," Lear told Novara Media, via an encrypted messaging app."But then some started to shout out against Covid-19 restrictions and calling for freedom. We shouted slogans we usually wouldn't dare to voice and many held up blank sheets of paper."
The protest wasn't organised, but spontaneous, said Lear. People chanted for "freedom of speech", "gender equality" and said "no to dictatorship". It was, he adds, "what I envisioned a public forum to be". 
Stifling dissent. 
China's zero-Covid strategy lit the touchpaper for this show of defiance, unseen on this scale for decades. Since the outbreak of Covid-19 in 2019, China's ruling Communist party (CCP) Covid policy has forced citizens to live their lives in a yo-yo state of restriction and surveillance. 
During the pandemic, the CCP's use of existing surveillance tools – such as biometrics tracking civilians in real-time – have been expanded from mainly targeting minority groups, into trailing the entire population. Support for the zero-Covid strategy has also become synonymous with loyalty towards Chinese president Xi Jinping, now widely regarded as the most powerful leader since Mao Zedong.
In addition to disrupting people's daily lives and slowing China's economy, the restrictions have led to logistical failures and several tragedies. In September, a bus en route to a quarantine facility in Guizhou – a province that has recorded only two Covid-related deaths – crashed , killing 27 people.
In the wake of the November protesters, the state has begun a swift, yet politically cautious crackdown. Police patrols have conducted random phone searches for banned social media apps like Twitter, or illegal virtual private networks (VPNs) through which China's firewall can be breached. Many protesters are being arrested but released after 24 hours and, at the time of writing, there have been no confirmed cases of any receiving formal charges.  
The day after the 26 November vigil, Lear attended a demonstration calling for the release of detained protesters. "There was a lot of shoving and the police looked a lot more serious," he recalls. "Someone stuck a white paper to a tree and was caught by the police; everyone shouted 'let them go.' I also saw a policeman forcefully push two girls. It was chaos."
As China's censors desperately tried to scrub news of the demonstrations online, many resorted to creative methods of protest; blank pieces of paper symbolising censorship, mathematical equations and homonyms have all become symbols of resistance. The government is also flooding platforms like Twitter by posting content related to porn and gambling alongside hashtags like #Urumqi to prevent users from accessing protest coverage.
State repression even extends overseas. After organising solidarity protests in the Netherlands, overseas Chinese citizen Wang Zhao Qing received a text from an unknown number claiming his mother had been taken to a quarantine facility in China. Wang told Novara Media he was able to verify through contacts that his mother had not been taken to a facility, but was questioned at home by police and two strangers claiming to be his friend. 
"I can't verify the source of these threats, nor can I investigate," he said. "This is the kind of power the state has". 
Culminated frustration. 
Since Xi ascended to the presidency in 2012, the space for activism has drastically shrunk. The demonstrations of the past two weeks are the first large scale show of dissent since the Tiananmen Square protests of 1989. 
"There are a lot of things in China that people are unhappy about," says Steve Tsang, director of the SOAS China Institute. "What is bringing them together is the reality that Xi is telling everybody that everything is hunky dory [when it's clearly not]". 
According to Tsang, neither Xi nor the party were aware of the scale of public frustration; they projected confidence throughout the 20th national party congress in October, during which Xi secured a "precedent breaking" third term in office. Now, the state will likely redouble efforts to clamp down on dissent and indoctrinate citizens. Efforts to prevent certain public gatherings are underway, says Tsang, such as the virtual, rather than physical, commemoration planned for  former president Jiang Zemin, whose death triggered a wave of nostalgia for the era of relative freedom under his leadership.
The Chinese government has not publicly acknowledged the demonstrations. Yet in a meeting in Beijing on Thursday, Xi told European Council president Charles Michel that the protesters were "mainly students" who are "frustrated" after three years of living with the virus, the South China Morning Post reports.
It's true that most took to the streets initially in frustration against pandemic restrictions. But other demands soon emerged, like the broader anti-government message and feminist calls against gender inequality.
For many, the protests were a political awakening. One 22-year-old protester in Beijing who spoke to Novara Media on condition of anonymity said that before the demonstrations he had shied away from politics. Yet the recent displays of defiance have made him feel "less alone" and inspired him to speak out, leading him to protest at his university by holding a blank piece of paper. "I realised there are many out there who feel similarly to me. I felt very encouraged," he said.
Although most of the protesters were young people, Lear says he saw people of all ages. "I met a woman in her 50s who told me she 'truly supported' us young people although she's 'too old to stand on the frontlines', "That really moved me."
What next?
Last week, the head of China's Covid-19 policy announced the country would be taking "baby steps" to ease some restrictions as China faces the "new reality" of a less potent virus. 
Lear doesn't expect the government to completely abandon zero-Covid anytime soon. But he hopes the movement will put pressure on the state to move in that direction – and encourage more civic freedom. 
"When I think about our future, I don't see any possibility for the top-down system change. But I do hope there can be more channels for communication between the government and the people."
*Names have been changed to protect anonymity. 
Jessie Lau is a journalist covering human rights, gender and politics with a focus on China and Asia.