Labour Is Wrong – Private Healthcare Can't Save the NHS
For a start, private medicine is dominated by existing public sector staff.
10 January 2023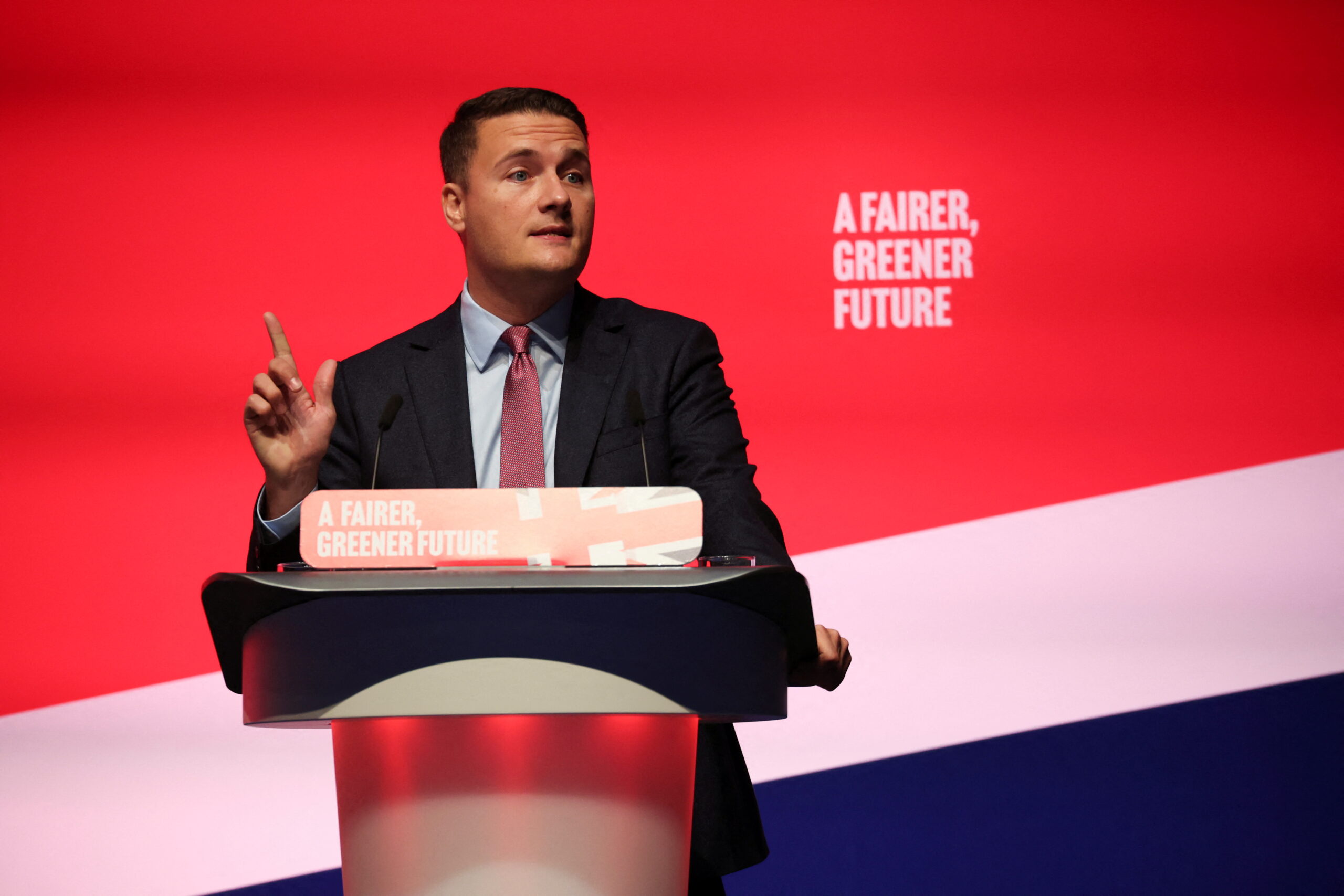 Shadow health secretary, Wes Streeting, has pledged to incorporate the private sector into solutions to the NHS crisis. Image/Reuters
In recent months, the state of the NHS has become such a national crisis that even Tory-supporting newspapers have turned on the government. The Daily Mail has called on ministers to end the "deadly NHS crisis", the Telegraph claimed the health service was "imploding" and the Sun described hospitals as a "warzone". The NHS has been struggling for a decade, but in recent years waiting lists and A&E wait times have rocketed upwards, with seven million on waiting lists and 37,800 people waiting more than 12 hours in A&E to be seen.
So what's the solution? Labour has begun pitching its plan to voters: bring in the private sector to clear a backlog of patients waiting for treatment. Shadow health secretary Wes Streeting laid out a two-pronged approach: long-term, Labour intends to expand the NHS workforce by training new UK staff. In the short-term they plan to partner with the private sector to use "spare capacity […] to bring down waiting lists". Labour has not said precisely how they will partner with private hospitals, but Streeting insists that this plan would see 230,000 extra patients treated a year. 
On the face of it, this may seem logical; private healthcare organisations already exist, so why not pay them to treat people while you train new staff? But it's not that simple. The private health sector in this country is tiny, employs virtually no doctors that don't already work for the NHS, and has a miniscule number of beds. Rather than clearing the backlog, Labour's plan would simply end up creating more chaos.
According to the British Medical Association (BMA) the current NHS crisis has three major causes: staff shortages, insufficient funding and backlogs caused by the Covid-19 pandemic. While the latter is beyond the immediate control of any government, the first two are the direct result of government failings over the past twelve years.
Conservatives will often argue that funding for the NHS has risen since 2010, and it has – but that is an inevitable consequence of monetary inflation and increases in population. Looking at health spending as a share of Gross Domestic Product (GDP), we can see that funding slumped up until the Covid-19 pandemic forced a massive expansion. 
Linked to this is the decline in staff, which can be measured by the number of vacancies. When it comes to nurses, for instance, vacancies had risen as high as 47,500 in September 2022 – an increase of nearly 10,500 (+28%) since September 2020. 
When it comes to Labour's plan of working with the private sector to reduce NHS waiting lists, the holes are numerous. Firstly, even if projections of treating over 200,000 more patients were realised, these numbers are merely a drop in the ocean. The waiting list for NHS treatment currently stands at 7.2 million, meaning that it would take over 30 years for Streeting's plan to clear the treatment backlog – longer in practice, as the number of patients does not remain static. The reason for that is quite simple: because the NHS dominates the healthcare industry in Britain, the private healthcare sector is incredibly small. Unlike the United States and Germany – where 19% of hospital beds are owned by for-profit hospitals – a mere 5% of hospital beds in the UK are located in for-profit facilities. Even if this sector could work at far over its current capacity (which is what Streeting is demanding) it is too small to make much of a difference.
The second problem with Labour's plan is that the treatment backlog is largely due to lack of staff to treat patients, not simply lack of beds or facilities. And again, unlike the United States, very few doctors in the UK work exclusively in the private sector. Indeed, there are virtually no doctors at all who are employed specifically by private hospitals and health organisations – rather, NHS doctors provide part-time freelance services to the private sector to make extra money. The King's Fund estimates that 85% of private practice doctors are, in fact, existing NHS consultants working part-time. Barely a handful work solely in the private sector. These NHS staff are already overworked and at capacity – Labour's plan will simply shift their workload to a different location, not lessen it.
The third problem with the proposals is that whilst Streeting acknowledges that the NHS needs more staff, he has little to no solution for the staff shortage in the short term. New staff take time to train, with the average doctor taking 5-10 years to qualify fully (depending on the field). In the short term, the NHS will need to hire staff from abroad – but Streeting has firmly ruled this out, declaring that the NHS is currently hiring too many foreign members of staff.
Finally, the fundamental problem facing the NHS is lack of investment – but Labour has in recent weeks ramped up its support of austerity and reduced public spending. Labour leader Keir Starmer has announced that the party would not spend its way out of the crisis, and would practice "fiscal discipline". Yet the last Labour government only restored NHS services to optimum levels by ploughing an eye-watering £65.4bn into the service, with healthcare spending rising from 4% of GDP in 1997 to double that number by the time Labour left office. This enabled it to cut waiting times from 13 weeks to four. Without massive increases in funding, Labour's NHS rescue mission will fall totally flat. Yet in 2023, it won't sanction such spending increases for fear of alienating Tory voters.
In summary, Labour's plans for the NHS – to use private sector "spare capacity" to cut waiting lists – simply do not add up. This is not a question of ideology or private versus public; rather, the issue is that this "capacity" simply does not exist. There is no legion of private doctors, ready to step up and treat NHS patients if asked – private doctors are mostly just NHS doctors working part-time for extra pay. The number of private beds, even if you set aside the lack of staff, is vanishingly small anyway. And on top of all of that, Labour has sabotaged its own plans by ruling out the necessary large public spending increases and opposing recruitment of overseas staff.
And yet, even in Labour's most optimistic scenario, their private sector partnership plans would only theoretically cut waiting lists by a fraction, leaving millions stuck waiting for treatment with no end in sight. In the end, one is forced to ask why the Tories (who are hardly opposed to privately-run healthcare) have not enacted this plan if it would work so well. The answer is: because it would not work. Labour must go back to the drawing board.
Ell Folan is the founder of Stats for Lefties and a columnist for Novara Media.