Trade Union Leader Dismissed Following Report Into Sexual Harassment
Even though he was supposed to have retired already.
23 February 2023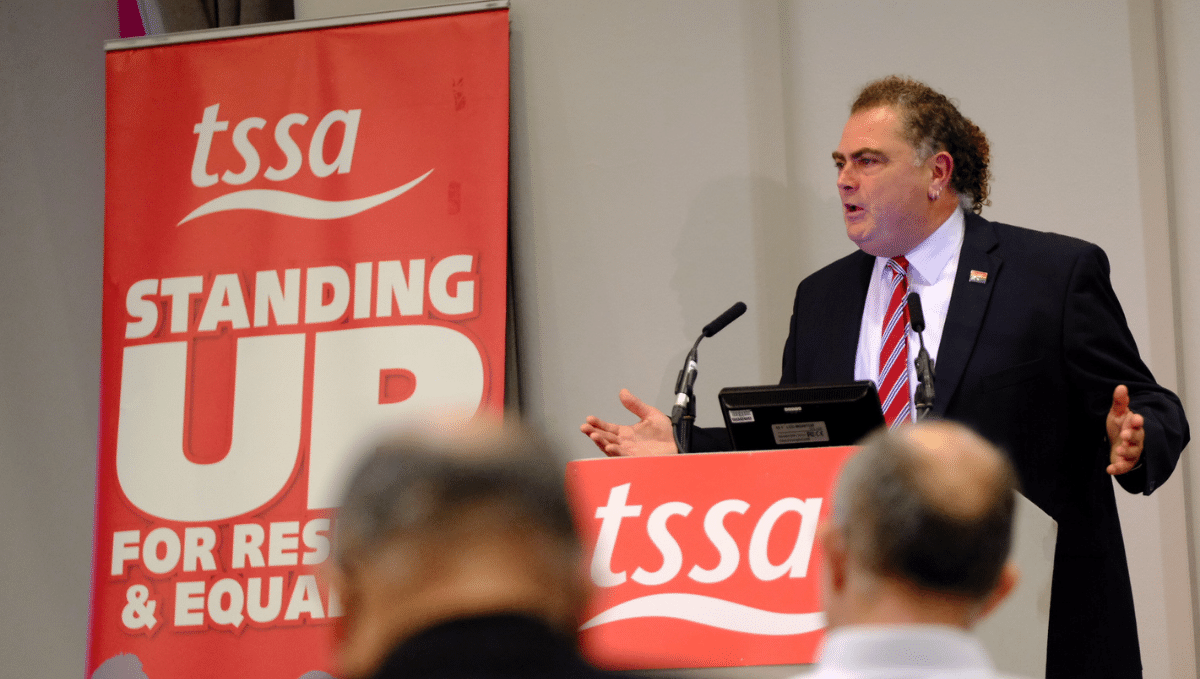 Former TSSA general secretary Manuel Cortes. TSSA
The former general secretary of the Transport Salaried Staffs' Association (TSSA) Manuel Cortes has been dismissed for gross misconduct, months after it was announced that he had already retired.
The dismissal follows Helena Kennedy KC's damning report into sexual harassment and bullying at the trade union.
Kennedy established the independent inquiry after allegations of sexual harassment, discrimination and bullying within TSSA were made in May 2022, on the advice of the TUC.
Released earlier this month, the report uncovered "sexual harassment, discrimination and bullying" and a leadership and culture that enabled these behaviours through "wilful blindness, power hoarding and poor practices."
Among the report's findings were "inappropriate and sexual touching, sexual assault, coercive and manipulative behaviour, violent and disrespectful language, humiliation and denigration of members of staff, reps and members of the Executive Committee."
"Some of this behaviour was actually witnessed – or heard – directly by me," Kennedy said.
Cortes served as general secretary of the transport union for 11 years, until he apparently retired following specific allegations of sexual misconduct. According to previous reports, Cortes vehemently denied the allegations but apologised for any hurt caused by his behaviour.
A public statement from then interim general secretary Frank Ward announced Cortes' retirement "with effect from Monday 24 October". The announcement made no mention of any of the allegations Cortes was facing. But in a bizarre twist following the release of Kennedy's report, the TSSA's executive committee was made aware that Cortes was still in the employment of the union.
TSSA announced his dismissal on its website today (23 February).
Luke Chester, a former member of TSSA staff, was also dismissed for gross misconduct.
The Kennedy report said there was "a common understanding" in the TSSA that Chester had been "groomed" to be the next general secretary. Following Cortes's supposed retirement, Chester put himself forward for general secretary, until Kennedy requested elections for a future general secretary be delayed until after her report was published.
A separate equalities report by Professor Hazel Conley and Dr Stefano Gasparri into the TSSA released this week found a "toxic" culture at the union which was "predicated on fear and victimisation." Novara Media revealed how the union had sat on this report for months so that senior officials could buy time.
The report was submitted to senior officers at the very top of the union last September, but not released, and staff were incorrectly told that the report had not been received.
TSSA says it is now working through the recommendations of the Kennedy and Conley-Gasparri reports. Two HR professionals will begin work next week in assisting the union in changing its culture. A possible merger with the GMB is continuing. The TSSA also met with senior representatives of the RMT for an informal conversation about working together.
Polly Smythe is Novara Media's labour movement correspondent.