The Biggest 'Renewable' Power Plant in the UK Burns Wood Processed in Poor, Black Communities in the US
'They target people who are desperate.'
10 May 2023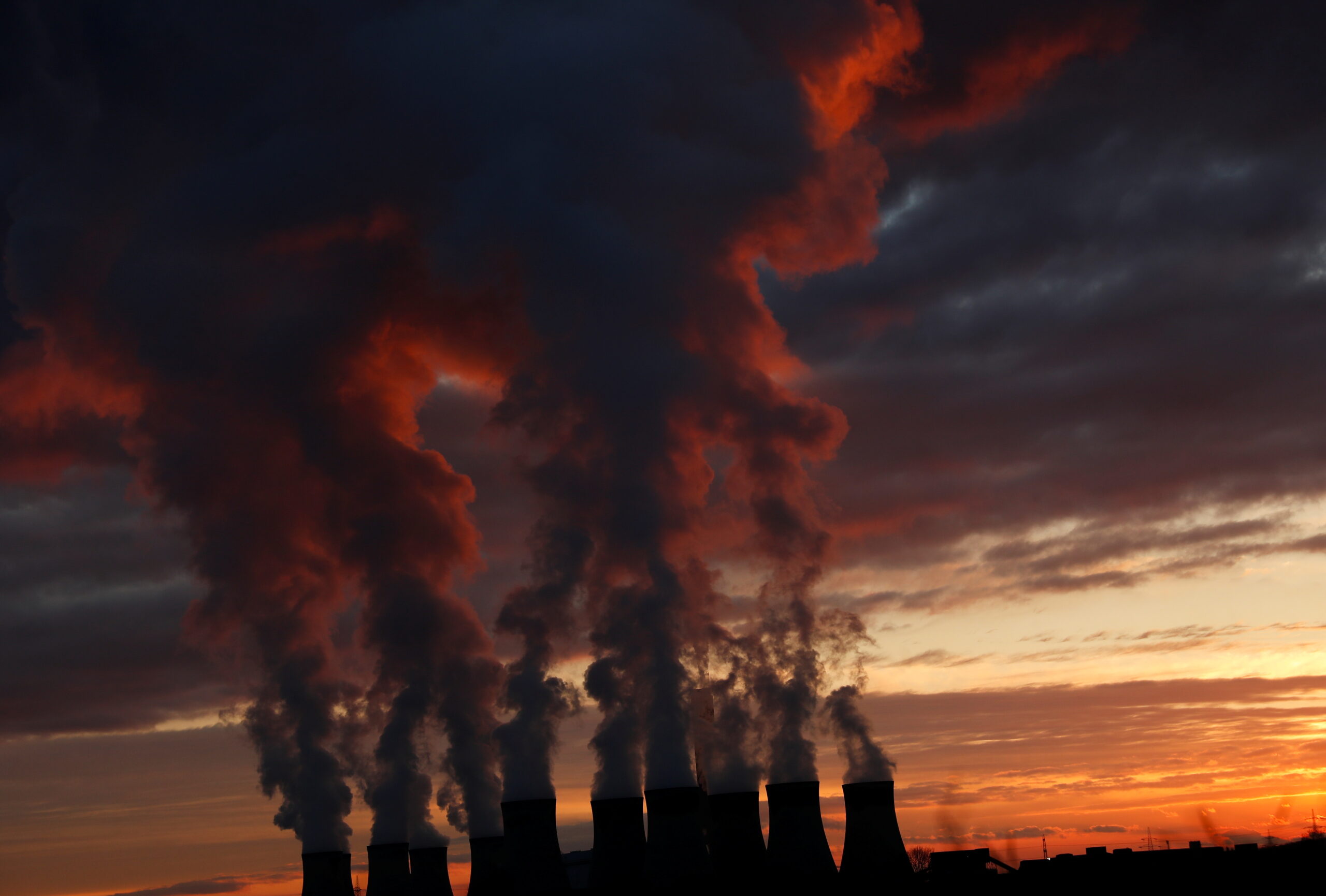 Drax power station in North Yorkshire. REUTERS/Lee Smith
It is "no mistake" that a British company's wood processing plants linked to toxic emissions and health problems are situated in poor communities of colour in the southern United States, campaigners say. The location of the plants, which process wood to burn at Drax power plant in north Yorkshire, is an act of "environmental racism", they say.
Drax, the owner of the UK's largest biomass power plant, presents itself as part of the solution to climate change. The company boasts that it has weaned itself completely off coal by switching to biomass. Its corporate literature, accompanied by pictures of lush forests, demands more urgent action to reach net zero and says it has a "pivotal role to play in driving the transition to renewable electricity".
However, campaigners who ambushed Drax's 2023 AGM in chaotic scenes on 26 April, contest these claims, saying that biomass is unsustainable and that processing the wood causes pollution and health problems.
Biomass's status as a renewable energy source is controversial, as environmentalists and scientists say growing trees in order to burn the wood is not sustainable. Drax power station is the UK's single biggest source of CO2 emissions, according to one think tank. The company claims to only use waste wood and sawdust, but investigations have found that environmentally important primary forests are felled in order to get burned and create electricity for the UK market.
Katherine Egland from Gulfport, Mississippi, chair of the Environmental and Climate Justice Committee for the NAACP, sees Drax's green messaging as a cynical ploy to protect its business. "Drax is taking our best defence against climate change and weaponising it against communities," she told Novara Media.
Egland started to focus on climate change after losing two friends to drowning as Hurricane Katrina hit her home town in 2005. In 2010, the BP Deepwater Horizon Gulf oil spill contaminated Gulf Coast waters just a few blocks from her home. Egland sees Drax as part of that same problem.
"We have maps of the environmental justice communities in the US; maps where the highest African American population is, and you juxtapose that to the wood pellet manufacturing and it's the same. It's also the same states that are the most climate-vulnerable. And so what they're doing is exploiting poor communities of colour. And that's racist. I mean, there's just no other word for it."
The wood used by Drax is burned in the form of pellets. Wood pellet manufacture has been associated with emissions of a number of harmful chemicals, and people who live near wood-pellet plants report respiratory and other health problems due to toxic emissions. Many of the pellets are made in the southern states of the USA, or on indigenous land in Canada, and critics say that these negative impacts disproportionately affect poor and racialised communities.
Egland spoke of a 2022 visit to Gloster, Mississippi, the location of a Drax wood-pellet plant which was fined $2.5 million in 2021 for emitting three times more air pollution than permitted. The population of Gloster is 77.1% Black and the poverty rate in 2020 was at 41.4%.
"There is a chain fence that is only separating Drax from a trailer park. And these trailers are in poor condition – they have holes in them, they have cracks in the windows. So you have all of this pollution getting into this community", she said.
"I was just there for a few minutes and they were loading the wood pellets onto trucks to get them to the shipping ports to be shipped over to Britain and I was covered from head to toe in debris from the wood pellets.
"My eyes, nose and throat burned within minutes, and usually you don't expect that because it takes over a year. So I was really caught off guard."
Despite these accusations, Drax reported its highest ever annual profits – £731m in 2022, up from £398m in 2021 – in part thanks to spiralling energy costs. Controversially, Drax is subsidised by the UK government, receiving £617m in 2022, according to think tank Ember.
"These crimes are being subsidised by the British government", says Egland.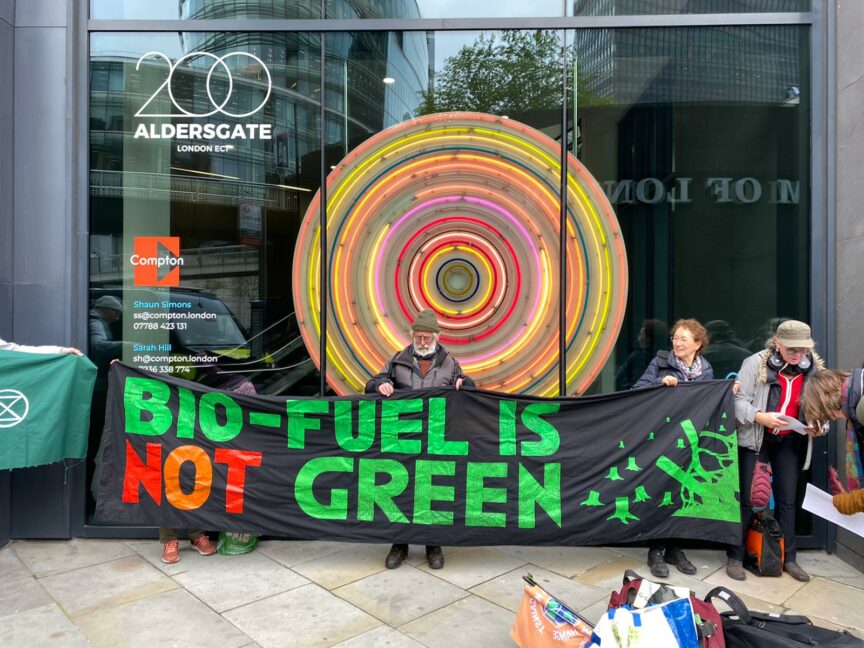 Egland spoke to Novara Media ahead of the Drax AGM in London on 26 April. She had travelled the same four and a half thousand miles as the wood pellets which burn at Drax power station in order to be at the event.
The meeting descended into chaos as the presentation of the annual report was repeatedly interrupted by protesters from the Axe Drax campaign, who stood up one at a time to read speeches and quotes from affected communities before being manhandled out of the event by security staff, including one protester who was carried out while still sat in her chair.
During a scheduled question and answer session, company directors fielded a barrage of hostile questions.
Among those who spoke was Dr Krystal Martin who was raised in Gloster. A tearful Martin told board members that the community had become a "sacrifice zone".
Pollution from the pellet plant, she said, had "caused increased health issues of asthma, breathing issues, upper respiratory issues, lung cancer among the local residents, especially the young to elderly population, which includes my mother. My mother is suffering from respiratory and breathing issues.
"We feel like you don't care about us as people, because you're willing to pollute our community and extract our natural resource of forest, for your own economic gain."
Drax CEO Will Gardiner said the company had invested more than $10m in ensuring that the facilities are compliant with the law since the fine.
The scenes were just the latest embarrassment for Drax. On the day of the AGM, it was revealed that Drax has been told by its own independent advisory board to "reassess its criteria for determining carbon neutrality" and "move away from saying 'carbon stocks are increasing/stable' and stating biomass is carbon neutral". (A spokesperson for Drax told Sky News: "The science that underpins our approach is complicated, nuanced and evolves.")
This comes at a delicate time for Drax. Ofgem is currently assessing Drax over its renewable obligations following criticism of the company, which means it could lose some or all of the government subsidies which it relies on. Government support for Drax is not assured – in August 2022, a leaked recording revealed how Kwasi Kwarteng, then the business and energy secretary, doubted if the importing of wood to burn made sense.
In response, Drax has stepped up its lobbying efforts. In January, investigative website DeSmog revealed that Drax has been pressuring government departments to influence energy policy in its favour.
The company has also been cosying up to Labour. According to an entry in the Electoral Commission's register of political donations from December, Drax gave Labour £12,000, just over two weeks before Drax sponsored a Yorkshire and Humber regional reception event at last year's Labour party conference. Activists believe Labour is undecided about Drax.
Egland says that not only are the wood pellet plants harming the environment and people's health, but that these harms are a continuation of systemic and historical forms of oppression.
"It's definitely no mistake that they're almost always located in low income communities of colour. They target people who are desperate, people who are considered possibly dispensable.
"Communities that are facing the environmental impacts are poor people and people of colour in the US, mostly in the southeast, for the most part in the same states that were former slave states that supplied the cotton trade to Britain during the industrial revolution," says Elgand.
"And the descendants of those people are now confronted with the wood pellet trade and are suffering high exposure to chemicals and toxins on a daily basis."
Novara Media approached Drax for a comment but did not get a response.
Simon Childs is a commissioning editor and reporter for Novara Media.