Where Are the Shadwell Fire Survivors Supposed to Go?
Six of them are living in a squat.
16 May 2023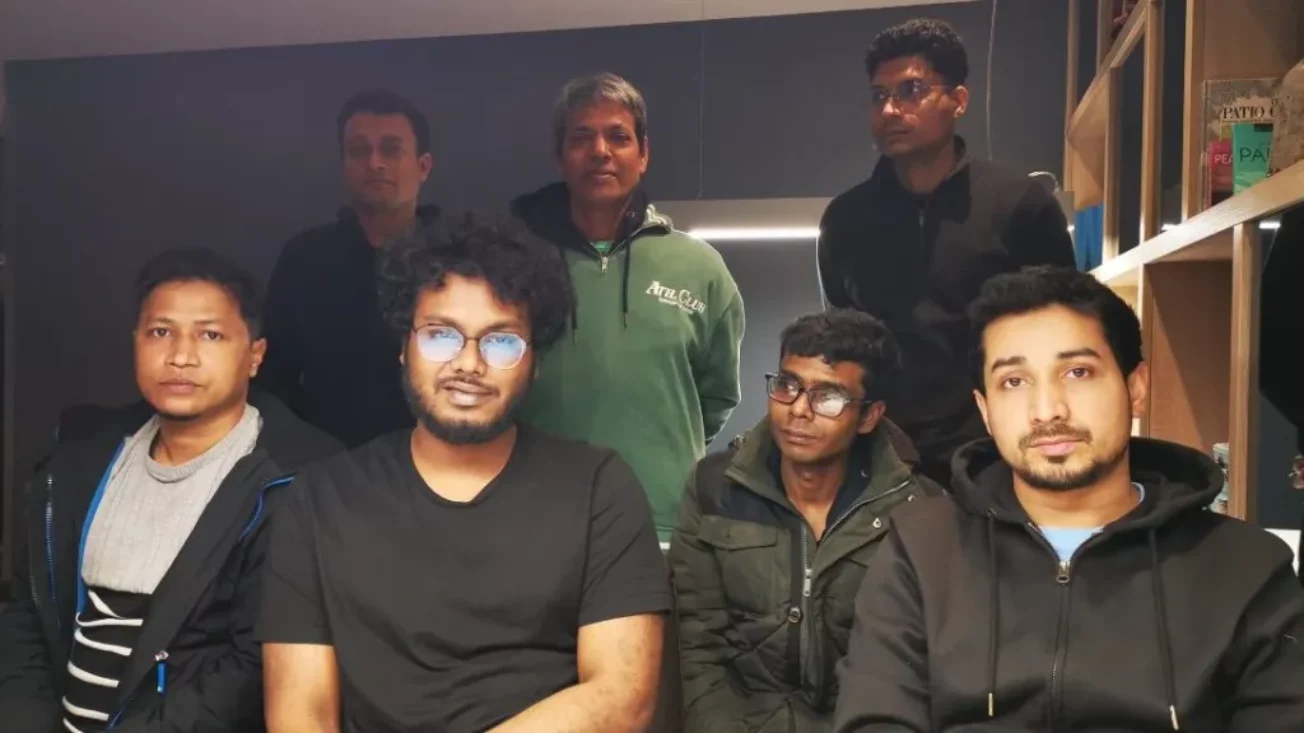 Seven of the 19 survivors of a Shadwell fire that broke out in early March 2023, killing Mizanur Rahman. Photo: Jamie Richards/East London Lines
Nazmul Hasan Chowdhury is making me a cup of tea. I didn't ask for one – in fact, I politely declined – but I get the impression the ritual is less to make me feel at home than for him.
"I used to think that in London there would be no homeless people because it's [in] a developed country," he tells me. "We dreamed about London […] Buckingham Palace, Tower Bridge and the London Eye. […] We never thought this kind of stuff could happen to us."
The room we're in is strip-lit and stuffy, floral curtained and cream walled; wheelie suitcases are wedged between mattresses that occupy around half of the floor space. Chowdhury shares the room with five other men; one of them naps as we talk. I make a show of drinking my tea.
The six men are among the 19 survivors – all of them Bangladeshi Muslim men – of a house fire that broke out in a council-run flat in east London in early March. Their housemate, 41-year-old Mizanur Rahman, died in hospital from his injuries.
To many, it was an accident waiting to happen: neighbours had been complaining about overcrowding in the flat for months before the fire; the council awarded the landlords a license anyway. Local councillors knew the landlords personally; whether they knew they were charging the men between £80 and £100 each per week to share a bedbug-infested two-bed is a question to be answered by an ongoing criminal investigation.
Today, Maddocks House is a stain on the area, literally so. Its smoke-blackened windows greet you as you exit Shadwell station; Harun Miah, a local Aspire councillor, can see the flat's charred remains from his corner shop. Still, just two months later, the survivors of a near-Grenfell repeat have been all but forgotten.
Blood from a stone.
Of the 19 survivors, six are currently homeless. Two left immediately after the fire broke out. Five others the council had a legal duty to accommodate, including four with EU citizenship and one with a British parent; they've been put up in hotels in Ilford and Barking. As for the rest – most of them on one-year student visas, so with no recourse to public funds – getting support from the council, says Chowdhury, has been like getting blood from a stone.
Chowdhury says that virtually none of the council assistance he and the other survivors have received – which Tower Hamlets estimates is worth £107,000 – has been freely given, but instead forcibly extracted by local campaigners.
The men were initially taken to the Overground station to shelter, then to the local mosque. They were then told they would be accommodated in a nearby hotel for just one night; inside the council, officers were adamant they would be accommodated for a week at most. The council did eventually extend the men's hotel stay for a week, then another week, then a further fortnight, until eventually – after a last-minute plea from groups including the London Renters Union (LRU) – Tower Hamlets committed to house the men until 28 April, just after Eid. Over the 56 days the men were bounced between emergency hotels, a representative from the council visited them just once.
As 28 April approached, the survivors warned that they would be made homeless unless the council intervened. Sure enough, they were; the only reason the six men aren't currently sleeping rough is thanks to a group of anarchist squatters who took them in.
Squat hospitality.
One of the squatters, who asked to be referred to as M, is both angered and unsurprised by the council's treatment of the survivors. "It infuriates me in the sense that we don't get paid for any of this, but at the same time, we are not to doing this to gain [points]," she says. "It's all mutual aid for us, because we know we need help and others need help […] and we know as anarchists that the state would never do anything for us." Indeed, while the council has been relatively tight-fisted in its support, a patchwork of local groups have welcomed the men with open arms.
Two days after the fire, members of the local Tarling West Tenants & Residents Association (TRA) met to discuss how to help the survivors. Within days, a member of IWGB's couriers' branch had begun working with a local resident to set up a crowdfunder that, thanks to publicity from groups like Nijjor Manush and Tower Hamlets Solidarity, raised around £11,000 for the survivors and the relatives of Mizanur Rahman. Muslim charities including Eden Care, the 13 Rivers Trust and the Muslim Burial Fund ensured Rahman's body was repatriated. LRU experts worked with Tarling West TRA to enable the survivors to retrieve their belongings from the burned-out flat, which the landlord was attempting to charge them to do.
If "the council has done much less than desired," says Tarling West TRA member Anthony, "the community in Shadwell and in Tower Hamlets stepped up to give the survivors of the fire the dignity, respect and solidarity they deserve."
Speaking to Novara Media, Chowdhury says that while he's grateful for the community's support, such support shouldn't be their responsibility. After all, it is the council that owns the freehold on the flat where one man died, and he nearly did too; the council that, seven months before the fire, issued a house of multiple occupancy (HMO) license to his landlords, despite numerous complaints. "The council has a duty to do something," Chowdhury insists.
What's more, the squat isn't a long-term solution: though the squatters are happy to continue hosting them, the men don't want to share a room, and it will take a while before enough private rooms become available; even if they were to, it's clear the men feel uncomfortable with the prospect of settling there. With the council support now dried up, the group has turned to an unexpected place for help: the church.
The survivors are currently in talks with the nearby St George-in-the-East to house the six men for around three months in flats owned by the 18th-century Anglican church. After that, they aren't sure where they'll go.
"Hostels" like the one at Maddocks House constitute a form of black-market accommodation that has proliferated in Tower Hamlets in recent years, thanks to its extraordinarily acute housing crisis: there are around 20,000 households on the council housing waiting list in Tower Hamlets, a borough with more vacant houses than any in London.
The reason anyone would choose to live in such a hostel, and why these 20 men did, was because they are shut out of the formal private rental market. The sector was deeply exclusionary long before the cost of living crisis. Now, as rents soar and competition intensifies, and with landlords making increasingly absurd demands of prospective tenants, the Maddocks House survivors don't stand a chance – and from the survivors' perspective, the council's interventions haven't improved their chances, either.
Throwing money at the problem.
Dipon Chandra Nath, 34, also survived the Maddocks House fire and lives in the squat with Chowdhury. He says that the council's £107,000 would have been better spent on deposits or advance rent than on expensive, temporary hotel accommodation. "Why are you spending that money?" he asks. "It's not meeting our human needs." Anthony agrees: "With £107,000, they could have housed everybody. So they've just wasted their money on a fancy hotel."
When Novara Media put this to the council, a spokesperson stressed the difficulties of disbursing council funds directly to residents, and of justifying doing so in a borough with one of the most severe housing crises in the country.
They added that while there is a lot the council has done for the Maddocks House survivors, the fire was the result of intersecting injustices, some of which – among them landlordism, the gig economy and overcrowding – Tower Hamlets cannot solve single-handedly. This will hardly comfort a group of men who not a year ago were dreaming of British palaces but found themselves living in a state-sanctioned slum.
Rivkah Brown is a commissioning editor and reporter at Novara Media.