Keir Starmer Doesn't Care That You're Angry With Him
All roads lead to pyrrhic victory.
2 November 2023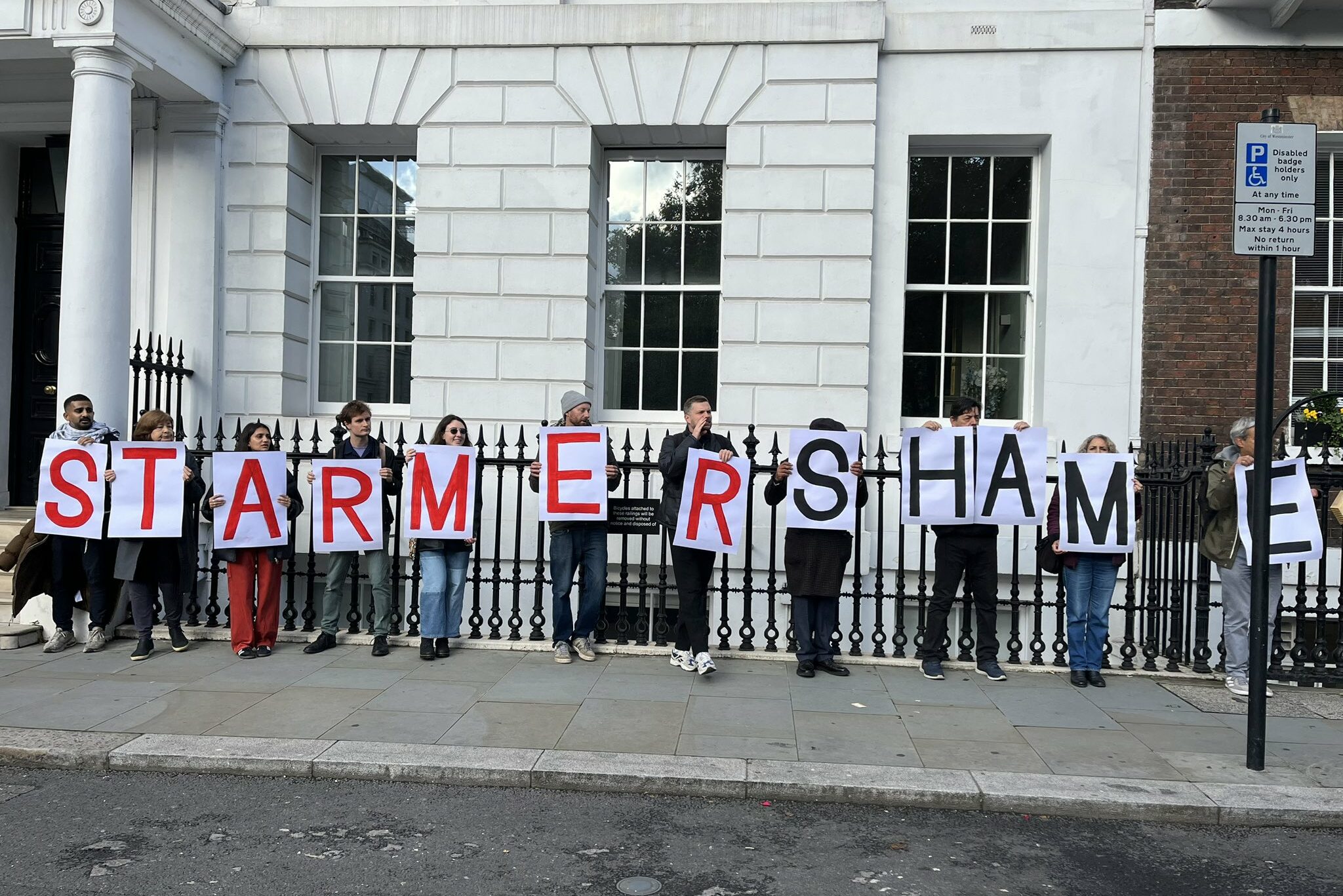 Protesters wait for Keir Starmer outside Chatham house. Photo: Clare Hymer
By the time Keir Starmer appeared at Chatham House on Tuesday morning to set out his opposition to a ceasefire in Gaza, more than three thousand children had been killed in Israeli airstrikes. Outside the venue, protesters accused him of supporting a genocide. Online, activists exchanged assurances that voters would punish him for failing to call for an end to the slaughter.
Labour leader Keir Starmer leaves Chatham House after a speech in which he again refused to call for a permanent ceasefire in Gaza to chants of "ceasefire now" and "war criminal" from activists. pic.twitter.com/haO8248NVh

— Novara Media (@novaramedia) October 31, 2023
But Keir Starmer is a winner and he doesn't care what you think. For some time after his elevation to the Labour leadership, many on the left, myself included, argued that he would need to keep much of Jeremy Corbyn's policy agenda to win a general election. Evidently, he does not. The scale of Tory unpopularity, coupled with the monopoly on opposition granted to Labour by first past the post, means he can do whatever he likes. A lack of enthusiasm among young Labour voters will not alter the electoral arithmetic. Neither will widespread anger among progressives at Starmer's support for the Israeli siege on Gaza.
Attempting to explain Starmer's positioning with reference to electoral necessity is a fool's errand. No one could by now accuse him of proximity to Corbyn. Labour's moderates compromise not because they must, but because they want to. The more rightwing Labour is when it enters Downing Street, the more their theory of change will be vindicated. Risk aversion, message discipline and an overriding instinct to conform are their chosen method for politics – a reactive communications strategy masquerading as a vision for Britain. What this strategy lacks in authenticity it makes up for in repetition.
Did you know that Starmer's father was a toolmaker? He mentions it sometimes. Illustrating connectedness to traditional working-class life resonates with key sections of the electorate. But underneath the messaging, Labour's commitments look shakier. This summer, the leadership attempted to ditch commitments on workers' rights such as sick pay and unfair dismissal. The £15 minimum wage was jettisoned in 2021. Starmer made a show of opposing the recent strike wave, even sacking frontbenchers for their attendance at picket lines. In government, he assures us, there will be no pay rise to allow workers to recover from the worst wage depression in centuries.
Starmer's sister was a nurse, and so was his mum. For years, the health service has been racked with funding crises and poorly conceived 'reforms' designed to open it up to the market. 46,828 nursing posts, 12% of the total, were vacant in the second quarter of this year. Since Starmer was elected as Labour leader in 2020, NHS waiting lists have risen from four million (already a record high) to more than seven million. During his leadership campaign, he promised to "end outsourcing in our NHS", but has long since made it clear that private providers will continue to play a key role. When nurses went on strike last year, Starmer opposed their pay demand. "I don't want to make promises I can't keep," he said.
Starmer grew up in a pebble-dash semi-detached house in a small town in Surrey, a fact which makes him at once down-to-earth and aspirational. At this year's party conference, he declared himself a "yimby" and promised to oversee the construction of 300,000 homes a year by relaxing planning regulations. The policy seems radical in its scale, but contains no commitment to affordable or social housing. Three months earlier, Labour ditched its commitment to introduce rent controls, a policy which has been in every manifesto since 2015 and is backed by Labour mayors in London and Manchester.
For much of the commentariat, Starmer is a confusing figure because he speaks the language of moderation and national interest. He used to be the director of public prosecutions, you see; they call him "Mr Rules". In an era of 'alternative facts' and Partygate, Starmer made an effective foil for Boris Johnson. But the two men share characteristics. Both approach politics with a grand sense of history, but have little of substance to say. Neither have any problem with misleading voters in pursuit of power. Many complain that demagogues are debasing our politics, but that is precisely what 'modern' political communications – the kind pioneered in the UK by New Labour and reproduced as caricature by Starmer – is designed to do.
Until recently, Starmer's public image has managed to combine open opportunism with a vague sense of moral mission. Events in Gaza may have cut through this. Faced with a publicly advertised war crime, broadcast live by the world's media, Starmer lacked the ability to engage with what was happening. Instead, he felt compelled to take the path of least resistance, a move which usually means sacrificing a progressive policy at the alter of fiscal discipline. In this case, it meant that while public opinion mobilised six-to-one behind a ceasefire, Starmer found himself endorsing Israel's right to collectively punish the Palestinians and ordering Labour branches not to attend some of the biggest protests in British history.
There is an unspoken hope, among both the left and those who backed him for his anti-Brexit and socially liberal credentials, that Starmer's conservatism is purely performative. To win in Labour, Starmer makes leftwing promises; to win over Tory voters, he leans right; but in government he could do something different entirely. Aside from how unlikely this is – it would be the only time in history that Labour was more progressive in government than in opposition – we should also recognise what it means: that our politics is increasingly built inside concentric circles of dishonesty. The more Starmer promises one thing and does another, the more cynicism he fosters; the more he follows through on his rightward shift, the deeper the damage to society and the more licence to war criminals. All roads lead to pyrrhic victory.
Michael Chessum is a socialist activist and writer based in London.