Palestinian Journalists Are Risking Their Lives to Counteract the 'Israeli Narrative'
Reporters claim they are being deliberately targeted.
3 November 2023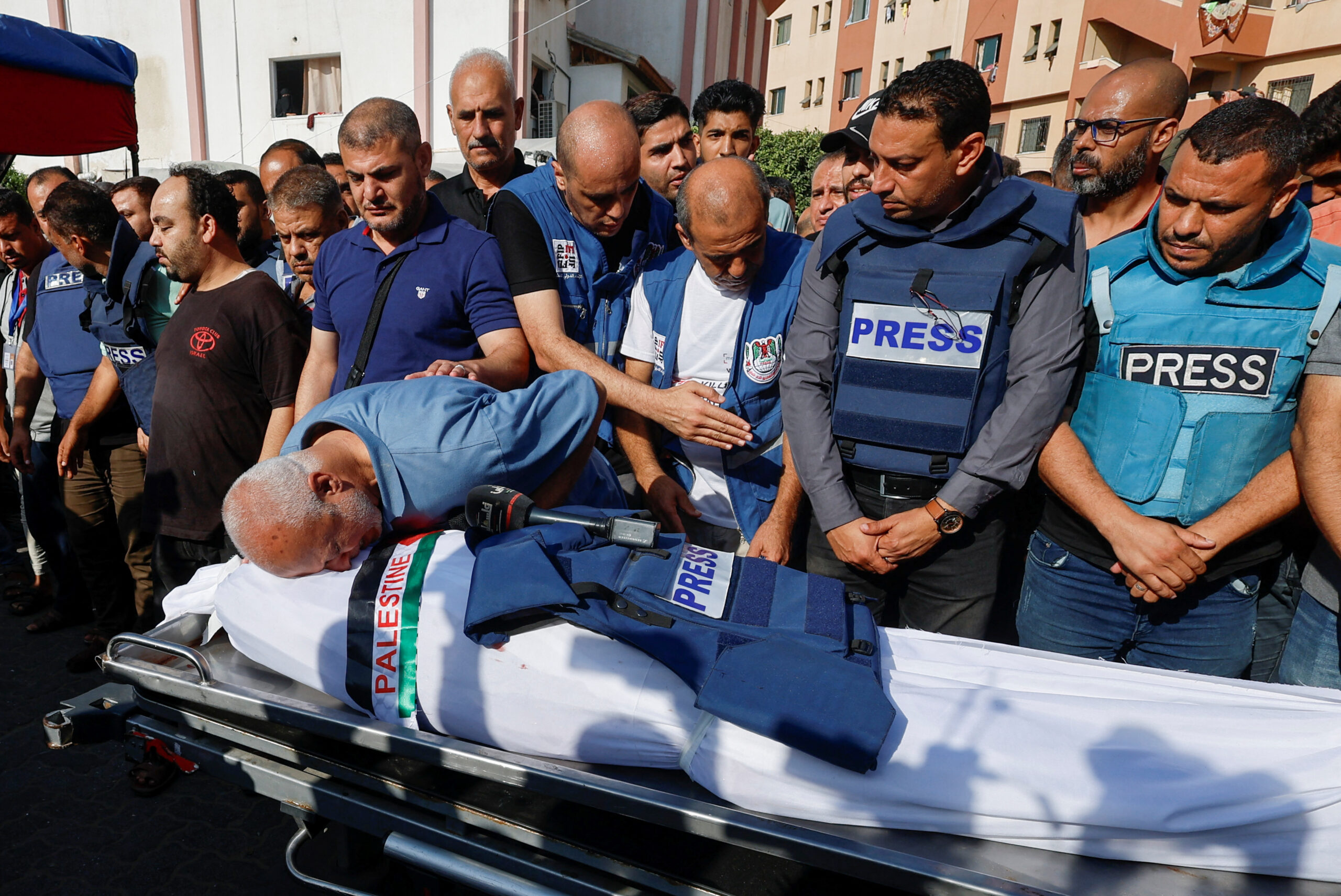 Mourners attend the funeral of Palestinian journalist Mohammed Abu Hattab, November 3, 2023. Photo: Reuters/Mohammed Salem
On Thursday night, Palestine TV correspondent Mohammad Abu Hattab was killed along with 11 members of his family in an Israeli airstrike on his home in southern Gaza. Thirty minutes before he had been reporting live on-air outside Nasser hospital in Khan Younis.
Abu Hattab is at least the 36th journalist (31 Palestinian, 4 Israeli and 1 Lebanese) to have been killed in Gaza since 7 October, according to the Committee to Protect Journalists (CPJ). Eight more journalists have been reported injured, three missing and eight detained.
Reporters working in Gaza told Novara Media they are living and working in constant fear of death. "I'm under huge psychological pressure, as I feel I could be killed at any moment," said freelancer Rakan Abdelrahman. Last month, three of Abdelrahman's colleagues were killed while trying to film a building in Gaza which was about to be bombed. Wearing jackets and helmets that clearly identified them as press, the men set up hundreds of metres from the stated target, only for the Israel Defence Forces (IDF) to instead strike a different building, much nearer to where they were standing.

Last week, the IDF told Reuters and Agence France Presse it could not guarantee the safety of their journalists in Gaza, leading the news agencies to release a joint statement describing the situation on the ground as "dire". "The IDF's unwillingness to give assurances about the safety of our staff threatens their ability to deliver the news about this conflict without fear of being injured or killed," the statement said.
In its letter to the news agencies, the IDF claimed Hamas is deliberately putting military operations "in the vicinity of journalists and civilians". But several journalists who spoke to Novara Media said they believe they are being deliberately targeted by Israeli forces. "There were threats to several places where I was present, including Hiji Tower and Al-Tabbaa Tower", said Abed Elhakeem Abo Riash, who has worked as a freelance journalist in Gaza for 14 years. "These towers all house the offices of journalists and foreign agencies."
Last week, Abo Riash was told to evacuate a residential tower by Israeli forces. He struggled to carry all of his equipment – which included his sleeping gear, two cameras, a laptop and a first aid kit – down from the 14th floor, and feared he would not make it out in time. "I was very afraid. The army has mercy on no one," he said. 
Photojournalist Mohammed Alaloul – who was unable to work for a year after being injured by shrapnel in an Israeli airstrike in 2021 – said that although the threat has intensified, he believes there is precedent for the IDF targeting reporters. "Journalistic work is very dangerous, as the Israeli occupation targets journalists everywhere," he said. "There is no protection for Palestinian journalists."
Journalists interviewed by Novara Media said deteriorating conditions in Gaza were making it increasingly difficult for them to do their jobs. "Every day I want to go places to film but I can not because the situation is dangerous. There are hundreds of stories I am not able to cover," said Abdelrahman. "The difficulties of making reports and filming are increasing day by day as Israel intensifies its strikes on Gaza." 
Phone and internet connections were severed last week, and briefly again on Wednesday, plunging the strip into a communications blackout. The outages have left rescue teams paralysed and journalists unable to report. "For 36 hours, I was not able to send the material I filmed. I couldn't contact family, friends and relatives asking if I was OK," Abdelrahman said. It also meant Abdelhrahman had no way of knowing what was happening elsewhere in the strip. "I felt completely lost."
Even before the blackouts, telecommunications had severely degraded since the start of Israel's most recent bombardment of Gaza. Alaloul told Novara Media that he has been relying primarily on car batteries and portable chargers for power over the past few weeks. 
Abo Riash has mainly been working out of al-Shifa hospital in Gaza City and sleeping there on the floor, alongside thousands of others. Internet connection there is sporadic. "I sometimes have to walk long distances of around three kilometres to get internet," he said, "as the price of transportation is so high because of the danger."
For the past few weeks, Abdelrahman has been working in Nasser hospital, near where Abu Hattab was killed. Gaza's governmental media office has established a small tent there with electricity and internet for journalists. There are "tens" of other journalists all working out of the tent, Abdelrahman said, waiting to upload their material one at a time. 
While working in the tent, Abdelrahman said he is constantly afraid; Khan Younis, along with other southern districts, have been levelled by Israeli bombardment, despite the IDF's earlier instructions to Palestinian civilians residing in the north to move to the south. "There is no safe place," Abdelrahman said. 
For Alaloul, being away from his family, who are also in Gaza, while reporting is one of the biggest challenges of his job. When he learned that the wife, son, daughter and grandson of Wael Dahdouh, Al Jazeera Arabic's bureau chief in Gaza, were killed in an Israeli air raid last week, it made him especially fearful. "The anxiety is constant," he said. 
Despite the threats to their safety, journalists in Gaza remain determined to continue documenting the siege on Gaza. "The whole world transmits the Israeli narrative," said Alaloul. "So, we work hard as journalists to convey the Palestinian narrative and demonstrate the crimes of the occupier against the Palestinian people."
Editor's note 6/11/2023: On Sunday, four of Mohammed Alaloul's five children – Qais, Ahmad, Rahaf and Kenaan – were killed during an Israeli airstrike on Al-Maghazi camp. Three of the children were just four years old. Alaloul also lost three siblings in the same airstrike.

Daisy Schofield is a freelance journalist.