The Hostile Environment is Making Migrants Vulnerable to HIV
It doesn't matter if the treatment is free when the system is a nightmare to navigate.
1 December 2021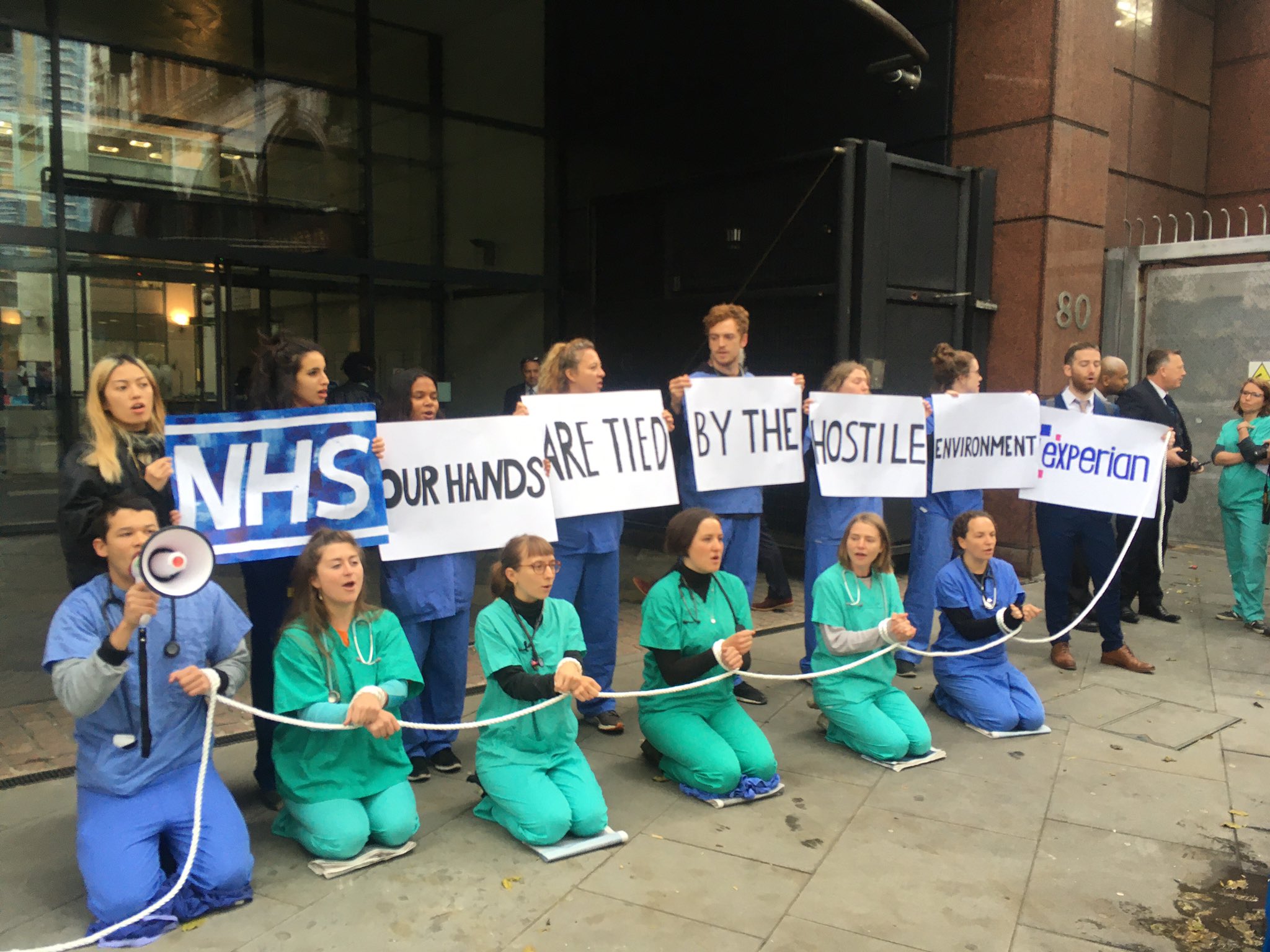 Health staff protest the government's 'hostile environment' for migrants outside NHS England, October 2019. Photo: Docs Not Cops
This World AIDS Day, the government has published an action plan to end HIV transmission by 2030. It's been 40 years since the first cases of AIDS were diagnosed in the UK, and it's a sign of astonishing progress that such an ambition is now considered realistic. But while rates of transmission have steadily declined among cisgender gay men, a number of demographics are being left behind. Migrants in the UK remain at disproportionately high risk of contracting HIV.
The government is responding both to a global effort, spearheaded by the UN, and also to a set of proposals published last year by the HIV Commission – an initiative supported by a number of leading HIV organisations in the UK. 
Whether this new plan goes far enough remains to be seen, but the UK faces at least one major barrier to ending transmission. The 'hostile environment', a set of policies explicitly designed to make life difficult for people residing in the UK without leave to remain, is exacerbating the HIV epidemic.
"These policies are massive barriers to ending HIV transmission by 2030," explains Tamara Manuel, policy and campaigns officer at the National AIDS Trust. "They will definitely make it a lot harder."
'The NHS is not free for everyone.'
To understand why this is the case, we first need to understand how hostile environment policies affect all migrants, whether they are living with HIV or not. In 2015, the NHS began charging migrants for healthcare – a move that has had a disastrous impact on public health.
"People turn up at hospital and see things like posters that say 'The NHS is not free for everyone', with a picture of a credit card in the background," explains Dr Jess Potter, an NHS consultant who is involved with Docs Not Cops, a group of doctors that fights racism, charging and borders within the NHS. Together with Migrants Organise and Medact, it launched the Patients Not Passports campaign against the hostile environment. 
The fees which migrants can incur while accessing medical treatment are often astronomical. Earlier this year, one asylum seeker, who had received treatment for a stroke, was presented with a bill for £100k (not untypical for a stay in an ICU unit), while cancer treatment can cost tens of thousands of pounds. People who can't afford to pay can find themselves harassed by debt collectors. 
The atmosphere of fear and confusion which these policies create has been shown to deter migrants from seeking healthcare, even in situations where they desperately need it. These policies also have a deleterious impact on healthcare workers, who are coerced into complying with the charging regulations and can even be charged with fraud if they attempt to subvert them. "We have the tools to be able to do what we know is the right thing to do, which is to care for people," says Dr Potter. "But we're told we're not allowed to do that. And that is incredibly damaging for health care workers. It's a form of moral injury".
The threat of being charged exorbitant sums for treatment is only part of the picture. The practice of data-sharing between the NHS and the Home Office also creates a situation where people with unsettled status are worried that accessing healthcare will lead to them being detained or deported. Migrants are required to present their documents when registering with a GP, which creates another significant barrier. 
People with insecure immigration status might be too scared to register at all, or, having made an attempt, find themselves turned away. 
In light of these policies, which are often staggeringly callous in their application, the fact that some migrants are reluctant to engage with the healthcare system is hardly surprising. "In terms of healthcare access," explains Dr Potter, "every experience that you've had before shapes your future health-seeking behaviour. If you've had an interaction which has made you afraid, or an interaction that's made you feel discriminated against, then you're less likely to seek health care in the future."
'This population isn't getting equitable access to HIV healthcare.'
While these policies impact everyone with insecure immigration status, they have unique implications when it comes to HIV. The policy of charging does not, in fact, apply to HIV treatment. Specialist HIV clinics, which tend to place a high value on confidentiality, are generally better than GPs when it comes to migrant healthcare. However, the fact that the healthcare system is confusing, opaque and difficult to navigate inevitably deters people from engaging with it, even when the treatment in question is free.
When it comes to HIV, this means it's likelier that migrants will receive a late diagnosis, which entails worse health outcomes. HIV treatment is now extremely effective, but it requires taking medication every day. Any disruption to this regimen can mean the treatment stops working and will eventually lead to an increase in viral load. It is therefore extremely important that migrants living with HIV have consistent and reliable access to healthcare, something which the hostile environment makes difficult.
🗣️"There are many people in my situation who are still scared in their hearts to go to the GP because of the hostile environment."

Hussein, talks to @itvnews about why he + so many migrants and refugees fear seeking healthcare. #VaccineForAll pic.twitter.com/b51HcKeBv1

— JCWI (@JCWI_UK) February 9, 2021
The hostile environment also exacerbates the mental health problems which people with HIV are statistically more likely to experience. Certainly, it causes significant distress. One migrant woman living with HIV was billed £500k for medical treatment received by her daughter, who later died. Despite initially receiving confirmation from the NHS that her daughter was eligible for free care, she was still pursued by bailiffs to recover the cost. The stress and exhaustion incurred by this state-sponsored harassment led to her taking a break from her own HIV treatment. 
"Our research has found that there are people who wanted to test and engage with healthcare, but didn't because they were scared about being reported to immigration enforcement or being charged," explains Manuel. "There's a myth about 'health tourism', the idea that people are coming here specifically to access treatment, but this just doesn't stack up at all. The opposite is true. About 38% of people who were previously diagnosed abroad took over a year to engage with health care once they'd arrived. The real issue here is that this population isn't getting equitable access to HIV healthcare."
'There is a fine balance between demonising migrants and recognising they may have HIV.' 
This is among the main reasons why HIV is a condition that disproportionately affects migrants in the UK. Public Health England data showed that in 2019, 62% of all new HIV diagnoses in the UK were among migrants. 
It's important to acknowledge this in order to advocate for extra resources and more targeted interventions aimed at this demographic. At the same time, though, we should be mindful of the fact there is also a long-standing racist trope that associates migrants with infectious diseases. 
Consider the rhetoric of Nigel Farage, who once argued that migrants living with HIV should be banned from entering the country, while also promoting the myth that people come to the UK specifically to access treatment. "I think that there is a really fine balance between demonising migrants as being vectors of disease and recognising that they may have HIV and need healthcare," explains Dr Rageshri Dhairyawan, an HIV consultant based in London.
You've not worked with HIV+ migrants @Nigel_Farage. I have. None knew diagnosis b4 coming to UK. All faced challenges you can't imagine.

— Dr Shema Tariq (she/her) (@savoy__truffle) April 2, 2015
It's worth noting that the narrative promoted by the likes of Farage isn't actually true. According to Dr Dhairyawan, most migrants living with HIV acquired the condition after arriving in the UK. "This suggests that we are not doing enough to get information to them about HIV prevention tools including testing, PrEP and PEP," she explains. "This is an issue that public health needs to address rather than the migrants themselves." According to Manuel, the real problem is our own endemic HIV transmission in the UK, which happens to affect lots of people who are born abroad. "It's our responsibility to prioritise them in our response," she says.
That said, while the idea of health tourism is a myth, we should also be wary of leaning too heavily into the counter-narrative. "To my knowledge, there is no evidence that people migrate to the UK for free HIV care, despite the rhetoric," Dr Dhairyawan says. "However, if this was the case and people were coming to the UK for treatment, this is not their fault – they may not be able to get treatment in their home countries. We know that there are disparities in accessing HIV antiretroviral treatment around the world."
There is no good reason why migrants who are already living with HIV should not be welcome in the UK. And given that we now know, beyond all doubt, that people on effective treatment cannot pass the virus on, we need to stop conceptualising people living with HIV as a threat posed to the public at large. Instead of moralising or assigning blame, our priority must always be ensuring that people can access the care that they need.
'People being healthy is a good thing for society.'
As we have all seen with Covid-19, identification and early treatment are the most important factors when it comes to preventing the spread of infectious diseases. This means it's to the benefit of society to ensure that everyone has access to HIV testing and care. "The sooner we get people on treatment, the sooner they are no longer infectious – that's how we break the chain," says Dr Potter. The hostile environment disincentives people to engage with the NHS, making it less likely they'll be tested, thus disrupting this process. In order to end new transmissions by 2030, testing needs to be as frictionless and accessible as possible for everyone, not just migrants. The existence of barriers in this process – for anyone – only serves to facilitate the transmission of HIV.
But to argue that migrants deserve HIV healthcare solely on the basis of minimising transmission is stigmatising in its own way. The most important principle here is that everyone deserves the highest attainable level of health. "Of course, you can argue that it's better for communities that we have good access to healthcare to prevent the spread of infectious diseases," says Dr Potter. "But that argument essentially says, 'what we care about is whether you as an individual are a threat to me as an individual or us as a community.' I want to move away from that and remind everyone that health is a public good. People being healthy is a good thing for society."
"Health is a public good as well as being a moral imperative" @DrJessPotter from @DocsNotCops discussing how the #hostileenvironment restricts access to health care for migrants #TWT19 pic.twitter.com/BzMmHeniPX

— Global Justice Now (@GlobalJusticeUK) September 22, 2019
'Culturally specific HIV support is crucial.'
Unfortunately, it seems unlikely that the hostile environment will be repealed any time soon. In light of this, how can we help to mitigate its effects and ensure that migrants living with HIV receive the care they require?
"During our research, people told us that culturally specific HIV support is crucial," says Manuel. "They really wanted to receive support in their first language. So, we need to ensure that information and resources which are aimed at people at risk of HIV are published in multiple languages and available in multiple places. It's about understanding the demographic that we're trying to reach and working with them to get the message across better within their communities."
There is vital work to be done in the here and now to advocate for the rights of migrants living with HIV. But if the government is serious about ending new transmissions by 2030, it must abandon the cruelty of the hostile environment, and recognise that migrants are just as deserving of health and dignity as everyone else.
James Greig is a freelance journalist.