The Met Could Be Sued Over Its Racist Gang Database
Some people on it are the victims, not perpetrators, of crime.
15 March 2022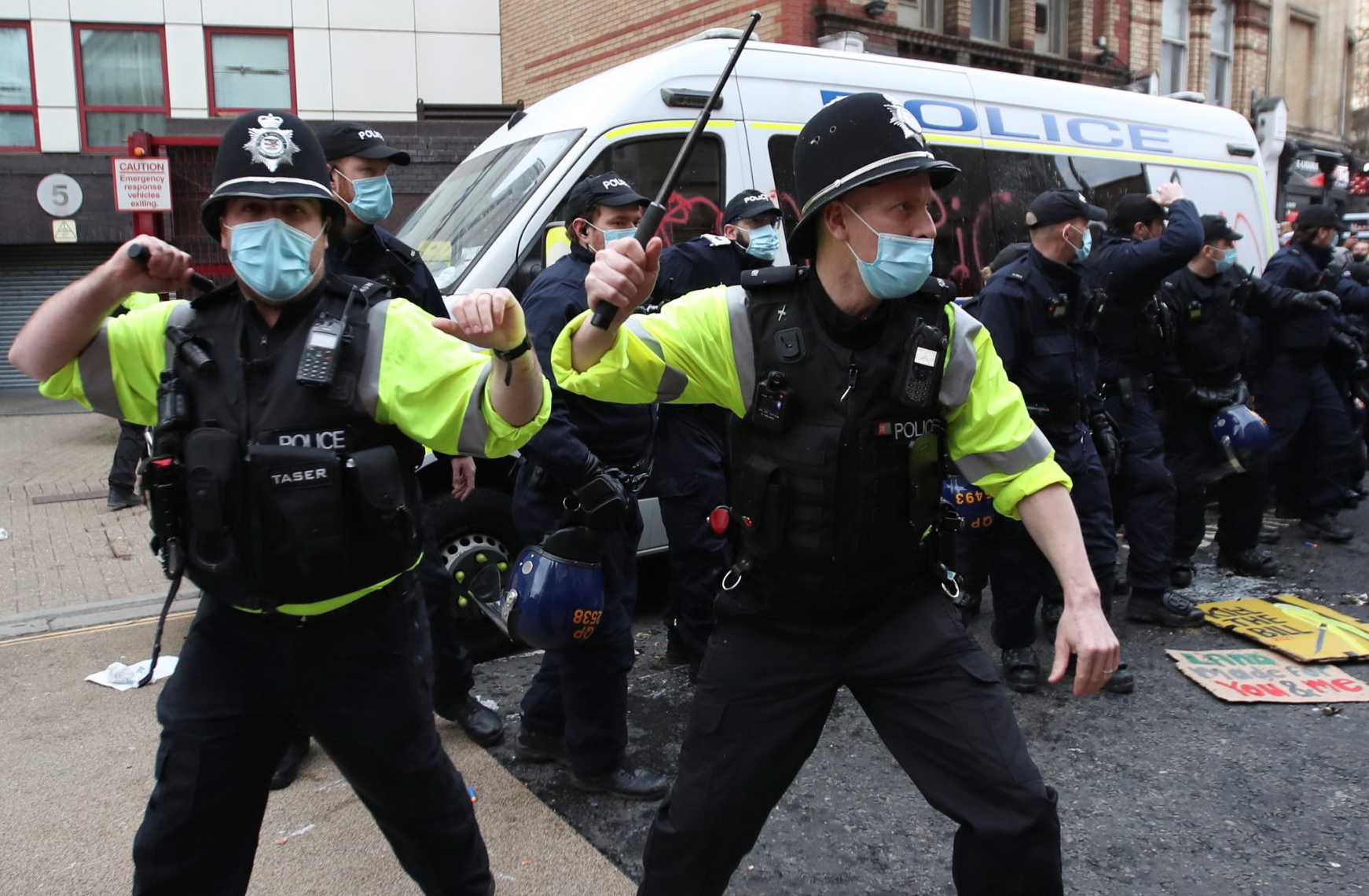 REUTERS/Peter Cziborra
"Based on where I grew up, based on people I know, based on people I've made music with – who've changed their lives but were part of gangs in the past – it's very likely I could be [on the gangs violence matrix]," explains Awate Suleiman, a musician and writer from London. 
The gangs matrix – established in the wake of the 2011 London riots following Mark Duggan's death at the hands of the police – is a watchlist of (typically young) people supposedly involved with 'gangs' which the advocacy group Liberty condemns as "secretive" and "discriminatory". 
Suleiman – along with Liberty and the not-for-profit UNJUST – is taking the Metropolitan police to court over the database, arguing it discriminates against people of colour, particularly Black men and boys, along with breaching human rights, data protection requirements and public law principles. 
The Met does not inform people when they are added to the gangs matrix, and there is no process in place by which to find out if they have been included, and if they have, to appeal it. In 2018, Amnesty International UK criticised the watchlist as impeding Black boys' and men's freedom of expression, while the Mayor's Office for Policing and Crime recommended that the Met prove the effectiveness of the matrix in reducing serious youth violence – which Liberty says it has failed to do.
BREAKING

Liberty & @UnjustUK are taking the Met to court for its racist #GangsMatrix: a secret watchlist of "gang members"

In reality anyone can be on it and be denied entitlements and targeted by stop & search

79% of ppl on it are Black

Crowdfunder⬇️ https://t.co/F2bipVpmTJ

— Liberty (@libertyhq) February 1, 2022
'Another tool of colonialism and control.'
To say that Black people are "disproportionately represented" in the gangs matrix would be euphemistic, explains Lana Adamou, a lawyer at Liberty specialising in discriminatory policing: "It is racist." Indeed, 79% of those on the database are Black, despite the fact that only 27% of "serious youth violence" is committed by Black people. The majority of those on the list – which includes children as young as 13 – are considered by the police to be "low risk" (presumably of committing violence but the matrix's definitions are unclear). 
To Suleiman, the gangs matrix is "another tool of colonialism and control", a continuation of the "meticulous lists" the British kept of colonised people they saw as "troublemakers, as despicable, just born wrong somehow". The database, he says, is only propagating that "same narrative".
According to Liberty, the criteria for being added to matrix are vague; some people on it have been the victims, not perpetrators, of crime, or have simply been in contact with people the police believe are in gangs. People also might be added to the watchlist because of the kind of music they make – often, drill music. 
Considering his background, and his experiences of police victimisation and violence, including as a result of his anti-racist activism, Suleiman had reason to believe he himself might be on the gangs matrix – and since 2019 has been trying to find out.
This process has been a frustrating one. Having approached the Met, with the support of Liberty, to make subject access requests about his personal data, the police initially refused to tell Suleiman whether he was on the database. Only when threatened with legal action earlier this year did the Met concede that he was not.
Despite this, Suleiman, UNJUST and Liberty are refusing to back down, insisting that their case – which argues that the watchlist is illegal – still stands regardless of whether Suleiman himself is on it; it is a matter of public interest given how many people it impacts. 
'It is about criminalising Black males.'
Whilst the Met claims the database is "an important tool which identifies the most harmful people we know to be involved in gang-related crime", UNJUST founder Katrina Ffrench argues it has much bigger political implications: "It is about social control, oppressive policing tactics and criminalisation through friendly associations […] it is about criminalising Black males." 
The Information Commissioner's Office, a public body set up to uphold information rights, has raised concerns about the accuracy of the gangs matrix, and warns its unsubstantiated claims risk subjecting people to "very significant unjustified impacts". People on the watch list are at risk of a variety of so-called enforcement actions, which include barriers to housing and employment, benefit sanctions, exclusion from education and increased rates of stop-and-search. Gangs matrix data is also shared with authorities such as immigration enforcement. Indeed, rather than being "a solution to serious crime", it "creates a climate where people might be forced into [it]", says Adamou. 
For musicians like Suleiman, one consequence of being on the database can be having "gag orders" put on their songs – songs in which "they're talking about things that are [happening not as] a consequence of them, but [as] a consequence of poverty […] of neglect, [which] the state has no inclination to do anything about." In this way, freedom of speech, for Black men and boys, he argues, is a fallacy: "We live in a country […] where young Black people are not allowed to talk about their postcode."
Such 'enforcement actions', explains Adamou, are known as "Achilles heel techniques", intended to "force or coerce someone into [leaving gangs]". But the problem with this, she says, is that "often these people are not involved in gangs" to begin with. In this way, the so-called gangs narrative is a "dog whistle" for anti-Black racism, says Ffrench. 
For Adamou, it is "a way of criminalising […] Black people and Black youth culture and expression […] groups of friends who are not white and like a particular kind of music or wear particular clothes […] who haven't actually done anything wrong". The way the Met assumes that "a group of younger Black men have a propensity to criminality," she continues, is "horrendous". In this way, she argues, the gangs matrix is "a way of controlling communities […] fuelled by […] racist stereotypes".
The Gangs Matrix + the 'war on gangs'.
Drug policing and stop and search. The Prevent programme.
The Hostile environment.

These are all racist, terrorising and expensive failures which ruin and punish entire communities, and families.

They need to go.
8/

— Joshua Virasami 🇲🇺🇵🇸 (@JoshuaVirasami) July 1, 2020
It is also "a manifestation of institutional racism within the police" and the state at large, which portrays "Black communities as risks to society", says Ffrench. This is displayed in legal mechanisms such as stop and search, joint enterprise and the hostile environment policy. 
As an immigrant, Suleiman says that the database is just one element of a state infrastructure that makes his citizenship feel constantly under threat. "I've always known that because I wasn't born here there's a possibility they could strip me of my citizenship and I would be stateless," he says. "Why do I have that fear? Because every few years they keep bringing in a new law to make it easier for them to [do that]."
In this way, the "sinister" gangs matrix is simply "another tool in the armoury" of "all these criminal justice mechanisms which funnel Black people into the criminal justice system", argues Adamou. She warns that the policing crime sentencing and courts bill includes similar provision under the serious violence duty, which will be just another way "of keeping tabs on people, of controlling people".
'An unlawful and discriminatory policing tool.' 
Liberty, UNJUST and Suleiman are currently awaiting a judge's decision as to whether their case will go to court. But they are confident it will, according to Adamou. "The dream", she explains, would be that "the matrix [is] completely dismantled", as a result of their legal action.  
More realistically, however, she hopes the court will declare that it is "incompatible with the Human Rights Act and that certain drastic changes need to be made to bring it in line with the law". Such changes would need to include "giv[ing] people the right to access their data" and the ability to appeal to be removed from the watch list. Unless these things happen, she says, the database "will remain an unlawful and discriminatory policing tool". 
Suleiman has brought this case against the Met with the awareness that not everyone would be able to threaten such action or know how to access the support of organisations like Liberty. This makes him even more determined in his fight to transform a system that is so stacked against Black people: "It's like there's another country going on within Britain," he says, "within this [so-called] democratic state."
Sophie K Rosa is a freelance journalist and the author of Radical Intimacy.