The Biggest Gang in Britain: How Police Solidarity Facilitates Violence and Abuse
Cops stick up for other cops - even when they're rapists or murderers.
28 September 2023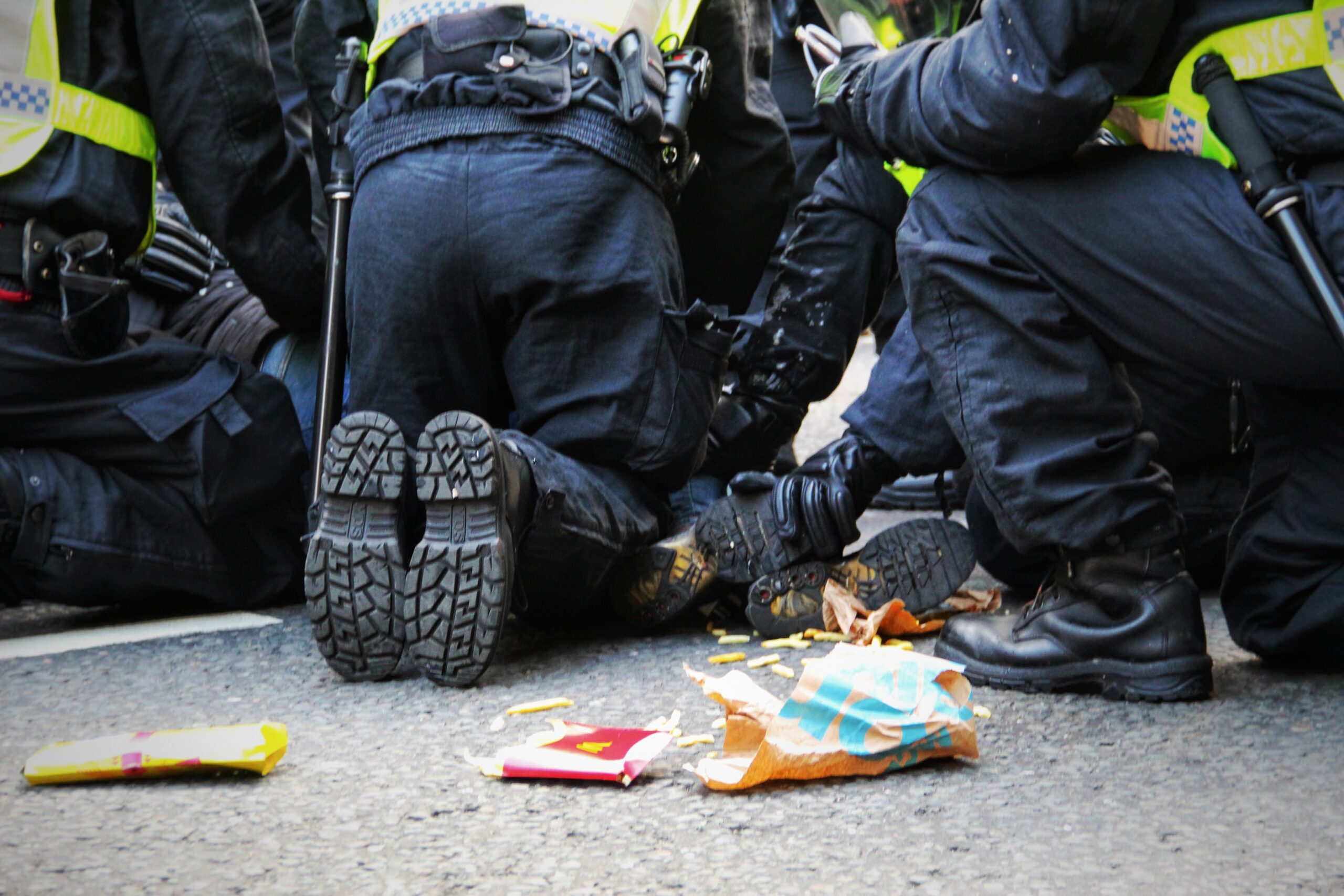 A 'culture of denial' permitted predators to flourish and officers to wield their position of power for sexual purposes, a review found. Photo: Adobe Stock
Over the weekend, some 300 police officers turned in permits allowing them to carry weapons after their colleague was charged with the murder of Chris Kaba. 
Before the verdict last week, five close colleagues of the accused officer – who shot 24-year-old Kaba dead through his car windscreen in September last year – had already refused to carry weapons. 
Firearms officers have not said whether their protest, which briefly resulted in the army being put on standby in case it needed to cover for them, was driven by a sense of self-preservation, solidarity or – most likely – both. But one thing is clear: cops stick up for other cops. They're in it together, often irrespective of what they see their colleagues do. 
From strip-searching you to turning your home upside down as they rummage through your most personal possessions, to going through your phone or laptop, to taking witness statements from you at your most vulnerable, to putting you in a spit-hood, to tasering you, to of course arresting you – or even shooting you – police powers are profound and far-reaching. As such, police-perpetrated violence takes on a gravity of astronomical proportions. 
I've been reporting on violence against women and girls for years in my job as women's correspondent at the Independent. Police violence has come up time and again in my work, to the extent that it makes up a chapter of my new book, The Pocket Guide to the Patriarchy. I've seen repeatedly how violence and abuse in the police force are facilitated by the insular and clannish nature of policing. 
In 2022, I interviewed ex-Nottingham police chief Sue Fish. "The culture doesn't call anything out," she told me. "That culture of fitting in, of belonging, is so powerful that stepping outside is career and social suicide."
"Officers often socialise together," she added. "They play sport together. They're in the same five-a-side football team. A lot of their lives are entwined with other police officers." Many even meet their partners through work, she added.
When Wayne Couzens – another firearms officer for the Met – used coronavirus lockdown restrictions as an excuse to falsely arrest 33-year-old marketing executive Sarah Everard before kidnapping, raping, strangling and murdering her in March 2021, the police force attempted to distance itself from him. 
Former detective Simon Harding, who investigated the Everard case, claimed: "He doesn't hold the same values as a police officer, he doesn't have the same personality as we do. He's a very sick, dangerous individual who should never have been near a uniform."
But it later emerged that Couzens' colleagues – who had nicknamed him "the rapist", while the force failed to investigate numerous incidents of indecent exposure – had shared racist, misogynistic and homophobic material with him over Whatsapp. 
In the staggering case of David Carrick, a serial rapist in the Met police, who is one of the worst known sex offenders in modern history, the force was told about eight alleged attacks on and disputes with women between 2000 and 2021. For over two decades, no charges were brought against Carrick, after the women involved withdrew from investigations or decided not to proceed with formal complaints. Carrick was eventually found guilty of raping and assaulting at least 12 women and sentenced to 30 years in prison.
The damning 363-page Casey Review, which was published in March this year and commissioned in the wake of Everard's murder, concluded what many already believed: the Met police is institutionally racist, misogynist and homophobic. It also found that a "culture of denial" permitted predators to flourish and officers to wield their position of power for sexual purposes. 
If many officers are indeed, as Fish says, spending the majority of their waking hours with each other – at work and outside of work – then you can see why it would be so terrifying for them to come forward and report their colleagues for misconduct. Speaking out does not just involve ostracising themselves from their colleagues but from their entire friendship circle and perhaps even their partners. 
Fish, who retired back in 2017, said police officers routinely perpetrate "appalling bullying and blanking" when officers accuse colleagues of sexism and sexual offences. Speaking to me on the phone recently, she said police "feel so oppressed by society and by the left-wing media".   
It often feels like the police take an us versus them approach, where their world ends at policing's borders – an issue which, you can imagine, has only been exacerbated in recent years by the well-deserved criticism directed at them.
When Couzens murdered Everard, Carrick's crimes came to light and the Casey review was released within the space of months, public faith in policing plummeted. For a short time, the force seemed subdued and chastised.
But now it is closing ranks in response to a murder charge, with rightwing politicians like Suella Braverman intruding into a live prosecution to rush to firearms officers' defence. 
We have seen time and time again that issues with policing are not confined to rogue homicidal maniac officers. Police rapists and murderers are part of a system that is racist, misogynistic and violent to its core – and which is propped up by a culture of denial, of covering for one another and of dodging accountability. 
To counteract this, we must continue to push for greater accountability in response to all sorts of police violence. We must not let cops demand less. 
Maya Oppenheim is women's correspondent at the Independent and has recently published a book called The Pocket Guide to the Patriarchy, which includes a chapter on policing.