Spain's 'Socialist' President is Courting the Far Right
Pedro Sánchez is embracing violent borders.
6 July 2022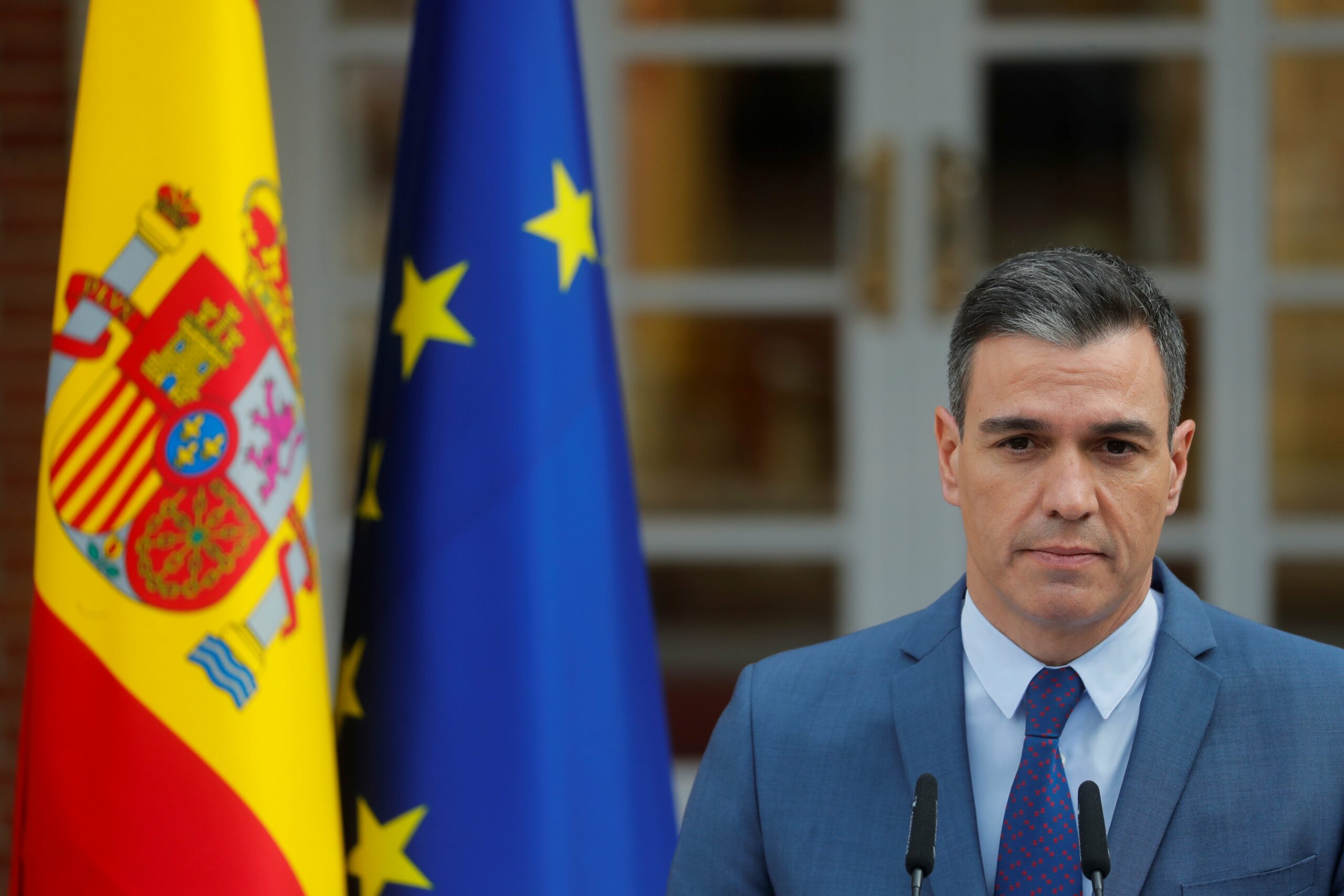 After 37 migrants were killed in clashes with Moroccan and Spanish security forces, Pedro Sánchez praised their response. Jon Nazca/Reuters
"It's important to recognise the extraordinary work that the Moroccan security forces are doing, in coordination with their Spanish counterparts, to stem a violent assault."
These are the words of Spain's prime minister, Pedro Sánchez. He was describing the brutal response by Spanish police and Moroccan security forces to a mass refugee crossing attempt on 25 June at the Melilla border, one of two Spanish enclaves within Morocco. The incident saw at least 23 people killed (NGOs are reporting higher death tolls, with a minimum of 37 dead) and more than 100 seriously injured.
At the 10-foot-high border fences, lined with barbed wire, around 2,000 people, many of them from sub-Saharan Africa, were met with rubber bullets, stoning and co-ordinated baton charges by Moroccan security forces working in conjunction with the Spanish Civil Guard. Those struck down were left for hours in the open air without receiving any medical attention or other kind of assistance, despite there being ambulances and healthcare personnel on hand.
In the immediate aftermath of the carnage – which has quickly been labelled the 'Melilla Massacre' by the press – Sánchez praised security forces, portraying the asylum seekers as a threat. "We must remember that many of these migrants attacked Spain's borders with axes and hooks," he told Associated Press. "We are talking about an attempt to assault the fence that was evidently carried out in an aggressive way, and therefore what Spain's state security forces and Moroccan guards did was defend Spain's borders." Later Sánchez attempted to backtrack on his comments, saying he made them when he had not yet seen images of the suffering.
These remarks, however, reveal a truth hiding in plain sight about Spain's 'socialist' prime minister and the head of what has been touted by some as the country's most progressive national government in its history. Not only is there a fundamental cynicism in his operations and a "drift towards demagoguery" commentators had hoped he would eschew in office, but he has also hit the inevitable dead end that years of constant opportunistic pivots between left and rightwing positions have led to.
Europe's selective 'solidarity'.
Sánchez has at various points in government sought to use the international migration crisis as a means of cultivating and advancing his own progressive credentials. Initially, he looked to contrast his supposedly liberal, humanitarian stance with the hard-right migration policies pursued by 'strongmen' figures like Hungarian premier Viktor Orbán. One of his first actions upon entering office as caretaker prime minister in 2018 was to receive the Aquarius migrant rescue ship – a ship carrying more than 600 people rescued off the coast of Libya – that Italy and Malta had refused to allow to dock in their ports. In August 2021, he positioned Spain as leading the way on European Afghan refugee hub initiatives, offering to receive thousands at an Andalusian military base until their further travel arrangements could be secured – a move that European Commission chief Ursula Von der Leyen called "an example of Europe's soul."
The policing and overall handling of migration across Europe's southernmost frontier with north-African territories has, however, shone an altogether different light on Von der Leyen's statement and Spain's record in this regard. Even before last week's mass killings in Melilla, a number of alarming episodes along Spain's southern borders have seen them increasingly converted into an extra-legal space where the protection of basic human rights has largely been suspended.
In May 2021, 5,000 people who had entered Spain's other north-African enclave territory of Ceuta were forcibly expelled, after Morocco had opened its border as part of a manoeuvre to leverage the mass crossings in a diplomatic standoff over the disputed Western Sahara territory (over which Spain has been the administrative power since it withdrew troops from its former colony in 1976). Later that year, Spanish riot police were deployed to force back 125 sub-Saharan African asylum seekers at a Spanish promontory off the Moroccan coast. Around six months prior, the images of 2,500 people being detained in the open air on a pier at a small harbour in Gran Canaria during the first autumn of the Covid-19 pandemic represented other stark examples of this punitive approach – enforced primarily by Spanish police, along with the state-security forces of various regimes in the Maghreb – along Europe's southernmost borders.
Presidential triangulation.
If the events in Melilla underline the disconnect between Sánchez's positioning over migration and Spain's closer alignment with some of the most notorious regimes for human rights abuses in the region under his watch, they also appear to signal a certain discursive turn on Sánchez's own part. The aftermath of the violence has seen the leader at the helm of Spain's first left-leaning coalition government since the 1930s openly embracing the language of the extreme right.
The deepening of his administration's ties with Morocco – one of a number of authoritarian regimes to which EU member states outsource their border security management – has had serious ramifications for those living in and travelling across the region. Domestically, meanwhile, it has reopened deep divisions between the Spanish Socialist Workers' Party (PSOE) and junior coalition partner, Unidas Podemos – the parties having already faced off a number of times this year over foreign policy differences from their respective stances on the Ukraine war to Sánchez's decision to overturn decades of diplomatic precedent and shift Spain's policy on the sovereignty of the Western Sahara territory.
Now, faced with a galvanised domestic right, Sánchez is adopting hard-right language on border security in a way that appears to mirror the hard unionist stance he took over Catalan independence during another moment of polarisation in late 2019. His attempt then to hoover up votes from a perceived 'centre ground' was based on a fundamental miscalculation that in the end gifted the insurgent extreme right party Vox an opportunity to make huge gains.
Sánchez's comments suggest his party may look to emulate a Macronesque triangulation strategy, balancing economic orthodoxy with hardline anti-immigration rhetoric, in the run-up to the next general election expected in late 2023. The mountain progressive forces will have to climb before a ballot, amid a generational cost of living crisis, was underlined by last month's regional election in Andalusia, which saw the PSOE suffer bruising losses in a former stronghold territory – and left-leaning parties scraping only around half of the right's total seats combined. Although Sánchez's  floundering government has since announced a modest package of measures to alleviate the pressures facing Spanish households, citing the measures as evidence his party makes (undefined) economic powers "uncomfortable", his instinctive unwillingness to confront economic elites may increasingly tempt him to shore up his weak position by leaning into nationalism and xenophobia.
Sánchez's mainstreaming of Vox in 2019 for electoral ends was a crucial factor explaining the extent of its electoral breakthrough and subsequent surge in repeat elections later that year. This time around, a hard-right coalition government accommodating Vox in office – an arrangement that was brokered in the regional administration for Castilla y León earlier this year – is becoming an increasingly likely prospect. If his response to last week's events in Melilla is anything to go by, Sánchez looks to be on the verge of playing another dangerous game again now, with the lives of some of the most vulnerable people across the region literally at stake. 
Tommy Greene is a freelance journalist and translator.