'If They Call It, We'll Support It': RMT Would Back General Strike
Hot strike summer keeps getting hotter.
9 August 2022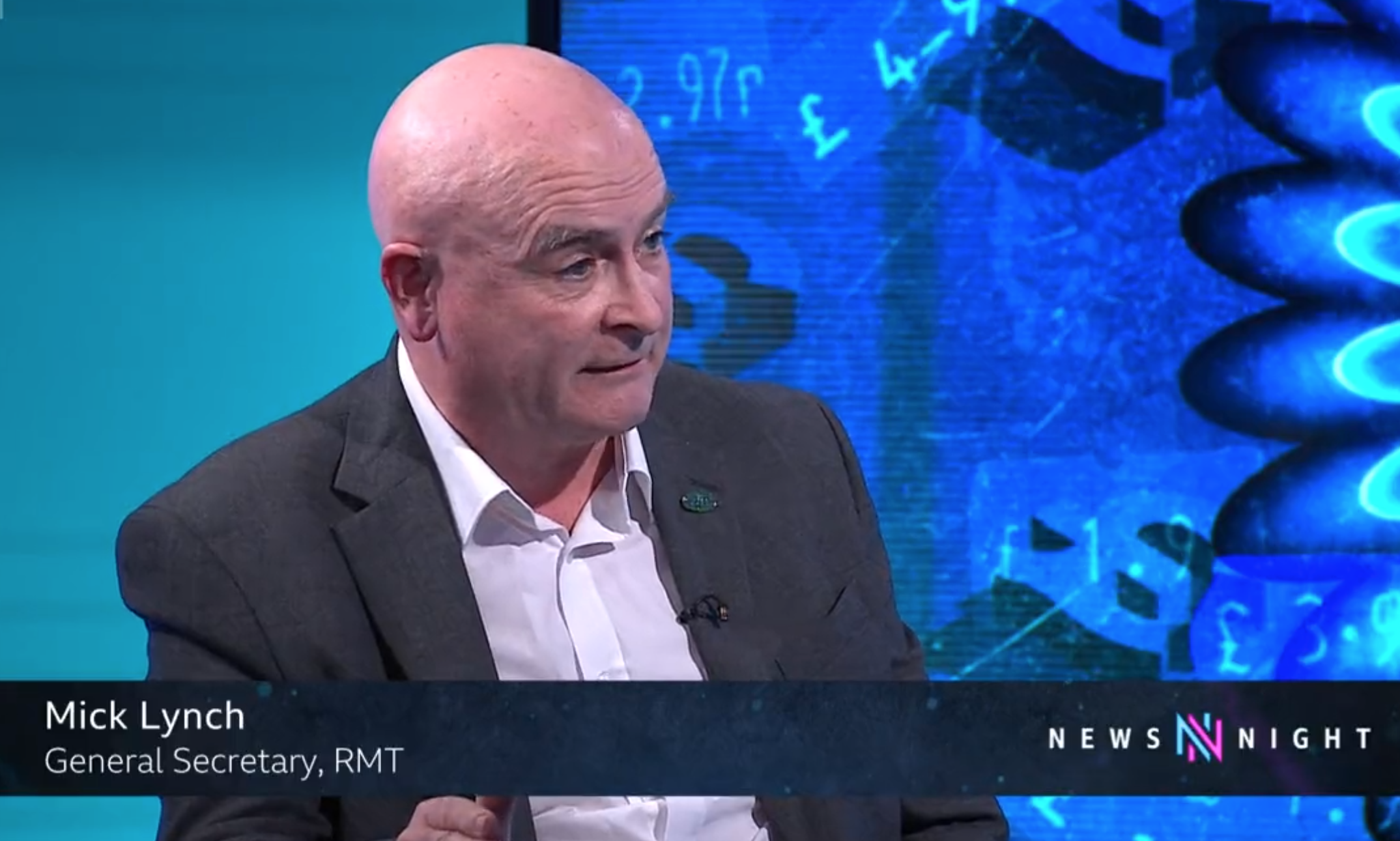 RMT general secretary Mick Lynch. Photo: Newsnight
The RMT trade union would back a general strike if the TUC called one, Mick Lynch has said.
Speaking on BBC Newsnight following the launch of a trade union-backed campaign in response to the cost of living ciris, Lynch, general secretary of the RMT, said: "We need radical action. We need it quickly.
"This energy price cap has to be reversed. It doesn't need to go up and be tinkered upwards. It needs to go down so energy companies have to give up some of their profits and people pay less, because people are absolutely frightened of what's going to happen.
"We call for generalised action and synchronised responses from the trade union movement. We have to have it because people will not be able to put up with this level of poverty."
Asked if he would back a general strike, Lynch said: "The TUC can call a general strike, not me. If they call it, we'll support it, absolutely.
"But we need a firm response from the trade unions to get the British working class a pay increase to deal with this poverty crisis. But we also need to tackle housing costs, interest rates and food poverty."
"If they call it, we'll support it"

Mick Lynch @RMTunion tells #Newsnight what would happen if the TUC calls for a general strike and that housing costs, interest rates and food poverty need to be tackled pic.twitter.com/yQRBJFAjtv

— BBC Newsnight (@BBCNewsnight) August 8, 2022
Lynch was speaking following the launch of Enough Is Enough, a trade union-backed campaign in response to the cost of living crisis.
The campaign launched with a video fronted by Lynch, CWU general secretary Dave Ward, Labour MP Zarah Sultana, RMT assistant general secretary Eddie Dempsey and rank-and-file workers.
Enough is enough. It's time to turn anger into action.

Join the campaign to fight the cost-of-living crisis.https://t.co/1SeHcIXdMr pic.twitter.com/sVFpFpXMe1

— Enough is Enough (@eiecampaign) August 8, 2022
Enough Is Enough has five demands: "A huge slash in energy bill prices, a real pay rise for all, an end to food poverty, decent homes for all, and greater taxes on the super-wealthy."
It says it will hold large-scale rallies across the country and encourage the public to support picket lines and back workers' strike funds.
100,000 people signed up to the campaign on its first day on Monday, with so much interest that its website crashed.
The launch comes as Britain's cost of living crisis intensifies. On Tuesday, energy bills were forecast to top £4,200 from January.
Tragic news

The latest @CornwallInsight prediction, based on Ofgem's new methodology, is an 81% price cap rise in Oct (taking typical bill to £3,582/yr) and a further 19% in Jan (so £4,266/yr)

Action & planning is needed now. The zombie govt needs wake up sooner than 5 Sept…

— Martin Lewis (@MartinSLewis) August 9, 2022
The crisis has led to a "hot strike summer" of industrial action to increase wages, as well as wildcat strikes in Amazon warehouses and the emergence of campaigns such as Don't Pay UK, which is encouraging people not to pay sky-rocketing fuel bills.
Boris Johnson has rejected calls to convene a meeting of Cobra, the government's civil contingencies committee, to discuss the crisis. The prime minister's official spokesperson said: "By convention, it is not for this prime minister to make major fiscal interventions during this period. It will be for a future prime minister." The Tory leadership campaign will last another four weeks.
Simon Childs is a commissioning editor and reporter for Novara Media.