Bailiffs Are Dressing Up Like Police Officers to Scare Tenants Out of Their Homes
'It's trying to trick people.'
27 February 2023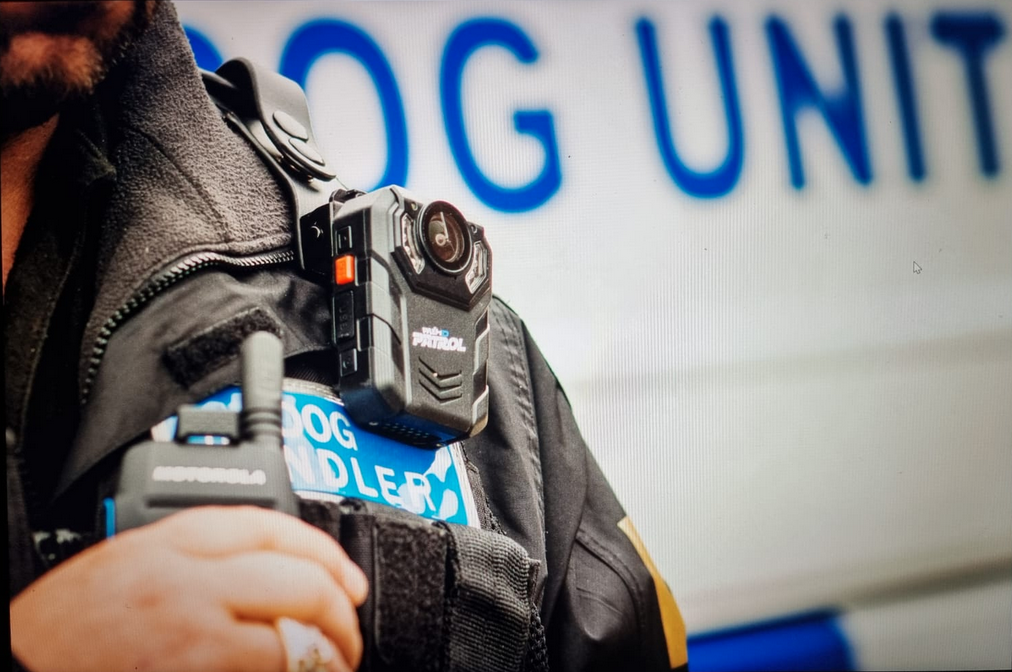 An S&K security guard. Photo: skpropenforcement.co.uk
On the evening of Friday 10 February, police officers arrived at Daniela Gherginceau's house to try and evict her and her family. Or so she thought.
The men outside her house wore stab-proof vests, uniforms, radios, body cams and drove white vans covered in official warnings and fluorescent police-style trim.
But they weren't police officers at all. Despite their uniforms and equipment, they were actually private bailiffs.
Their firm, S&K property enforcement, had come on behalf of her landlord to remove single mother Gherginceau and her five children telling her they were "trespassing" – even though she was the legal tenant of the property.
"I was at work and only my kids were at home. They said these people were there who had put their leg in the door and tried to force their way in," she told Novara Media. "I said they should wait until I got home, but they said it was fine as my oldest son was there, but he doesn't speak good English." After hurrying back from work she says she was told by officers from S&K that she had to vacate the property.
It took the arrival of a team from housing charity Safer Renting and a two-hour stand-off before S&K left the property, and only then because the charity workers threatened legal action if the bailiffs followed through on doing the eviction.
"Even our team found it hard to tell the difference", between bailiffs and police, said John-Luke Bolton, a caseworker with Safer Renting. "They were dressed up in an outfit that completely resembled a police officer's uniform."
Bolton said the bailiffs' attire was a worrying new development.
On its website, S&K boasts of endorsements from senior officials at the Metropolitan police ("A great example of effective collaboration") and the London Borough of Bexley.
It also advertises its work as "uniformed security" to "ensure your property is fully protected"  with pictures of officers wearing black outfits, stab-proof vests, bodycams, radios, flashlights, and blue laminated identity tags that look similar to those used by the police.
The company, which employs 15 people according to its website, also describes how it uses trained security dogs to stop those it has evicted from re-occupying properties. A dog and its handler can replace "multiple security officers" to offer a "very cost-effective canine security alternative", its website says.
"If you're dressing up to look like a police officer, which they clearly are – they're going the whole way, bar saying you are a police officer – and people don't have an understanding of how evictions work […] you can imagine many scenarios when people would just leave", Bolton said.
"It's an intimidation tactic both because the police are quite a frightening institution and because it's trying to trick people."
"Both the cases I've been involved in where S&K came along, it's been tenants of the property that were there lawfully," Bolton says. "And the chances are, they would have been evicted if we didn't get involved."
This month's stand-off with S&K was just the latest in a campaign of terror Gherginceau has faced at the hands of her landlord.
It began last year. The mother of five, already stuck sharing one bedroom with her five kids, was told she had to leave mid-tenancy. Her landlord wanted to raise the rent by £200 a month, or 30%, an increase she couldn't afford on her wage as a hotel cleaner.
The landlord never pursued an official court order or official eviction, she told Novara Media, instead opting to cut off heating and water to the building.
Then he began randomly visiting the house – often shouting at Gherginceau's children and pushing them in an attempt to intimidate them into moving – sometimes he would do other things, like putting padlocks on the toilet door or jamming Gherginceau's clothes into the toilet.
Gherginceau resorted to cleaning clothes at work and having to buy an electric heater to keep her family warm, only able to stay in her home thanks to the help of charity workers – until S&K was called out earlier this month.
She is far from the only person facing such a struggle.
The rotating cast of problems has been never-ending for George – who gave a pseudonym to avoid repercussions from his landlord – over the last two years. His landlord regularly failed to fix broken windows or shoddy plumbing, massive cracks even began appearing in the walls. A  locked upstairs room in the house he shared with several other tenants had a dead pigeon and its nest in a sink rotting inside it for two years that was never cleaned up, as the stench spread through the house.
The property was on an electricity prepayment meter, he said, and the cost was supposed to be included in the rent. However, George, his wife and his two-year-old daughter had to navigate weekly power cuts as property managers routinely topped it up with too little money.
Often lasting ten hours at a time, the cuts and constant darkness badly impacted his health and worsened his wife's depression.
Eventually, in protest at the conditions and confused by the landlord telling him to leave, George withheld rent until changes were made.
Soon after in January, he says he got a visit from S&K, sporting the same uniforms and fluorescent vans that appeared outside Gherginceau's flat.
"The landlord sent me this bailiff. He told me I can write off all your debt but you need to leave the house, or we go to the court," George said. "But he said if we go to court I would be blacklisted."
"They looked like the police," he said.
Eventually, George chose the option of court, and rejected the offer put by S&K. He said he is still waiting for S&K to file paperwork in court. When asked if he thought S&K were trying to intimidate him, he said: "Of course they were."
For those working in the housing sector, the proliferation of S&K and companies like it is indicative of how broken housing law has become.
Previous investigations by Novara Media revealed that the Met investigated just 22 illegal evictions out of thousands in 2020 in what was labelled a "scandal" by tenants' rights group Generation Rent. Novara Media also discovered that nearly half of local councils in the capital, which are also obliged to offer support to victims, either don't employ anyone to protect renters from illegal eviction or refuse to disclose if they do.
A spokesperson for S&K told Novara Media the company works "with the police and other law enforcement agencies to assist landlords, and works in full compliance with all laws and procedures."
"Our agents always identify themselves whilst setting out their reasons for attendance. Our staff wear uniforms which clearly identify them as enforcement agents. The same applies to all vehicles used," they said.
The spokesperson specifically denied that its agents had ever identified or misrepresented themselves as police officers, or acted in a manner that would suggest they were police officers.
Andrew Kersley is a journalist.