These Were the Moments That Made 2022
Even Tories were angry at the Tories.
30 December 2022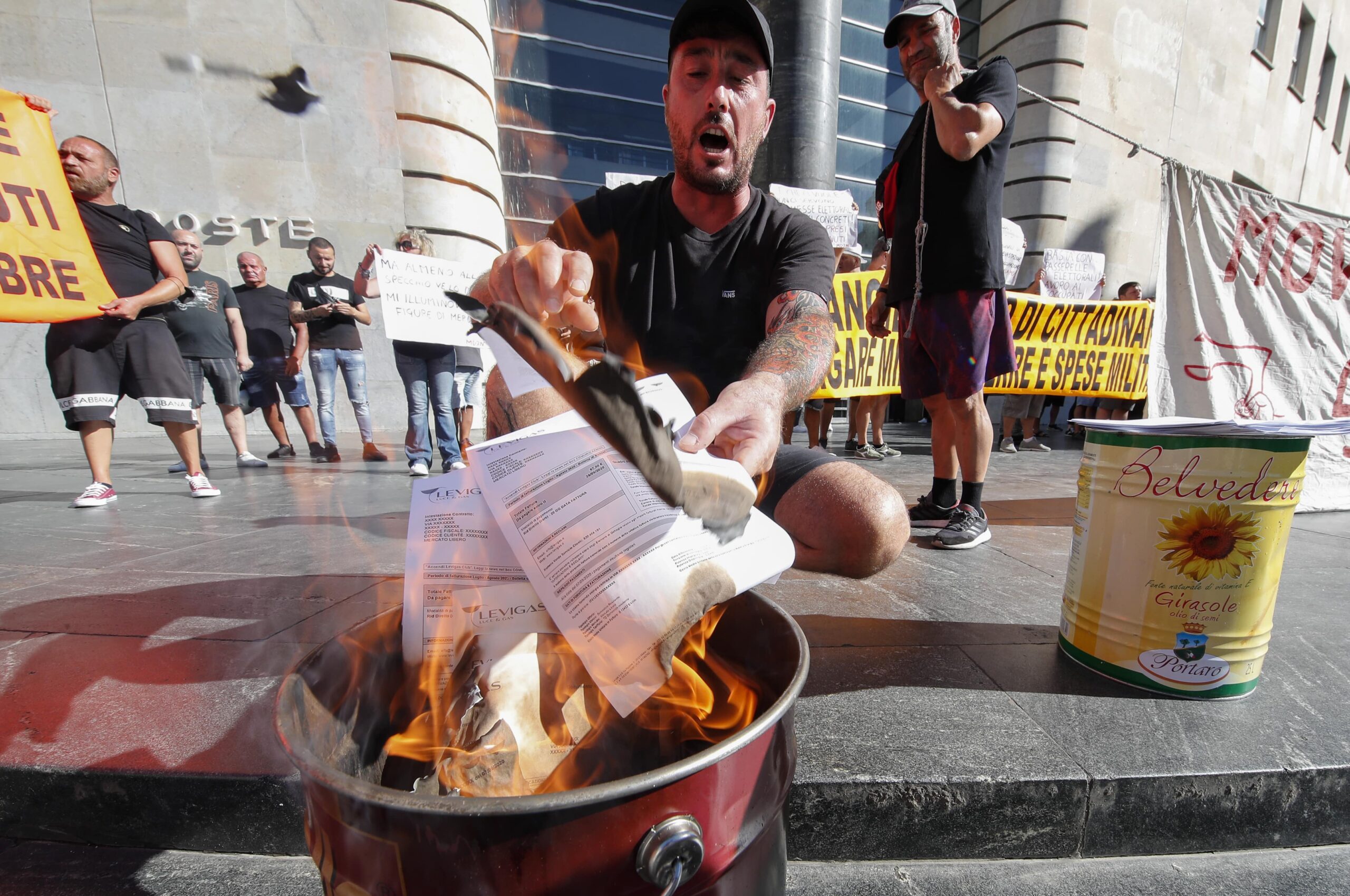 Italian protesters burn bills in protest at expensive energy. Kontrolab/IPA/Sipa USA via Reuters Connect
2022 saw three prime ministers, three chancellors and a heck of a lot of hopeful, hilarious, illuminating and downright bizarre moments. As 2022 gasps its last breaths, here's an inexhaustive list of some memorable things that happened in the past year, collated by the Novara team.
Squatters vs oligarch. 
Vladimir Putin's full-scale invasion of Ukraine raised some awkward questions about the role of questionably sourced Russian money in our (otherwise squeaky clean) public life. There to capitalise were some anarchist squatters going by the name of the London Makhnovists, who occupied a mansion owned by the family of oligarch Oleg Deripaska in protest at the war.
When the police tried to "collect" them from the balcony using a crane, the insouciant squatters said they wanted to be sent a questionnaire asking them whether they had done anything wrong, just as then-PM Boris Johnson had done over "partygate".
It later emerged that the Met spent over £80,000 deploying 176 officers to protect the mansion from the four protesters.
Contributed by commissioning editor and reporter Simon Childs.
Bill burning. 
In early September images of unemployed Italians burning their energy bills spread around the globe. It was a symptom of an inflation spike which started in 2021 and accelerated through 2022. The decades-long regime of low inflation and low-interest rates was ending, but the low wages that accompanied it remained.
The bill burning in Italy was mirrored in Britain by Don't Pay UK, a campaign group aiming to spark the mass non-payment of energy bills. By early September polling showed a massive 1.7 million UK households intended to cancel their energy bill direct debits, which the energy company E.ON admitted would destroy the energy market. In response, the UK Government sought to head off the movement with a huge subsidy to cap energy prices. This in turn proved so expensive it helped bring down the Truss government. 2022 was the year the left began to learn how to fight when inflation is high.
Contributed by ACFM host Keir Milburn.
Anti-raids activism takes off.
Here's footage from today's antiraids protest in Peckham appearing to show police officers kicking/stomping a man on the ground, and aggressively pushing and shoving multiple women.

Dreadful stuff. @Lewisham_AR pic.twitter.com/jY3VB4OeOR

— Ash Sarkar (@AyoCaesar) June 11, 2022
In May, almost one year to the day after the notorious Kenmuir Street stand-off, in which hundreds of Glasgow residents surrounded a police van for eight hours forcing the release of two men, people in Dalston swarmed officers as they attempted to arrest gig economy couriers in Dalston. A couple of weeks later, locals blocked an immigration raid in Peckham.
These spontaneous mobilisations seemed to testify to the strength of abolitionist sentiment, triggered in part by the murder of Sarah Everard by serving Met officer Wayne Couzens in 2021. While the Kill The Bill movement may have mostly receded into the grassroots, its energy has been channelled into a network of local cop watch groups (some of which help to coordinate actions like those above), and there is still significant energy for street-level mobilisation and residual mistrust of police authority. You love to see it!
Contributed by commissioning editor and reporter Rivkah Brown.
Media comes for Mick Lynch. Misses.
In June, as the UK's biggest rail strike in three decades began, Sky News's Kay Burley tried to get RMT general secretary Mick Lynch to admit his dastardly union plot to forcibly prevent workers and commuters from entering train stations through violence.
Lynch met her insinuation by turning around to look at the picket line he was standing next to: "Does this look like the miners' strike?" he asked.
Lynch went on to become a national figure as he was quizzed by Piers Morgan about Thunderbirds and was interrogated about Marxism by Richard Madeley.
For a public discourse deprived of scorn, nuance, and humour, Lynch's defence of his members and disarmament of ignorant journalists was a breath of fresh air. 
Contributed by labour movement correspondent Polly Smythe.
Them's the breaks.
"But them's the breaks" — Boris Johnson pic.twitter.com/IKtaQTHXKO

— Brandon Wall (@Walldo) July 7, 2022
In July, Boris Johnson finally stepped down, ending a scandal-filled premiership. He said it was an "eccentric" decision and blamed the "herd instinct of " MPs.
Police had faced criticism over their handling of the "partygate" scandal, and in his leaving speech Johnson thanked his security detail as "the one group, by the way, who never leak". 
Contributed by commissioning editor and reporter Simon Childs.
Just Stop Oil.
You might think Mick Lynch was the media performer of the year, but can the union leader nail an interview while being carried away by the police like this Just Stop Oil protester did? 
Contributed by commissioning editor and reporter Simon Childs.
Sick old man.
Somebody yells out, "Andrew, you're a sick old man" to Prince Andrew, who is walking behind Queen Elizabeth's coffin pic.twitter.com/M6DsyuPLXR

— philip lewis (@Phil_Lewis_) September 12, 2022
In September, Queen Elizabeth II died and finally handed over the title of head of state to unarguably the best person for the job, her son Charles.
As if to prove that hereditary monarchy is compatible with a modern democracy, a number of people who protested Charles' ascension to the throne at proclamation events were swiftly arrested. Among them was a protester who shouted, "Andrew, you're a sick old man!" at the prince as he walked behind the Queen's coffin as it passed through Edinburgh.
In a year that has seen new laws to crack down on protesting, it was a reminder that no amount of repression will stop Prince Andrew being publicly humiliated.
Contributed by commissioning editor and reporter Simon Childs.
Mini budget is a maxi fail.
The Kwasi Kwarteng 'mini budget' was the single greatest blow to Tory economic credibility in decades. The plan was to finance tax cuts, particularly for the rich, through deficits. The problem? This would happen as inflation rocketed and the UK entered a recession. The markets got more spooked than Casper after a bad trip, the pound tumbled, borrowing costs soared and Britain's pension funds almost went insolvent.
Kwarteng later said he had warned Truss they were moving too quickly, to which the PM replied, "I've only got two years". Kwarteng's retort was that they would be lucky to get two months. It turned out even that was wildly optimistic.
Contributed by contributing editor Aaron Bastani.
Delicious Tory anger.
Conservative MP Charles Walker seems broken by tonight's events – tells @BBCNews he is livid with colleagues pic.twitter.com/H5ns9iWV3T

— Dan Johnson (@DanJohnsonNews) October 19, 2022
As Truss floundered, a vote on fracking turned into a crucial confidence motion in her government. The farce that followed saw allegations of MPs being physically pulled into voting lobbies, resignations of the chief whips tendered, then withdrawn and, finally, a blistering monologue delivered by hopping mad backbencher Charles Walker, straight down the lens of a BBC camera.
"I hope all those people who put Liz Truss in number 10, I hope it was worth it," he told viewers. "I've had enough of talentless people putting their tick in the right box, not because it's in the national interest but because it's in their personal interest". Ah, the sweet tang of truth.
Contributed by contributing editor Moya Lothian-McLean. 
Almost everyone ready for direct action.
You know things aren't looking good when even twitchers are ready for war. In October, usually mild-mannered conservation groups including the RSPB, the National Trust and the Wildlife Trusts announced they weren't ruling out direct action over the government's plans to scrap key environmental regulations.
The government collapsed, meaning the Provisional RSPB didn't need to activate their sleeper cells – but the intervention showed just how ill-fated Liz Truss's vision was. Not only did she manage to haemorrhage the Tories' base within days through a full-scale assault on homeowners, she also succeeded in forging new coalitions between Extinction Rebellion activists and green-minded Conservatives. Whether or not this trend continues into 2023 remains to be seen. 
Contributed by commissioning editor Clare Hymer.
Simon Childs is a commissioning editor and reporter for Novara Media.
Rivkah Brown is a commissioning editor and reporter at Novara Media.
Clare Hymer is a commissioning editor at Novara Media.
Aaron Bastani is a Novara Media contributing editor and co-founder.
Moya Lothian-McLean is a contributing editor at Novara Media.
Keir Milburn is a writer, researcher and political activist. He also co-hosts the #ACFM podcast on Novara Media.